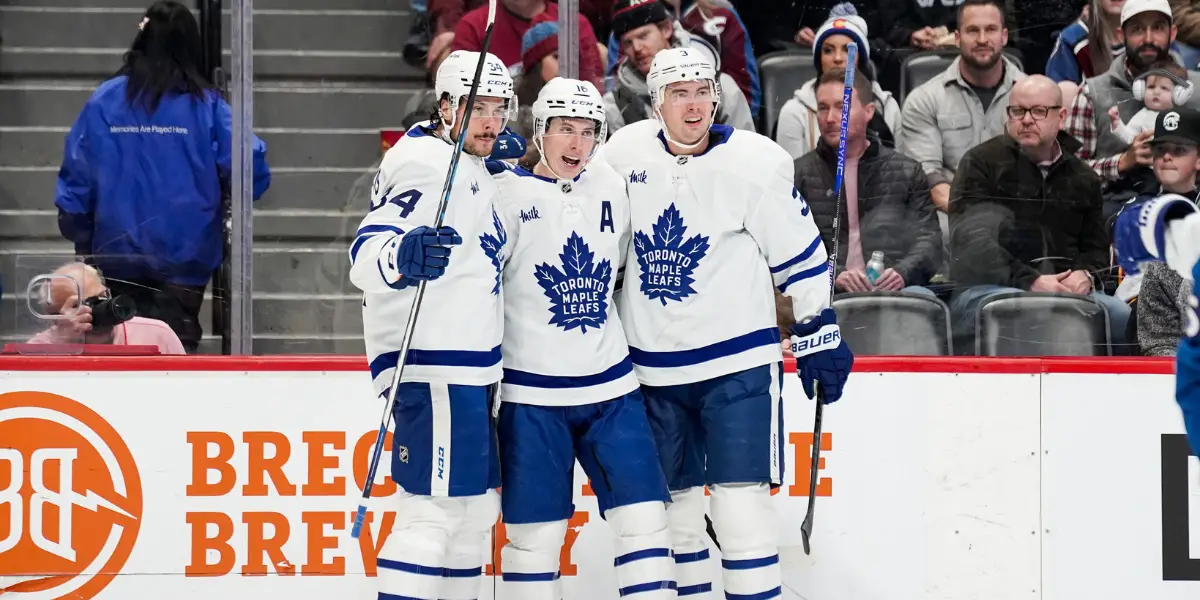 The Leafs look to pull out a win against the Red Wings after some rough games as of late. The Leafs have allowed 18 goals against in their last four games, and for a team that's solid defensively, those numbers can't be that high. The Leafs need to figure out what's going on with the back end and goaltending. I don't think it's time to worry yet, but the Leafs will need to start fixing the issues they're facing in their games. Tonight is also the Leafs' Indigenous Celebration game. They have a special warmup jersey designed by 23-year-old Tyler Rushnell, as well as clothing you can buy online from the Real Sports Apparel site, with proceeds being donated to the Toronto Council Fire Native Cultural Centre.
Leafs Projected Lineup
The lines will be staying the same tonight, with Samsonov starting. Samsonov will be looking to rebound once again from another poor game. Samsonov looked great in Overtime against the Blues before ultimately only saving one out of the four shootout shots he faced. Hopefully, he is able to build off of the strong overtime and help lower the Leafs' goals against tonight.
Red Wings Projected Lineup
Forwards
Rasmussen – Larkin – Perron
Berggren – Copp – Raymond
Soderblom – Veleno – Kubalik
Erne – Suter – Sundqvist
Defense
Walman – Seider
Chiarot – Hronek
Maatta – Lindstrom
Goalies
Hellberg
Husso
Three Things to Look Out For
1. Marner
I'm writing about Marner again, as he is now only one point away from 500 career points. Marner registered a point last game, but other than that, he looked a bit off from his normal self. Look for Marner to have a more effective game tonight and hopefully end up finally potting point 500. Marner recently was also picked as a Leafs representative for the 2023 All-Star Game. I'm sure his massive point streak played a major part in that, and it will be great to see him back at the All-Star Game.
2. Rielly
Earlier I stated that the Leafs have given up eighteen goals against in their last four games. Well, Rielly has also been back from injury for four games. While I don't think he is solely to blame for the increased goals against, I don't think he has returned to his previous form. Keep an eye on him as he looks to continue catching up to speed and help the team pull out a win.
3. Tavares
Tavares has also slowed down after a hot start to the season. He had been at a point-per-game pace but has since fallen below that. Tavares has also looked a bit slower too. I'm sure fatigue is a factor, but even yet, he is still an effective player for the team. Tavares adds to the defensive structure for the team, and although he has slowed down, I'm sure the points and goals will start picking up again before too long.
Tonight's game can be watched on Sportsnet or CBC at 7:00 pm EST!
Thanks for reading! Feel free to follow me on Twitter @nathan_bondy.
Appreciation in Leafs Nation – RD2 GAME 5
–
Leafs Late Night
WELCOME BACK TO LEAFS LATE NIGHT! Presented by Inside The RinkRoscoe / Fanalyst / Galaxy Biehn / Marty From Keswick- We Didn't Want Florida- Rielly Robbed- Roscoe vs. Fanalyst: What Was The Deciding Factor?- Does The Regular Season Matter?- Leafs Nation Stays *mostly* PositiveMERCH IS AVAILABLE!JOIN OUR DISCORD!Remember to follow us on Twitter @LeafsLateNight & IG @LeafsLateNightCheck out Mike, Josh, and Nathan's articles on the Leafs + many more! insidetherink.com