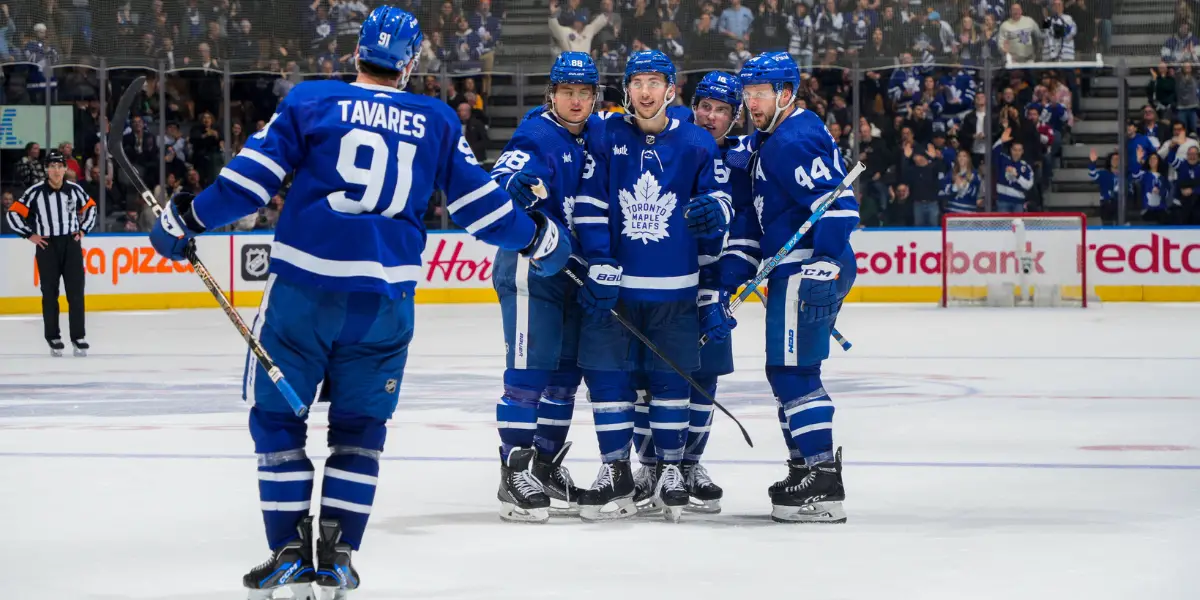 The Leafs have officially begun this year's father's trip as they play in Motor City tonight. This trip is highly anticipated, especially for the fathers, as they meet their sons' play and spend time with their fathers. Interestingly enough, McMann, who was recently called up to the Leafs, will also be taking the trip, which gave his father a last-minute invite that he didn't find out about until landing in Toronto for his son's debut. With that said, there's still a job to be done, with a battle against the Red Wings tonight.
Leafs Projected Lineup
Below are the lines from last night's game, but they are unlikely to remain the same tonight. There are multiple game-time decisions, including forward Auston Matthews. I expect Samsonov to get the start tonight, as Murray played last night.
Red Wings Projected Lineup
Forwards
Bertuzzi – Larkin – Raymond
Fabbri – Veleno – Perron
Erne – Copp – Berggren
Kubalik – Rasmussen – Sundqvist
Defense
Walman – Seider
Chiarot – Hronek
Maatta – Oesterle
Goalies
Husso
Hellberg
Three Things to Look Out For
McMann
In his debut last night, McMann played just over eleven minutes with the Leafs. I hope he gets in the lineup tonight to continue showing his skill at the NHL level. After last night's game, Keefe had high praise for him and stated that he did pretty well for his debut. McMann didn't let the pressure get to him and had a couple of chances while creating chances for others. I want to have a more comprehensive look at McMann to see if he could be a long-term fit on this team.
Tavares
Tavares is on quite the heater, with five goals and eight points in his last four games. After a slowdown in issues, I mentioned that it's only a matter of time before the points start coming in again, and they have started coming in again. Tavares now finds himself back at a point-per-game pace and looks to show no sign of stopping as he continues to build momentum.
Kämpf
Kämpf has been a solid piece on this team and seems to mesh well with almost anyone in the lineup. After being blindsided(uncalled) last night, many were concerned about a potential injury, but Kämpf continued to play the rest of the game and said today that he feels fine. Today is also Kämpf's 28th birthday today. Look for Kämpf to help. Once again, this team looks solid defensively.
The Leafs take on the Red Wings at 7:00 PM EST tonight on TSN.
Thanks for reading! Feel free to follow me on Twitter @nathan_bondy.
Appreciation in Leafs Nation – RD2 GAME 5
–
Leafs Late Night
WELCOME BACK TO LEAFS LATE NIGHT! Presented by Inside The RinkRoscoe / Fanalyst / Galaxy Biehn / Marty From Keswick- We Didn't Want Florida- Rielly Robbed- Roscoe vs. Fanalyst: What Was The Deciding Factor?- Does The Regular Season Matter?- Leafs Nation Stays *mostly* PositiveMERCH IS AVAILABLE!JOIN OUR DISCORD!Remember to follow us on Twitter @LeafsLateNight & IG @LeafsLateNightCheck out Mike, Josh, and Nathan's articles on the Leafs + many more! insidetherink.com