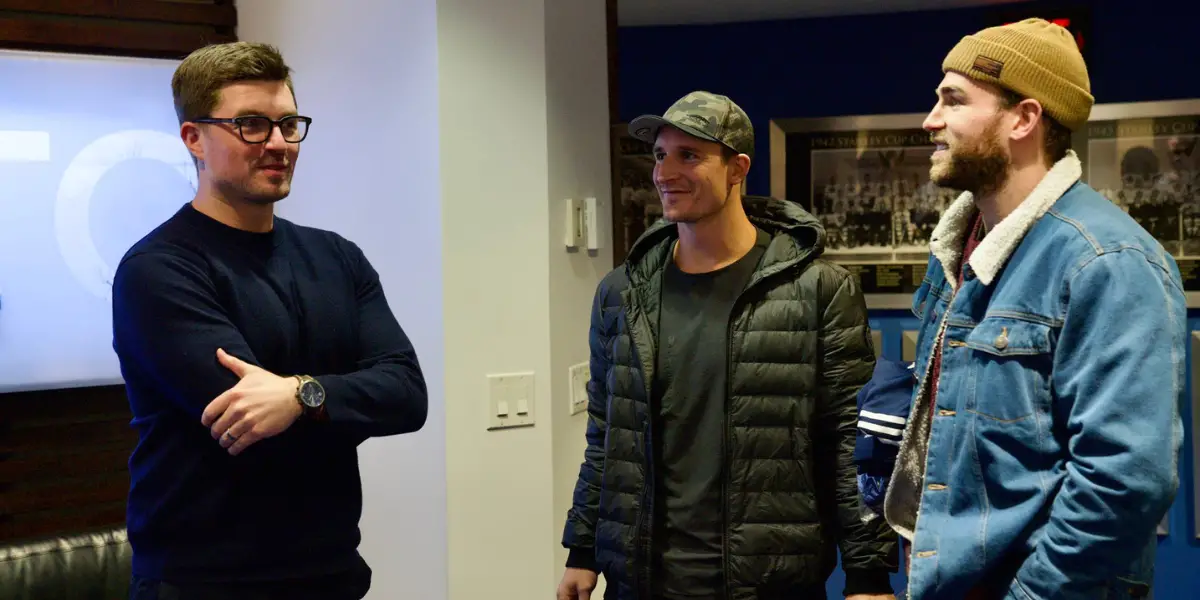 The Leafs and Canadiens faceoff tonight in a classic Hockey Night in Canada matchup, but this time, the focus is on the Leafs as they recently acquired Ryan O'Reilly and Noel Acciari. Both players will be making their debut less than 24 hours after being acquired by the Leafs and will look to help the Leafs down the stretch here. It's going to be an exciting game that you don't want to miss, and it will be interesting to watch the next few games play out in terms of lines and experimentation. There's been a lot of excitement in the room this morning and a buzz between Leafs fans. The newest version of the Leafs can be seen starting tonight.
Leafs Projected Lineup
The lineup up front isn't confirmed yet, but based on comments from Keefe this morning, this is the best projection we have for lines.
Forwards
Bunting – Matthews – Nylander
Tavares – O'Reilly – Marner
Engvall – Kämpf – Järnkrok
Aston-Reese – Acciari – Kerfoot
Defense
Rielly – Brodie
Giordano – Liljegren
Sandin – Holl
Goalies
Woll
Källgren
Canadiens Projected Lineup
Forwards
Harvey-Pinard – Suzuki – Anderson
Drouin – Dvorak – Armia
Hoffman – Belzile – Dadonov
Pezzetta – Pitlick – Ylonen
Defense
Harris – Savard
Matheson – Barron
Schueneman – Kovacevic
Goalies
Allen
Montembeault
Three Things to Look Out For
O'Reilly
Well, the Leafs have acquired another Ontario native in O'Reilly, who will be joining the Leafs for the rest of the season. While, according to Pierre Lebrun, the Leafs would have been on his shortlist for free agency this summer, he gets a taste of playing in Toronto before the summer. This addition gives the team a lot of depth up the middle, and O'Reilly could end up playing on the second line or even as the third-line center. Keefe has many options, but either way, keep an eye on O'Reilly in his debut tonight, as he plays with a much better team than he was previously on.
Acciari
There have been a few depth pieces I have been pretty high on, and Acciari is one of them. With Spezza retiring, the Leafs have been lacking a proper right-handed center option to rely on. Acciari boasts a 54% faceoff percentage this season and has provided some extra scoring too. Acciari isn't just a throw-in in the O'Reilly deal but also an important part of the deal. The Leafs have needed to shore up their bottomsix6 depth, and Acciari should be able to help do that. Like O'Reilly, he didn't want to wait for his debut with the Leafs, and he will be suiting up tonight in blue and white.
Woll
Woll's first game with the Leafs didn't go to plan, but that largely was due to a poor effort in front of him. One week later, Woll finds himself starting once again with Samsonov dealing with illness. I would hope that the Leafs have a better effort in front of him tonight with the energy buzzing around due to the trade the Leafs made last night. It's also important that Woll has a good game, as Dubas has shown belief in him and is seemingly content with the Leafs current goaltending depth.
Tonight's match against the Canadiens can be watched at 7 PM EST on Sportsnet and CBC. Enjoy!
Thanks for reading! Feel free to follow me on Twitter @nathan_bondy.
Intermission Episode – Brand New Team
–
Leafs Late Night
WELCOME BACK TO LEAFS LATE NIGHT! Presented by Inside The RinkRoscoe  / FanalystSteph  Oiled Up by McJesus New Faces, Old Faces Calgary 2nd Period Moves This Week MERCH IS AVAILABLE!Remember to follow us on Twitter @LeafsLateNight & IG @LeafsLateNightCheck out Mike, Josh, and Nathan's articles on the Leafs + many more! insidetherink.com