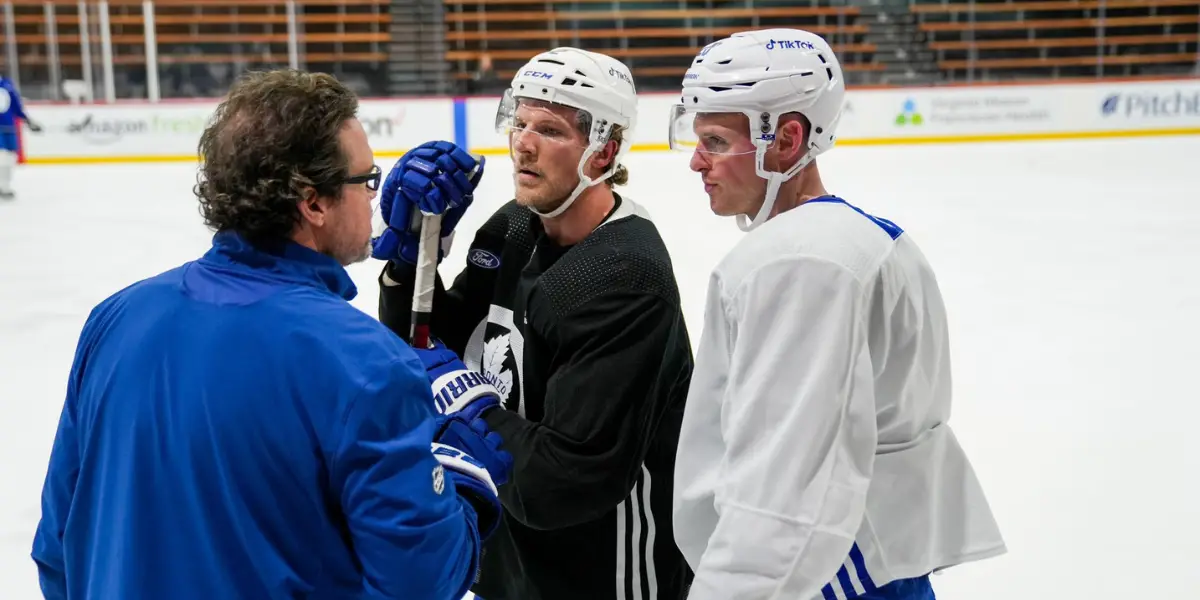 Saying it's been a crazy week would be an understatement. The Leafs acquired Jake McCabe and Sam Lafferty Monday, and before they could even play their first game with the Leafs, Sandin and Engvall had been traded, and the Leafs had two more defensemen in Schenn and Gustafsson as well as a first-round pick. While the two new defensemen won't debut tonight, we will see McCabe and Lafferty draw into the lineup. Since Campbell signed there in the offseason, tonight is also the first game back against the Oilers. We have yet to see if Campbell is starting tonight, but I expect to see him between the pipes as Samsonov starts for the Leafs. We will also get to see Ekholm play his first game as an Oiler while Matthews and McDavid look to outshine each other tonight.
Leafs Projected Lineup
Oilers Projected Lineup
Forwards
Draisaitl – McDavid – Hyman
Desharnais – Nugent-Hopkins – Yamamoto
Foegele – McLeod – Janmark
Kostin – Ryan – Shore
Defense
Nurse – Ceci
Ekholm – Bouchard
Broberg – Kulak
Goalies
Campbell
Skinner
Three Things to Look Out For
McCabe
Jake McCabe starts his tenure with the Leafs tonight as he looks to form a shutdown pair with Brodie tonight. McCabe has been a solid presence defensively who isn't afraid to throw the body. I'm not sure if anyone can truly fill the Muzzin void, as there are so many intangibles to Muzzin, but McCabe should make things a lot easier for the Leafs. McCabe can also show some offensive upside, so keep an eye on him as he looks to contribute on both sides of the ice.
Lafferty
Lafferty has been having the best season of his career, and a large part of that is due to his speed. Keep an eye on him tonight as he makes his debut paired with Acciari and Aston-Reese. Lafferty should be a massive help on the penalty kill and should provide a visual boost to the bottom six. It's tough to see Engvall gone, but Lafferty brings speed and physicality and should be well-suited for a playoff run.
Holl
With the Leafs acquiring Schenn and Gustafsson, the back end has become much more crowded. Holl might end up being a casualty of the newfound depth. Holl seems to be a popular guy in the dressing room, but unfortunately, that isn't always enough. It's more than possible tonight marks Holl's last game in a Leaf uniform. I could be wrong, but it does seem like the writing is on the wall if the Leafs want to firm up their forwards.
You can watch the Leafs and Oilers battle it out tonight at 8PM EST on Sportsnet.
Thanks for reading! Feel free to follow me on Twitter @nathan_bondy.
WELCOME BACK TO LEAFS LATE NIGHT! Presented by Inside The RinkRoscoe / Galaxy Biehn – Dubas Out?!?- Remember All The Good Times We Shared- I Don't Love Our Options- Matthews Next Deal?- Keefe's Fate- AI MascotsSPORTS! IS FUNMERCH IS AVAILABLE!JOIN OUR DISCORD!Remember to follow us on Twitter @LeafsLateNight & IG @LeafsLateNightCheck out Mike, Josh, and Nathan's articles on the Leafs + many more! insidetherink.com