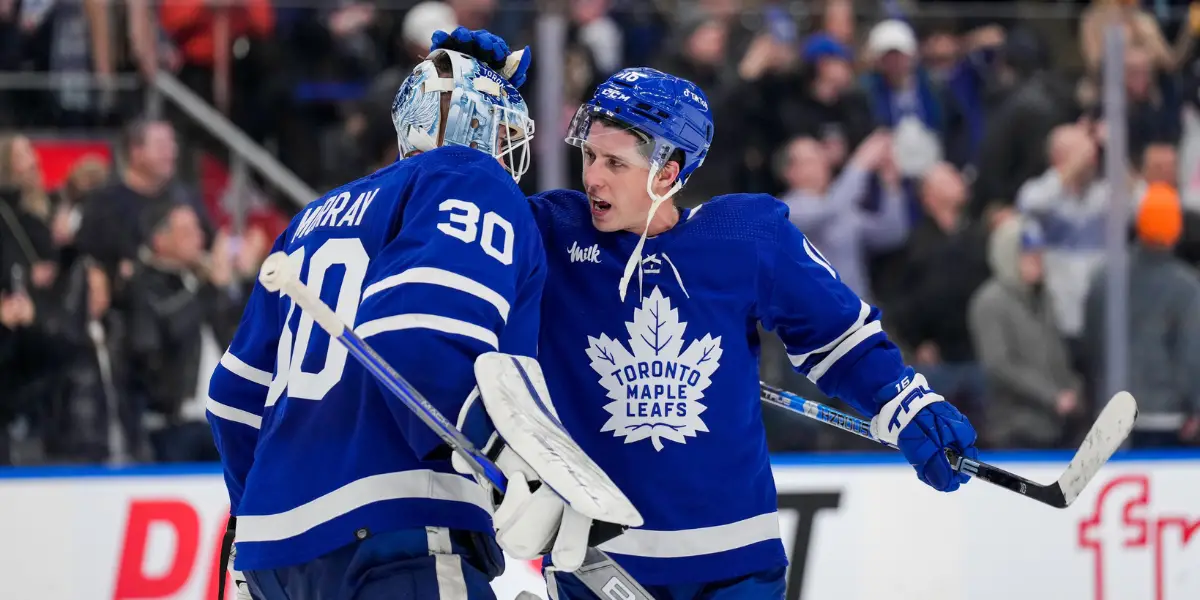 The Leafs face off against the Sabres tonight in hopes of increasing their lead on the Tampa Bay Lightning in the standings. After a chaotic win on Sunday, the Leafs will look to play a more disciplined game and drive possession to end up in the win column. It seems like Keefe has been liking the 11 forward and seven defensemen setup with O'Reilly out as he looks to gauge where his team's defense stands. This will inevitably give the Leafs stars more time on the ice, and as long as the lines are controlled well has the potential to lead to great results.
Leafs Projected Lineup
Sabres Projected Lineup
Forwards
Skinner – Thompson – Tuch
Peterka – Cozens – Quinn
Greenway – Mittelstadt – Olofsson
Girgensons – Krebs – Okposo
Defense
Dahlin – Clague
Power – Jokiharju
Stillman – Lyubushkin
Goalies
Anderson
Luukkonen
Three Things to Look Out For
Rielly
After having multiple partners once again, it appears as if Rielly will be reunited with TJ Brodie. Rielly has looked at his best when playing with Brodie, and although the McCabe Brodie pairing has few goals against, their expected goals percentage has been relatively low. While this may be partially due to deployment, it seems as if the Leafs could try to create a shutdown pairing with another defenseman and maximize Rielly's skill by pairing him with the optimal partner. Look for Rielly to have a solid game paired with Brodie.
Murray
Murray had a shaky start in his first game in a week. In the first period, he let in some questionable goals, but as the game progressed, he got better, and he made some key stops. Look for Murray to be less shaky tonight and help his team out, so the Leafs don't have to score five goals in order to win. Murray has great potential for the high danger saves, so if he can steady his regular game, then I'm sure he'll be a difference-maker for the Leafs.
McCabe
McCabe has been catching the hearts of many Leafs fans with his ability to clear out the front of the net, hit opponents, and his willingness to stick up for his teammates. Tonight he finds himself with a different partner for the first time since being traded to the Leafs. While Justin Holl gets a lot of criticism, there was a good stretch of the season where his minutes were high paired with Giordano, and he excelled. I'm interested to see what McCabe and Holl can do, although I'd really like to see McCabe get shifts with Liljegren. Keep an eye on McCabe tonight as he adapts to a new partner.
Tonight's game starts at 7:30 PM EST on Sportsnet!
Thanks for reading! Feel free to follow me on Twitter @nathan_bondy.
WELCOME BACK TO LEAFS LATE NIGHT! Presented by Inside The RinkRoscoe / Galaxy Biehn – Dubas Out?!?- Remember All The Good Times We Shared- I Don't Love Our Options- Matthews Next Deal?- Keefe's Fate- AI MascotsSPORTS! IS FUNMERCH IS AVAILABLE!JOIN OUR DISCORD!Remember to follow us on Twitter @LeafsLateNight & IG @LeafsLateNightCheck out Mike, Josh, and Nathan's articles on the Leafs + many more! insidetherink.com