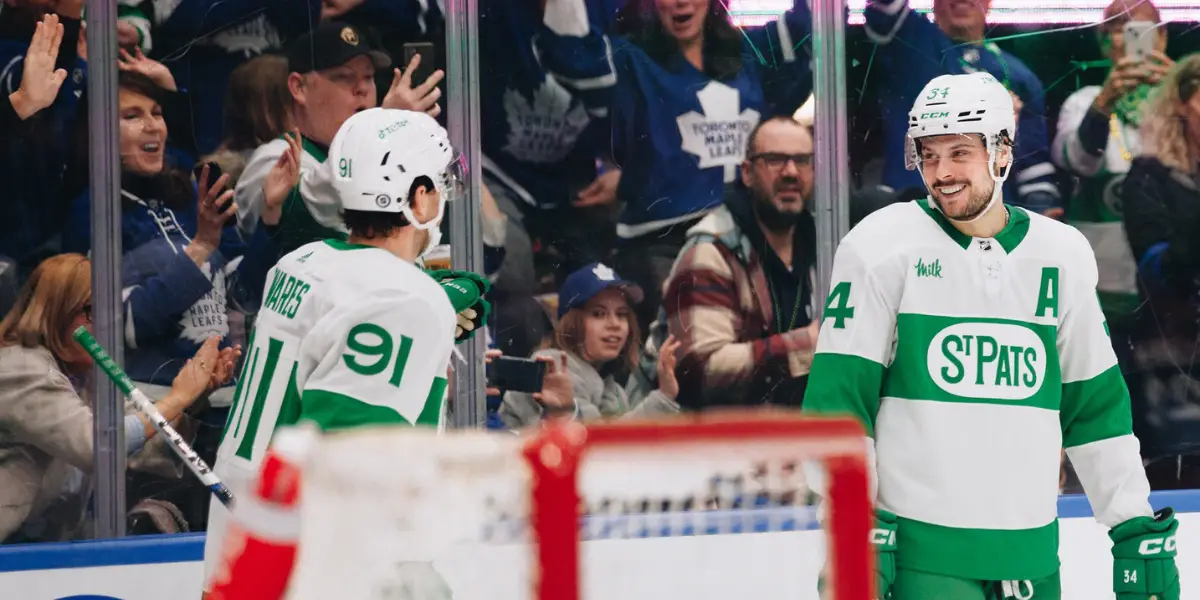 The Leafs face off against the Islanders tonight in New York as they look to continue testing out lines and get ready for the playoffs. I'm sure we will hear lots of "boos" from the fans any time previous Islanders' captain, John Tavares, is on the ice. Pierre Engvall will also be looking to have a revenge game in his first game against his former Leafs. The Leafs will look to play a full game and further their lead on the Tampa Bay Lightning in the race for home-ice advantage.
Leafs Projected Lineup
Islanders Projected Lineup
Forwards
Lee – Horvat – Holmstrom
Engvall – Nelson – Palmieri
Parise – Pageau – Fasching
Martin – Cizikas – Clutterbuck
Defense
Pelech – Mayfield
Romanov – Pulock
Bolduc – Dobson
Goalies
Sorokin
Varlamov
Three Things to Look Out For
McCabe
McCabe has passed the eye test for many fans, but some of his advanced analytics look to be lacking. Part of that is likely due to him facing tough minutes, and part of it also could be getting acclimated to a new team. Regardless McCabe still looks like a good addition to this team. I have been intrigued to see what he would look like, matched up with Liljegren, and it appears we will get that chance tonight. Note that it may take the two some time to gel, so don't be quick to write them off if they don't look great right out of the gate.
Nylander
Nylander has said he likes getting called out before as it's a method that drives him, and yesterday he was called out for not being as speedy and on the ball as he normally is (this season). Nylander is having a career year, and I wonder if these periodical call-outs help him get back into his groove. Either way, Nylander finds himself on the third line tonight with Lafferty and McMann. These two players are both speedy forwards who will likely help boost Nylander and push him back to driving his line like he usually does.
Tavares
Well, it wouldn't be a true game preview for a game against the Islanders without Tavares being one of the three highlighted players. Tavares typically has solid games against his former team, and while he hasn't been as hot as of late, I think he's due for a solid game tonight. Tavares seems driven by the "boos" he receives and creates offense out of it. He finds himself back with Marner tonight as Keefe looks to help get his captain going offensively again. Over this past offseason, many reporters expressed concern about Tavares declining, but this season has been quite a solid season for the captain, and he looks to continue that tonight.
Samsonov gets the start at 7:30 PM EST on TSN!
Thanks for reading! Feel free to follow me on Twitter @nathan_bondy.
WELCOME BACK TO LEAFS LATE NIGHT! Presented by Inside The RinkRoscoe / Galaxy Biehn – Dubas Out?!?- Remember All The Good Times We Shared- I Don't Love Our Options- Matthews Next Deal?- Keefe's Fate- AI MascotsSPORTS! IS FUNMERCH IS AVAILABLE!JOIN OUR DISCORD!Remember to follow us on Twitter @LeafsLateNight & IG @LeafsLateNightCheck out Mike, Josh, and Nathan's articles on the Leafs + many more! insidetherink.com