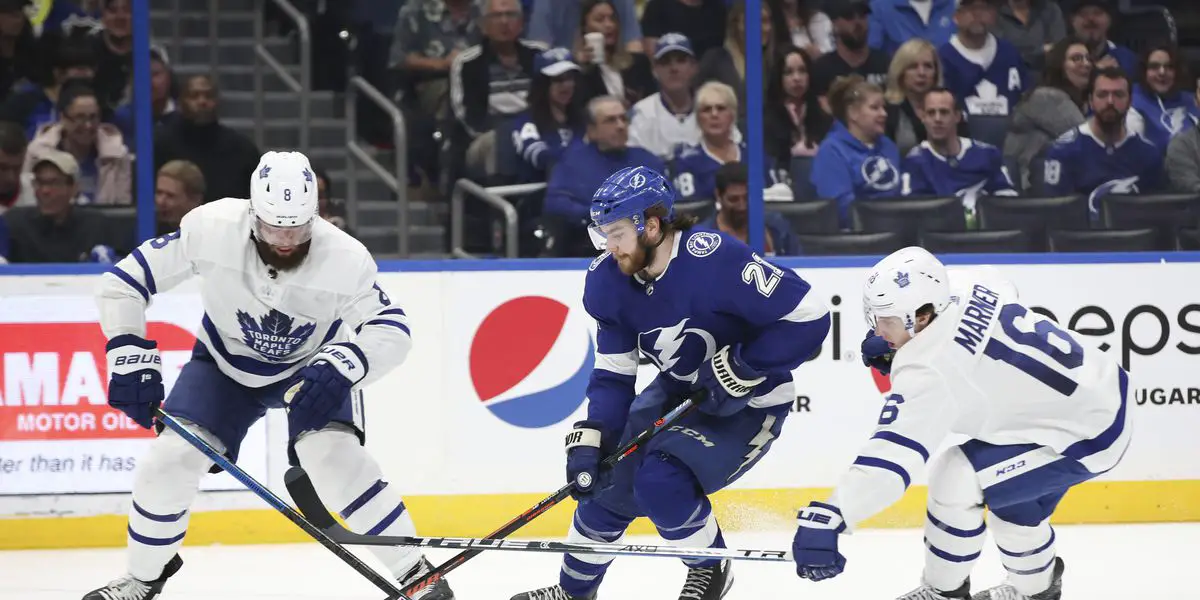 The Tampa Bay Lightning are firmly in a playoff spot right now, but that wasn't always the case thanks to an average, at best, road record.
About two weeks ago, following a particularly bad 4-2 loss in Winnipeg that dropped the team to 9-9-0 away from Amalie Arena, coach Jon Cooper challenged his team to play better on the road.
It took almost no time for the Bolts to answer the bell. A group that has been to three straight Stanley Cup Finals, they know what it takes to win away from home.
This week, they've been tested. Through four games, they've consistently answered the bell when the opposition starts to gain momentum. The result has been a 3-1-0 record, with the trip concluding Saturday afternoon in Calgary.
Led by Brayden Point and Nick Perbix, the Lightning outscored the St. Louis Blues 4-2 through 40 minutes. They then put together one of their best periods defensively, shutting down the Blues with only five defensemen after a hit late in the second forced Perbix to leave the game.
Next, they stifled the Western Conference's hottest team in Seattle with an outstanding performance on both ends. They won the puck possession battle and generated chances, leading to a 4-1 win.
A couple of nights ago in Vancouver, Steven Stamkos' goal early sparked a four-goal first period. From there, they shut things down in the second before letting the Canucks back into the game before Stamkos' empty netter sealed the deal in a 5-2 victory.
Thursday night, in the second half of a back-to-back, the Lightning turned an early 3-1 deficit into a 3-3 tie after 40 minutes. They didn't have the legs to complete the comeback, though, falling 5-3 in Edmonton.
The defense has been key to this turnaround, as has the team's discipline. In the Winnipeg game referenced above, two 5-on-3 power plays gave the Jets two points. Two nights earlier in Minnesota, a three-goal middle frame proved fatal in a 5-2 loss.
This current road trip has seen the Lightning take three or four penalties per game and only one to two in a period. That allowed the offensive players and stars to establish themselves as threats. They also outscored their opponents 12-5 over 40 minutes in the past four road contests.
Locking things down late remains a work in progress, evidenced by the past two games in Vancouver and Edmonton. That will get better, though, both through practice and actual game situations. The victories in St. Louis and Seattle were steps forward, while the last two have seen the team take a step back.
Finding consistency late, especially in road games, will be important to the Lightning's success moving forward. Can they close out tight games in hostile environments like Toronto or Boston? Their ability to go on another lengthy playoff run likely depends on that.
https://feeds.transistor.fm/cue-the-duck-boats-pod