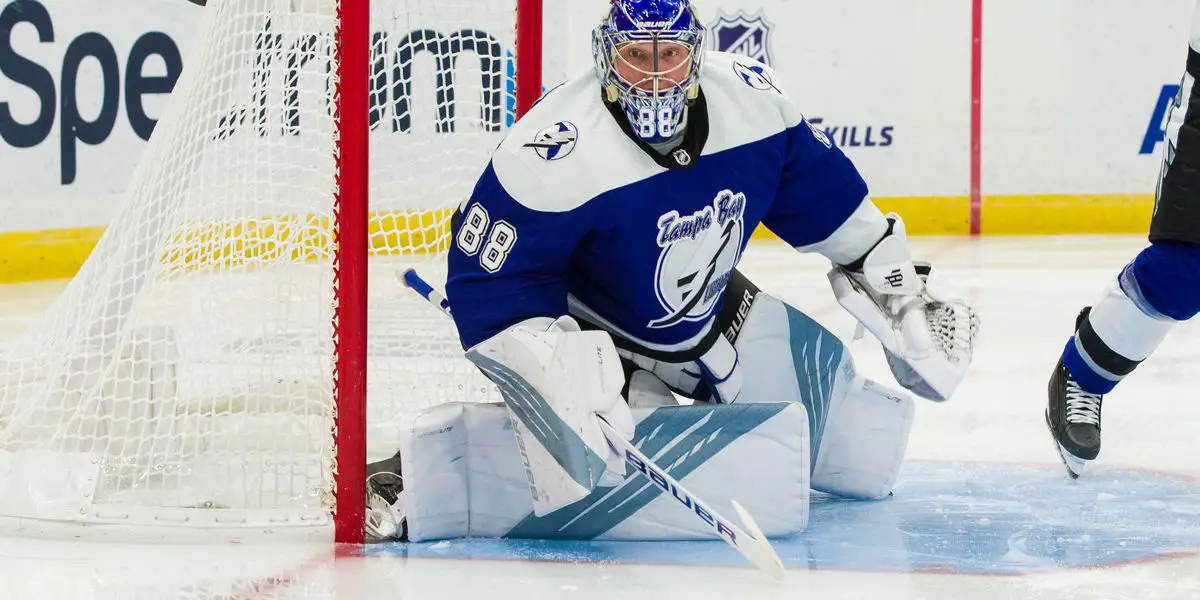 With the Stanley Cup playoffs set to begin in just two weeks, players are starting to amp up their games to the next level.
One player that has taken that to the next level is Tampa Bay Lightning goaltender Andrei Vasilevskiy. Yes, this is probably not a surprise because he has been one of the best goaltenders in the world for the last several seasons, but for much of this season, he has been quite ordinary.
Last week, however, the 28-year-old goaltender was at his very best. In being named the NHL's first star of the week ending April 2nd, Vasilevskiy won all three starts, picked up two shutouts, and posted a 0.33 goals-against average and a .990 save percentage.
Thanks to his strong performance last week, Vasilevskiy is currently (as of Monday, April 3) 34-20-0-4 with a 2.57 goals-against average, a .918 save percentage, and four shutouts. Those numbers may not seem too good for a goaltender of Vasilevskiy's caliber, but when it comes down to it, he is getting the job done and getting ready for the postseason.
This kind of play from Vasilevskiy could not have come at a better time. As mentioned above, he had been rather ordinary for much of the season, but with how he played last week, he once again showed the team, the league, and its fans why he is one of the best at what he does.
One reason why he was so successful last week was the fact that he faced a lot of shots. When Vasilevskiy is between the pipes and facing a lot of action, he is deeply engaged, focused, and a man on a mission.
That was certainly the case last week. He faced at least 30 shots in his three games and stopped all but one of them.
Secondly, he played with a lot of confidence. Vasilevskiy was challenging shooters, playing at the top of his crease, and did a great job reading the plays in front of him.
What he essentially did was make the game easy for himself. He relied on strong positioning, did what he had to do in cutting down the angles, and he was able to read what was happening in front of him.
Lastly, he showed once again that he can play well consistently. Just look at what he has done over his last four starts:
March 25th against the Boston Bruins: Stopped 32 of 34 shots in a 2-1 loss.
March 28th against the Carolina Hurricanes: 31-save shutout victory.
March 30th against the Washington Capitals: 30 saves on 31 shots in a 5-1 victory.
April 1st against the New York Islanders: 38-save shutout victory.
This is exactly what Vasilveskiy has to do in this year's playoffs. He cannot afford an off-game because one off-game could lead to disaster when it matters most.
The team and Vasilevskiy have five games remaining in the regular season. If the elite Russian goaltender can continue to play this way and carry it into the team's first-round matchup with the Toronto Maple Leafs, it could lead to another big spring for the Lightning.
The boys are back after a long break but have plenty to talk about as the playoffs are in full swing. We go series by series, looking at how teams have fared so far and who will come out on top. Thanks for listening! Please rate and review our show on your favorite listening platform. Check out our partner's website at www.insidetherink.com for all your latest hockey news.