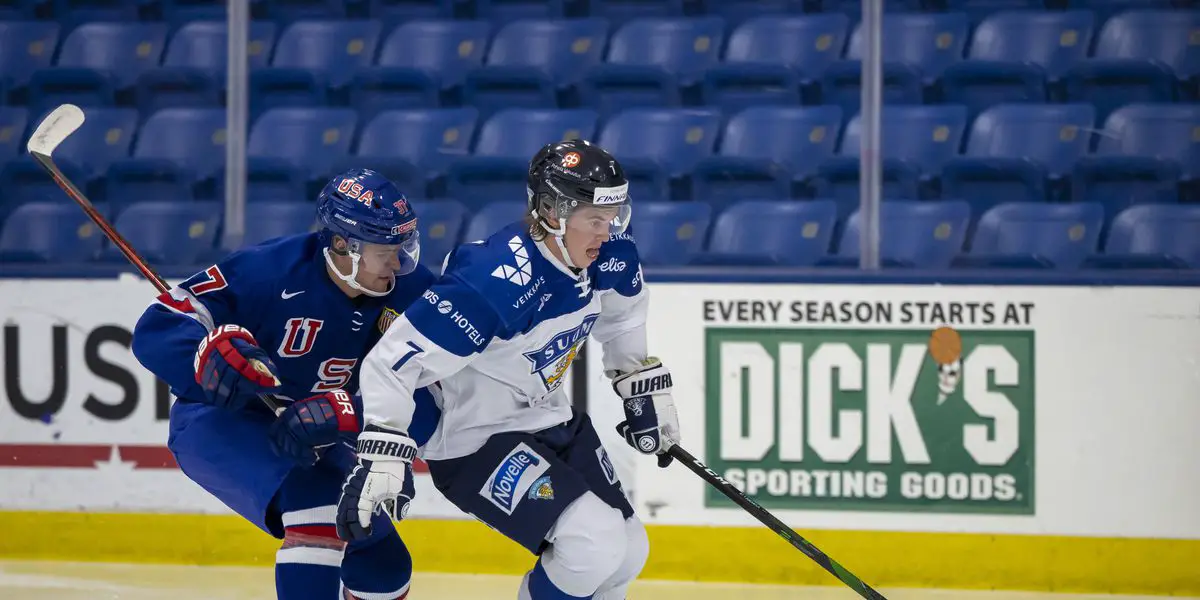 Since taking over as GM of the Leafs, Kyle Dubas has done an excellent job extracting plus value from Toronto's draft slots as a perennial playoff team. He's taken big swings on skill and upside, unabashedly drafted smaller skilled players who are producing well in their respective leagues, and traded down several times to acquire more picks. One of those trades resulted in the Leafs getting the picks used to draft C Roni Hirvonen and RD Topi Niemela for the pick used to draft LD Tyler Kleven. Just looking at the defenders involved, Kleven, as of today, sits at less than half a point per game in the NCAA while Niemela leads the Liiga, Finland's top-tier pro league, in points. Just two years removed from being chosen in the third round of the 2020 draft, the diminutive Fin's production has exploded to the tune of 20 points in 22 games, truly historical levels of production. Niemela's season ranks 2nd all-time in points per game (Minimum 20 games) among U20 defensemen. The only player ahead of him is Reijo Ruostalainen, who managed 28 points in 30 games back in 79-80. Since then, no U20 defenseman has come even remotely close to the .9 ppg we're seeing from Niemela. It's a long season, and it remains to be seen if he can keep producing this much, but he's showing no signs of slowing down with 6 points in his last five games.
Niemela is a player who beats you with his smarts. He's a good skater, very fluid but not a burner. He's not going to wow you with flashy puck skills and Ovi-Esque one-timers. When you look at hockey IQ things like off-puck movement, you begin to understand what makes this player so good. He understands where and when to attack space with and without the puck in ways that pick apart the opponents' defensive structure. Whether in zone or off the rush, Niemela has no issue activating up ice and becoming a moving part of his team's offensive attack.
While he doesn't have the high-end skill to manipulate opposing teams' defenders, his exceptional offensive vision allows him to identify seams and lanes and exploit them with remarkable passes.
On the other end of the puck, it's the same skills that allow him to excel. Elite timing and off-puck reads allow him to defend the rush at a high level. In this play, watch his weight shift to his inside edge of his left foot the second the Swiss player cuts to the middle. He immediately reads what SUI12 is thinking, and excellent 4-way mobility allows him to get his stick on the puck and break up the play.
When the puck is in his zone, his defense reminds me a lot of TJ Brodie. Instead of attacking in a straight line, he angles puck carriers off, and he hounds them with stick checks.
At age 19, between his skill set and production, Topi Niemela is showing all the signs of a future top-4 Defenseman. Not bad for a 3rd round pick.