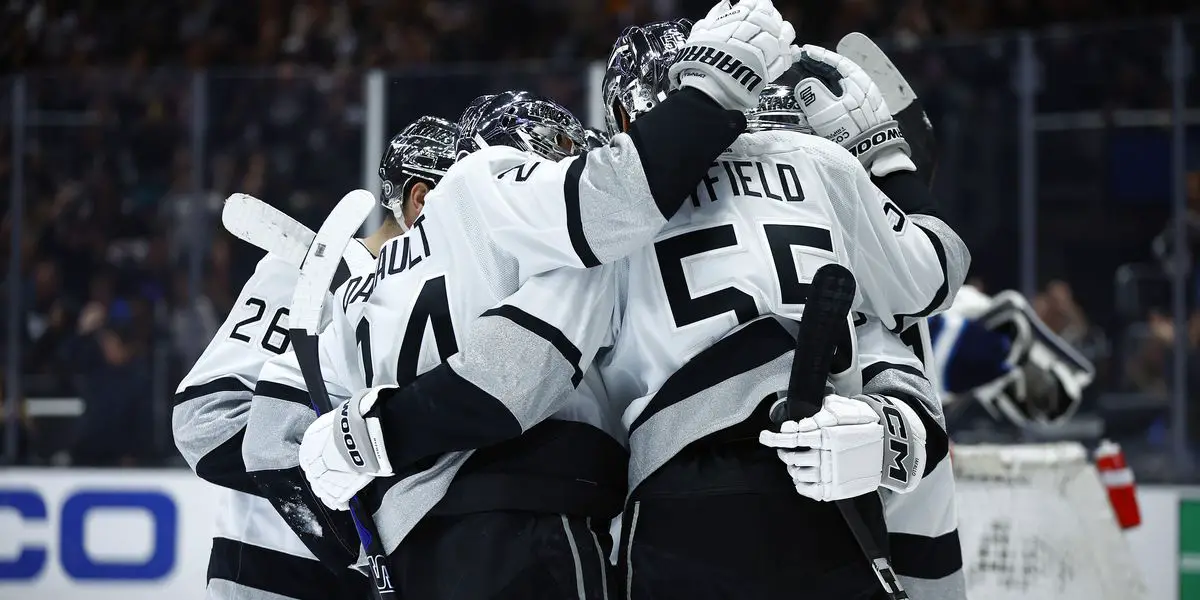 The Los Angeles Kings closed their season at home with a win last evening, reflecting what Kings fans became accustomed to seeing post-trade deadline. A 3-0 shutout was a great way to end the season at home and turn the page on a rough last ten games in which the Kings have gone 5-5. When it matters, a stout defense, solid goaltending, and dashes of offense were on display last evening. It has undoubtedly been a tough stretch for the Kings as the injury bug has swept their roster the last few weeks. Well, yesterday, the reinforcements were introduced with the return of Mikey Anderson.
The return of Alex Edler and Gabe Vilardi is on the horizon for LA Kings fans, and it could not come soon enough. Vancouver is no slouch after the trade deadline posting a 12-5-2 record. However, they are not representative of what a 7-game series with Western conference opponents will look like. Returning to Kings identity hockey was imperative to their success, with only one game remaining against Anaheim on Thursday.
What We Saw
Last evening, the LA Kings had a performance that gave Joonas Korpisalo a SO in his 200th career game. The Kings have had notorious issues with Vancouver over the last few seasons and saw their first regulation win against them since 2018 on April 2nd of this year. So it's safe to say that they have had our number. Well, their last two outings against them have now produced a 2-0 record and outscored them 7-1. The key to those victories was structure. Structured hockey is what the Kings hang their hat on, and last evening mirrored the play that led them to a 10-0-2 record after the trade deadline. There were two fights (which is very rare from the Kings), and guys like Phillip Danault were able to find their way back into the scoresheet. Arthur Kaliyev continued showing his effectiveness, branching out from the PP to 5 on 5 play with a goal to open the scoring late in the 2nd period. His uptick in play gives the Kings some challenging decisions to make about who gets the ice time on the 4th line when Fiala and Vilardi return to the lineup. The overall play last night was sound and could give the Kings the confidence boost needed to boost the confidence heading toward the playoffs next week.
On the Horizon
The Kings finish their season Thursday in Anaheim and will more than likely see Vilardi and Edler check into the lineup. All that remains is Kevin Fiala, the Kings leading scorer this season. If the Kings can find a way to beat a team that is setting the NHL record for worst +/- this season, then they will cement their place at 3rd in the Pacific Division and wait to see how the top two teams finish to see who they play. This will give adequate time for Fiala to continue to work back to 100% and be ready for what Kings fans hope is a deep postseason run. Stay buckled in Kings fans, as the great Frank Sinatra would say, "the best is yet to come."
The boys are back after a long break but have plenty to talk about as the playoffs are in full swing. We go series by series, looking at how teams have fared so far and who will come out on top. Thanks for listening! Please rate and review our show on your favorite listening platform. Check out our partner's website at www.insidetherink.com for all your latest hockey news.