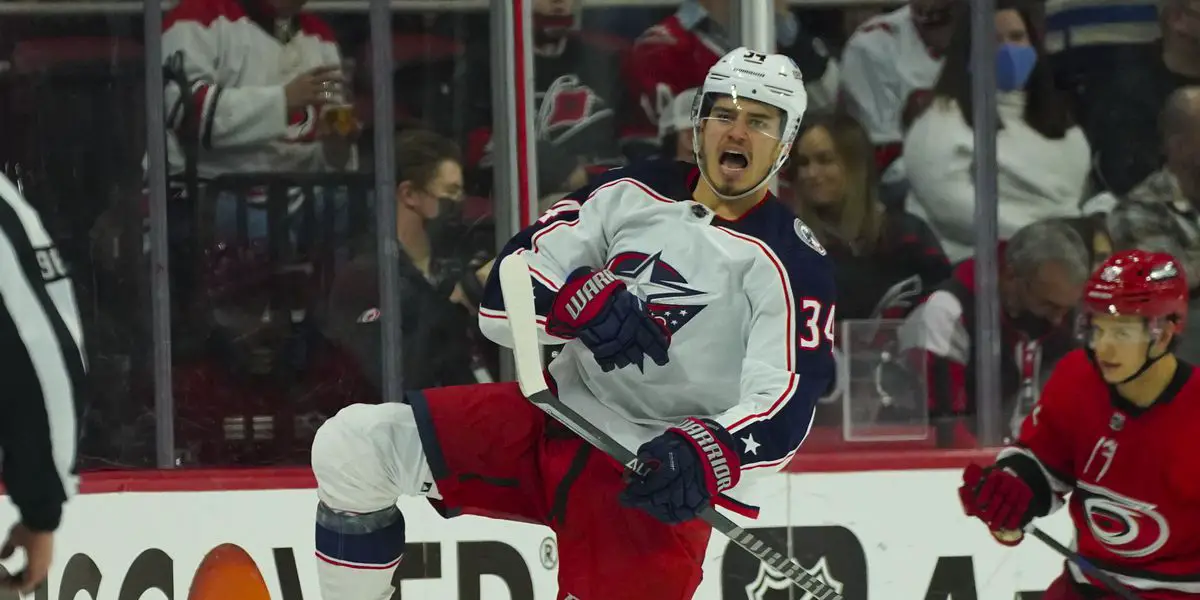 With the 2022-'23 NHL season just around the corner, the young Columbus Blue Jackets are looking to take another step towards contention. In order to become a more complete team, the Blue Jackets need players who are on the cusp of breaking out. Here is a look at potential candidates.
Adam Boqvist, coming to the Blue Jackets as part of a trade that saw Seth Jones head to the Chicago Blackhawks, Boqvist flashed offensive upside that rivals teammate Zach Werenski. Boqvist also improved significantly on defense as the season went along. It feels like Boqvist is on the brink of breaking through. When he was drafted, he was projected as a top-six defenseman, and Boqvist has done little to diminish those projections. It appears safe to say he is prepared to take another step in his development this season.
Cole Sillinger, what a rookie season Sillinger turned in for the Blue Jackets. Sixteen goals, 15 assists, with 31 points, yet it feels like Sillinger can give more. To start, he is a pure sniper with excellent vision. One knock on Sillinger pre-draft was that he was not strong in the defensive end. Yet, Sillinger improved his defense and showed flashes that he will become a well-rounded player. It certainly feels like his numbers will go up. The Blue Jackets are hoping he does not hit the dreaded "Sophomore Slump." Given how Sillinger improved during the season and the talent around him, he should be just fine.
Jack Roslovic, it may seem odd to say that a player heading into their sixth NHL season could be a breakout candidate, but there is a reason that he could be. Roslovic had a solid season on the surface. Twenty-two goals, 23 assists, and 45 points are not bad for a third-line center. Roslovic struggled most of the first half of last season, even being a healthy scratch a couple of times. The Blue Jackets believed and wanted Roslovic to be more consistent on both ends of the ice. Once he found his game, he took off. It is now up to him to take the next step and be consistent for the duration of the season.
The Columbus Blue Jackets are a team on the rise in the Eastern Conference. The Blue Jackets are also one of the youngest teams. This is a big season for the organization, and it is critical they get a breakout player or two in order to push the team in their reset and begin to move towards contention.
The boys are back after a long break but have plenty to talk about as the playoffs are in full swing. We go series by series, looking at how teams have fared so far and who will come out on top. Thanks for listening! Please rate and review our show on your favorite listening platform. Check out our partner's website at www.insidetherink.com for all your latest hockey news.