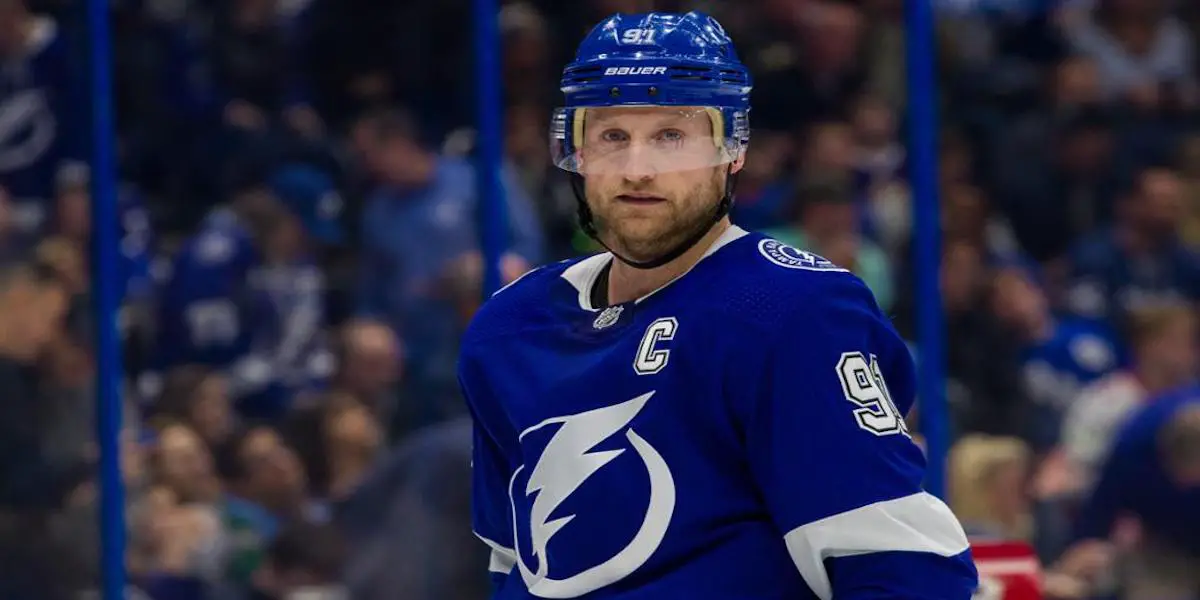 In an era dominated by defense, the goal scorers don't always get the recognition they deserve. If they miss substantial time due to injury or illness over the course of their career, the chances of them making it into the Hockey Hall of Fame is probably slim.
An honor reserved for the best of the best, it's time to discuss why Tampa Bay Lightning captain Steven Stamkos should be considered a Hall of Famer despite injuries costing him many of his prime years.
Drafted first overall in 2008, Stamkos was viewed as an elite goal scorer upon entering the NHL. His rookie season was a mess, as Barry Melrose was fired 16 games into the season. Rick Tocchet took over behind the bench and sat the young rookie for a few games. The result was 23 goals and 46 points in 79 games. Those numbers are underwhelming for a kid that was pegged to be the Lightning's savior.
The next three seasons saw Stamkos take off, at least in the goal-scoring department. He scored 51 goals in 2009-10', earning him a share of the Maurice 'Rocket' Richard Trophy. He then notched 45 in a season that saw the Lightning make it to Game 7 of the 2011 Eastern Conference Final. He followed that up by making history, becoming only the 20th player in NHL history to score 60 goals in a season.
Unfortunately, a lockout and a couple of significant injuries cost Stamkos most of the next five seasons. In fact, he only reached the 40-goal mark in the 2014-15' season. Unsurprisingly, that coincided with the Bolts' second Stanley Cup Final appearance. They fell in six games to the Chicago Blackhawks, but that started a run of seven deep playoff runs in eight seasons. The only postseason miss came in 2016-17', a year in which the captain was limited to 17 games due to a knee injury requiring surgery.
Stamkos returned to the ice in 2017-18' focused on becoming a more complete player. He became more of a playmaker, prioritizing setting up his teammates rather than always scoring himself. His numbers reflect that, as he had 59 assists and 86 points. His play at both ends of the ice also got better, evidenced by a plus-18 rating. 2018-19' saw him put up a then-career-high 98 points, helping the Lightning win their first-ever Presidents Trophy with the league's best record.
The following season, Stamkos played 57 games before undergoing core muscle surgery. The coronavirus pandemic bought him extra time to rehab, which proved to be helpful in the end. Game 3 of the 2020 Stanley Cup Final saw the captain return and score on his first shift. He played under three minutes but inspired his teammates, who went on to capture the franchise's second-ever Stanley Cup.
Finally healthy, Stamkos entered the 2020-21' season on a mission. He struggled some during the regular season, scoring 34 points in a shortened 56-game season. The captain upped his game come playoff time, though, tallying 18 points in 23 games. That helped propel the Lightning to their second straight Stanley Cup, a feat that's rare in the current day and age.
Last season, Stamkos cracked the 100-point plateau for the first time in his career. He then followed that up by notching 19 points in 23 postseason games, including both goals in the Lightning's Game 7 win over the New York Rangers. That sent them to their third straight Stanley Cup Final, a feat that hadn't been accomplished in nearly 40 years.
Midway through this season, Stamkos has reached all but one milestone. He first notched 500 assists in his career, then 1,000 points, and, recently, 500 goals. He even joined a list of current Hall of Famers by scoring a hat trick in the same game in which he scored his 500th goal. The only thing left is for him to play in 1,000 games, something that should happen late this season if he stays healthy.
With all the records, accolades, and Stanley Cups, there's no doubt that Stamkos' number 91 will hang in the rafters alongside Martin St. Louis' #26 and Vincent Lecavalier's #4 once he decides to retire. Will he join St. Louis in the Hockey Hall of Fame? While unknown, his career is definitely worthy of consideration.
https://feeds.transistor.fm/cue-the-duck-boats-pod