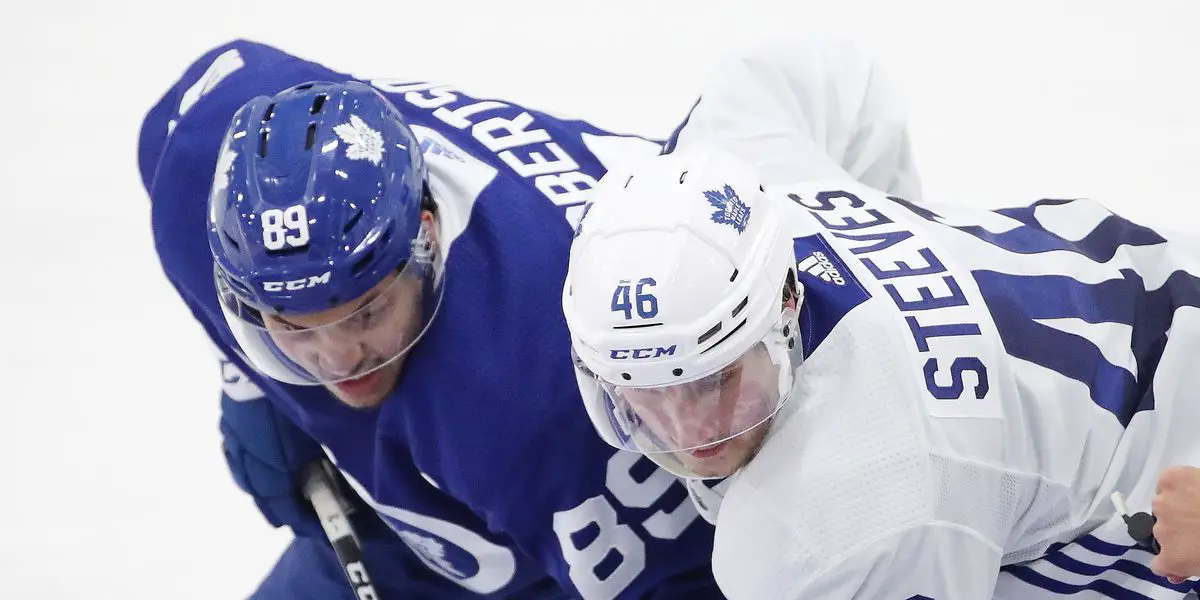 On October 3rd, the Maple Leafs announced their first round of cuts to their training camp roster via Twitter.
A major commonality between these players is that they don't have to pass through waivers before joining the Marlies. Of the players assigned to the Marlies, two names mainly stick out, Max Ellis and Curtis Douglas.
Max Ellis had spent a lot of time with the Leaf's development team this summer as he attended the Leafs development camp in July and joined the Prospect tournament with the Leafs in Traverse City before the Leafs main training camp began. Although Ellis' training camp performance to this point had been solid, he is not yet ready to make the jump to the NHL. Ellis had a solid year in the NCAA last year and looks to translate that to his first year full-time with the Toronto Marlies (AHL).
When the Leafs signed Curtis Douglas at the beginning of last season, his potential to compete for an NHL slot seemed low. Still, due to continual development throughout the season, he has gone from looking like a future fringe NHLer to looking like he will be able to compete at an NHL level. The 6'9″ forward is a grinder who looks to skate and hit hard. Leafs management has commented on how impressed they have been with his development. This year, keep an eye on him as he hopes to speed up his track to the NHL.
Remaining Training Camp Roster
Forwards:
ABRUZZESE, Nicholas
ANDERSON, Joey
ASTON-REESE, Zach
AUBÉ-KUBEL, Nicolas
BUNTING, Michael
CLIFFORD, Kyle
DER-ARGUCHINTSEV, Semyon
GAUDETTE, Adam
HOLMBERG, Pontus
JÄRNKROK, Calle
KÄMPF, David
KERFOOT, Alexander
MALGIN, Denis
MARNER, Mitch
MATTHEWS, Auston
McMANN, Bobby
NYLANDER, William
ROBERTSON, Nicholas
SIMMONDS, Wayne
STEEVES, Alex
Defense:
BRODIE, TJ
GIORDANO, Mark
HOLL, Justin
HOLLOWELL, Mac
KOKKONEN, Mikko
KRÁL, Filip
METE, Victor
MUZZIN, Jake
RIELLY, Morgan
RIFAI, Marshall
SANDIN, Rasmus
VILLENEUVE, William
Goalies:
FERGUSON, Dylan
KÄLLGREN, Erik
MURRAY, Matt
SAMSONOV, Ilya
Injured:
BENN, Jordie (D)
DAHLSTRÖM, Carl (D)
ENGVALL, Pierre (F)
LILJEGREN, Timothy (D)
MINTEN, Fraser (F)
TAVARES, John (F)
WOLL, Joseph (G)
The Leafs' prospects and players remaining in training camp will continue to battle for a roster spot come opening night. Injuries will play a major factor in how many slots are available, but with many depth positions open, it should be a very competitive next week for all the players. Keep an eye on Alex Steeves, Nick Robertson, and Bobby McMann, as they are all young players that have received praise throughout this training camp. Over the next week, we will see if any of them are able to win a roster spot over the veterans or players with slightly more NHL experience. A lot could happen in the next week, be sure to follow along here at Inside the Rink!
Thanks for reading! Feel free to follow me on Twitter @nathan_bondy.
So Nice, It Ended Twice feat. Marty Zylstra
–
Leafs Late Night
WELCOME BACK TO LEAFS LATE NIGHT! Presented by Inside The RinkGalaxy Biehn / Marty Zylstra of Sports! Is FunCheck out Marty's Music- Lucky To Be Good, Good To Be Lucky- Mitch Marner Is Underrated- Joseph Woll Remembers.- Gregor's ArkNEW MERCH IS AVAILABLE!JOIN OUR DISCORD!Remember to follow us on Twitter @LeafsLateNight & IG @LeafsLateNightCheck out Mike, Josh, and Nathan's articles on the Leafs + many more! insidetherink.com