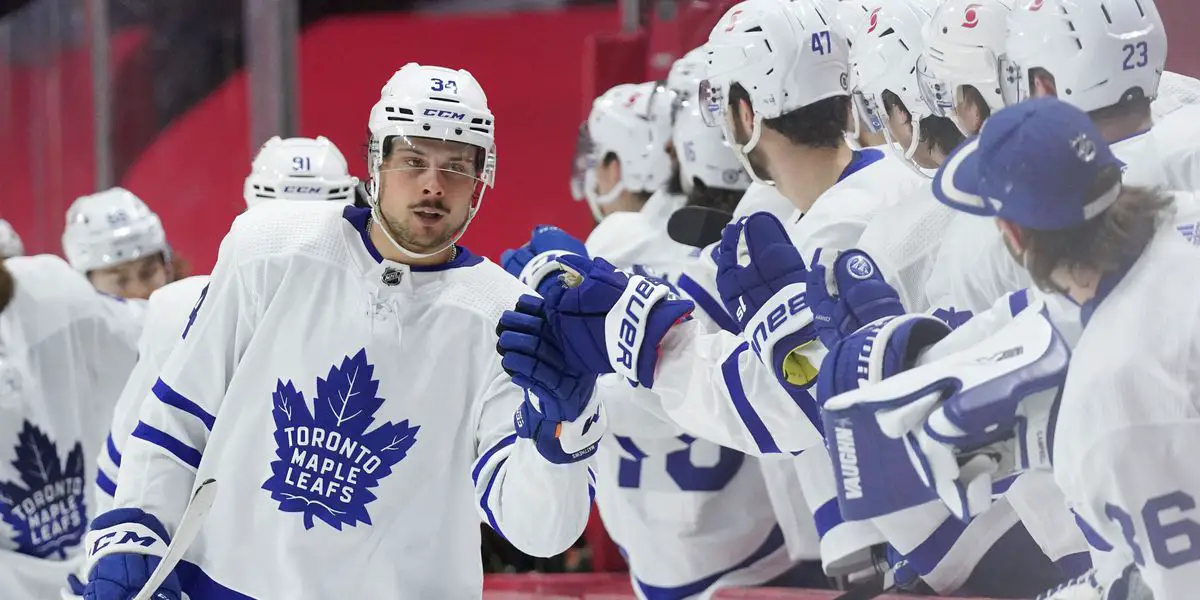 It was a season like no other, the best season in franchise history with 115 points, that saw so many individual players have record seasons of their own. Still, it all came to a halting stop after the Toronto Maple Leafs were bounced from the playoffs in game seven, in the 1st round, again. 
Now we turn our attention to reviewing the season after we all had time to think about the tragic end of the season and hear from the organization regarding their thoughts on the loss and plans going forward. It is no secret that this year was something that had Maple Leafs feeling "different' going into the playoffs, but when the final buzzer went in game seven against the Tampa Bay Lightning, it all came crashing down. Leaving the fans with a feeling they have known all too well. However, the season we just witnessed is not gone forever. Even though it didn't end the way everyone hoped, there were still moments that got us very excited for the future of this team.
We saw Matthews score 60 goals for the first time by a Toronto Maple Leaf, and he hit the 100-point mark for the first time. We saw Marner turn around his season after returning from his time with covid. He then went on a tear and ended up with 97 points. William Nylander took a big jump, scoring a career-high 80 points, and Morgan Rielly and John Tavares had great seasons as well, scoring 68 points (Rielly) and 76 points (Tavares). An area that I feel took a giant step in the right direction until the playoffs were the depth. The team added depth players who worked well with their depth brought back, and they produced in ways we haven't seen in recent years. Players like: Bunting, Mikheyev, Kampf, Kase, Engvall, Blackwell, and Kerfoot, these guys were great secondary support to the core four forwards. The Leafs have added some excellent depth up front throughout the season and into the trade deadline. In the Kyle Dubas/Brandon Pridham era, Toronto has been good at cap management. 
On the backend, we saw a season that started shakily but got better with time, with a core of Muzzin, Brodie, and Rielly, the three of them we are per usual. Those three defencemen are the three that this team relies on a lot to get the job done in the big moments of the game, and that is what they typically do. The secondary defencemen on the team didn't have the best year to start, Holl, Sandin, Liljegren, and Dermott all struggled throughout the season, but with the trade deadline in sight, the management group made changes. First, Dubas traded Nick Ritchie and a pick to Arizona for Ilya Lyubushkin, a stud defenceman for the Maple Leafs, and became a fan favorite due to his style of play. Dubas also traded Dermott to Vancouver to open up a roster spot for the biggest trade of the year, Giordano and Blackwell from Seattle for picks. Giordano was the player they needed to help solidify the back end, and he did that. Giordano was on the 3rdpairing with Liljegren, and he made him a better player, the type of player that we all thought he could be. The defensive group ended up being Rielly, Lyubushkin, Muzzin, Brodie, Giordano, Liljegren, Sandin, and Holl, which had its flaws but was the best defensive group the Maple Leafs have had in the last 20 years. 
The goalies now become an area of concern; Jack Campbell is an unrestricted free agent, meaning as of July 7th (Free agency day), if he is not re-signed by the Maple Leafs, he can sign elsewhere and walk away from the team, and fans that love him. He did have a season to remember, his first as a starter, to none other than one of the biggest hockey markets in the world (no pressure, Soup), and he did great. He earned the chance to go out and see what the open market has to offer him. As for the other goalies, Peter Mrazek seems to be a rare swing and miss from Dubas and company, and that contract will be very difficult to move this offseason, but in Dubas, we trust, and I feel that they can move him out to open up cap space. The fans also got to see Erik Källgren play this season, he had a start that people dream about, a shutout in his first NHL game, and he went on to be a reliable backup to Campbell, which leaves many fans optimistic about using him as a backup, trading Mrazek and re-signing the man we call "SOUP."
Overall, this season didn't go as planned, and the outcome was the same as in recent years, but if this team can come together next season with the additions and subtractions that need to be made, then there is a chance that it can all change with one bounce in their favor. It is a feeling that no one wants to keep experiencing, but when they do push through and make a run, it will be one of the best feelings as a fan of this team. With that said, the management group has their work cut out for them, and we will see what changes are made to make this a better hockey club and improve on this past season.