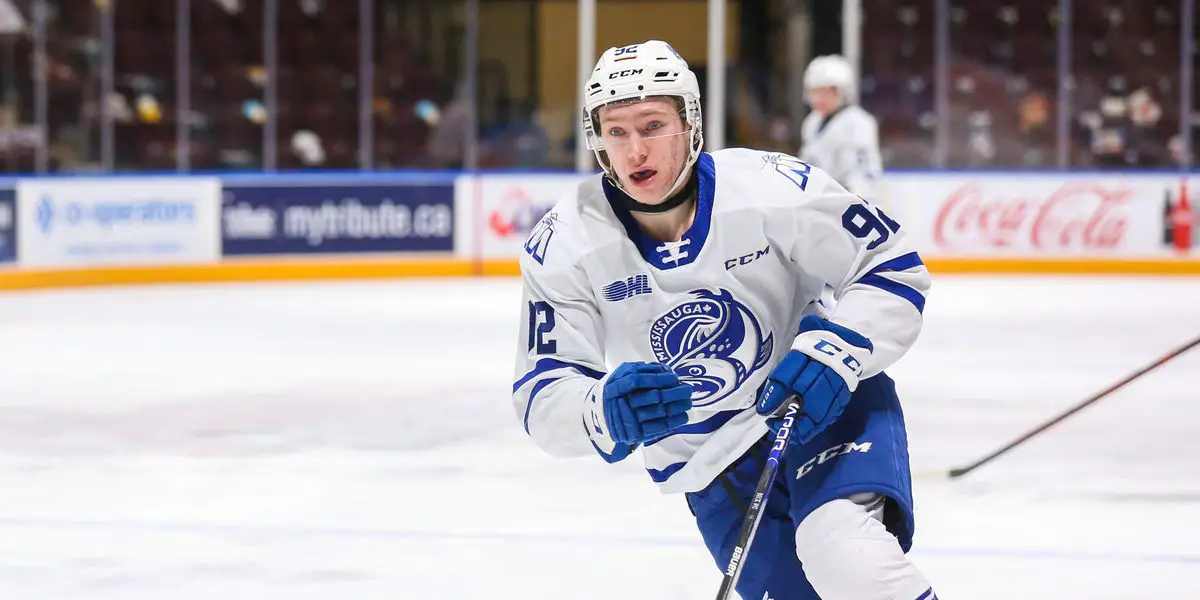 When the New York Rangers beat out the Carolina Hurricanes in the 2nd round of the playoffs last week, the Toronto Maple Leafs secured their #25 in the upcoming draft. While it may seem it's nothing more than a late-round draft pick, this could make a big difference in the long run. In a draft with a lot of talent, they could potentially select a player that can bring the same hype to the team's future as Matthew Knies does, but whom would that be? We will take a look at some prospects that the Maple Leafs can draft with their #25 selection in the upcoming 2022 NHL entry draft.
Owen Beck
Owen Beck plays an outstanding 2-way game that can add depth up the middle for the Maple Leafs, and he has the potential to be a good number 2nd or 3rd line center at the NHL level. Beck appears to be a late first-round draft pick, but I would argue that he also needs to find the right fit for a team. This player could be a real sleeper pick for the Leafs. Beck scored 21 goals and 30 assists for 51 points in 68 games this year for the Mississauga Steelheads, the best offensive season of his career thus far. I feel that Beck can produce similar numbers at the NHL level and be a second-tier player that the Maple Leafs may lack in a few years. 
Luca Del Bell Belluz
Del Bel Belluz is a teammate of Owen Beck on the Mississauga Steelheads. If the Toronto Maple Leafs were able to draft Belluz at #25, it would be a big-time steal; he had an outstanding season this past year, scoring 30 goals and 46 assists for 76 points in 68 games. He lacks size, which can affect his defensive game, but with the right system, that can be mitigated. If he can work on the elements of his game where he lacks and keep up the offensive side of his game, he could be a bigger steal than Matthews Knies was for the Leafs. 
Owen Pickering
Owen Pickering has the potential to be a big man in the NHL. At 6'5″ and 180 pounds, he can work himself into a top-four role on most NHL teams' back end. When Pickering matures, he may top the scales at 200 pounds, but playing at this weight won't tarnish his potential at the next level. Pickering of the Swiss Current Broncos of the WHL had a reasonably good season. He scored nine goals and 24 assists for 33 total points, which he can improve on as he gains experience in the coming years. This pick would be a good one based on his higher upside, and if used in the right style by the Maple Leafs, he could potentially be on the left side of Topi Niemela in the future. 
Of course, there always is a chance that the Toronto Maple Leaf's attempt to trade the pick in a package to improve their team; however, I don't see that happening unless the asking price was too good to say no to like a John Gibson trade. It is also worth considering that the Maple Leafs have shopped a lot of their draft capital and have very few picks in the next couple of years, so they may want to pick from this deeper draft class, as it could be beneficial down the road. As the draft is getting closer, all Leaf fans should find out more about what the management group has up their sleeve, but if they choose to draft a player with their 25th selection, I don't think they will be disappointed in the future.