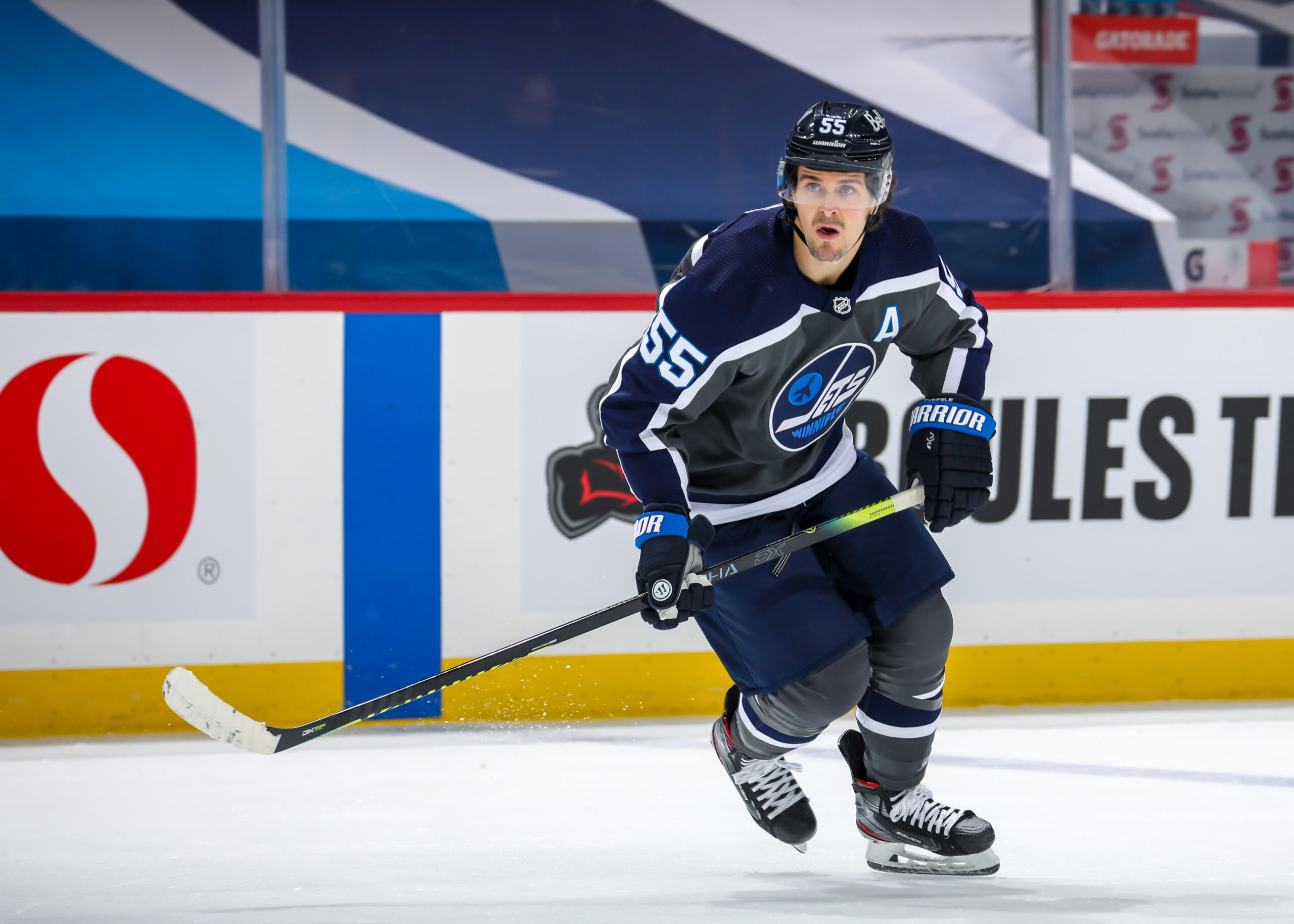 I think it's time to discuss that Mark Scheifele will probably walk for nothing when his contract expires at the end of the 2023-24 season. Scheifele is from Kitchener, Ontario, and will be looking to compete for a Stanley Cup before he retires. The Winnipeg Jets are playing a game of chicken with either retooling or fully committing to a rebuild. The Winnipeg Jets' seventh overall selection in the 2011 NHL Entry Draft will likely want to play for his hometown team, and here's why.
What About The Salary Cap?
Toronto won't have an issue getting top-end talent to sign a one year for a little bit less than usual. Mark Scheifele is also from Ontario; how many players get to say they won a Stanley Cup for their hometown team? The NHL salary cap shouldn't be an issue, especially with Toronto's projected $46 million in cap space next offseason.
Related: Mark Scheifele Stats
Yes, Toronto has to figure out a significant portion of the roster; Ilya Samsonov, Auston Matthews, William Nylander, Tyler Bertuzzi, Max Domi, Sam Lafferty, John Klingberg, and Timothy Liljigren are UFAs at the end of the season. However, here's my argument, Tavares' current contract is up in two years, and I can see him taking significantly less to stay with the team. That would free up anywhere between $5-8 million toward the remainder of the roster.
Mark Scheifele is a great center, especially as he has gotten older. He recently scored a career-high 42 goals in the 2022-23 season and has started improving his overall game. Suppose Toronto can re-sign their notable UFAs and bring in Mark Scheifele. They may consider moving Tavares to the wing for Scheifele to be the second-line center.
However, I think the projected contracts for their pending UFAs are as follows:
Auston Matthews, five years at $13.34 million.
William Nylander, eight years at $9.5 million.
Tyler Bertuzzi, four years at $6.75 million.
Max Domi, three years at $4.25 million.
Sam Lafferty, two years at $2 million.
John Klingberg enters the free-agent market.
Timothy Liljigren, two years at $2.5 million.
Ilya Samsonov, two years at $4.5 million.
This leaves Toronto with exactly $3,815,333 in cap space if they get the contracts around where I have them projected. Scheifele wouldn't take a near 50% pay cut to play with his hometown team unless Toronto finds a way to make more cap space.
Would Scheifele Sign In Toronto?
Indeed, he would take a reasonable contract on a one-year deal to play for his hometown team. Scheifele is currently listed at 6-foot-3 and 207 pounds, which is valuable come playoffs. You can't teach size, and you can rarely teach skill and size simultaneously.
Scheifele's been in Canada for his entire professional career. He spent his junior career with the Barrie Colts and has played for the Winnipeg Jets since being drafted. He's deeply rooted within Canada as a hockey player that it might be tough for him to leave on a personal level. There certainly has to be a bit of personal consideration on Scheifele's end for playing closer to home. However, Ottawa could also see if Scheifele would want to play for them, and that is something to consider.
What Does Toronto's Possible 2024-25 Lineup Look Like?
Let's say those exact contract projections become reality and Mark Scheifele signs a one-year deal worth $3 million. Toronto would be left with just over $800,000 in cap space and have a bolstered lineup. Let's take a look at what their lineup could potentially look like.
Bertuzzi – Matthews – Marner
Knies – Scheifele – Tavares
Jarnkrok – Domi – Lafferty
Voit/McMann – Holmberg – Reaves
Reilly – Liljigren
McCabe – Timmins
Brodie – Niemela
Samsonov
Woll
You might be question how or why Treliving may do this, and I don't see a realistic avenue where Klingberg stays. Toronto's defense isn't terrible, and Brodie isn't due a pay raise. I'd be surprised to see if he makes more than $1.5 million on his next contract.
Related: The Winnipeg Jets Must Trade Mark Scheifele Now
Scheifele making less than $5 million on his next contract is also something that I don't see happening. Maybe Scheifele ends up in Toronto via trade? I don't have the answers, I'm purely speculating.
Final Thoughts
I do see a time in Scheifele's career where he ends up as a Toronto Maple Leaf. Every kid grows up dreaming about playing for their hometown sports team. If the money is right and it fits Toronto's salary cap situation, it will happen.
This is purely a matter of either Scheifele is willing to take less or Toronto is willing to cut ties with another player for the Ontario kid. Like I said, I don't have the answers and I'm purely speculating. I'm at the point where I do see Scheifele walking away from more money to play with Toronto on a one-year deal.
The Connor Bedard Tour Begins (20)
–
Jacko Media
Thank you for listening to today's episode of the Jacko Media podcast presented by the Inside The Rink Podcast Network!In this episode, host Conrad Jack talks about:- How about those Jets? (2:29)- The NHL goes down under for the Global Series. (15:00)- Atlantic division standing predictions. (18:18)- Metropolitan division standing predictions. (26:14)- Central division standing predictions. (31:01)- Pacific division standing predictions. (34:58)- Season predictions. (36:40)- Various news pieces. (47:43)This episode includes music from The Janzen Boys and their song called "One For The Road." Show them support on streaming any available streaming platforms.If you want to submit a question to the show, you can follow me on X/Twitter and reply to a post.