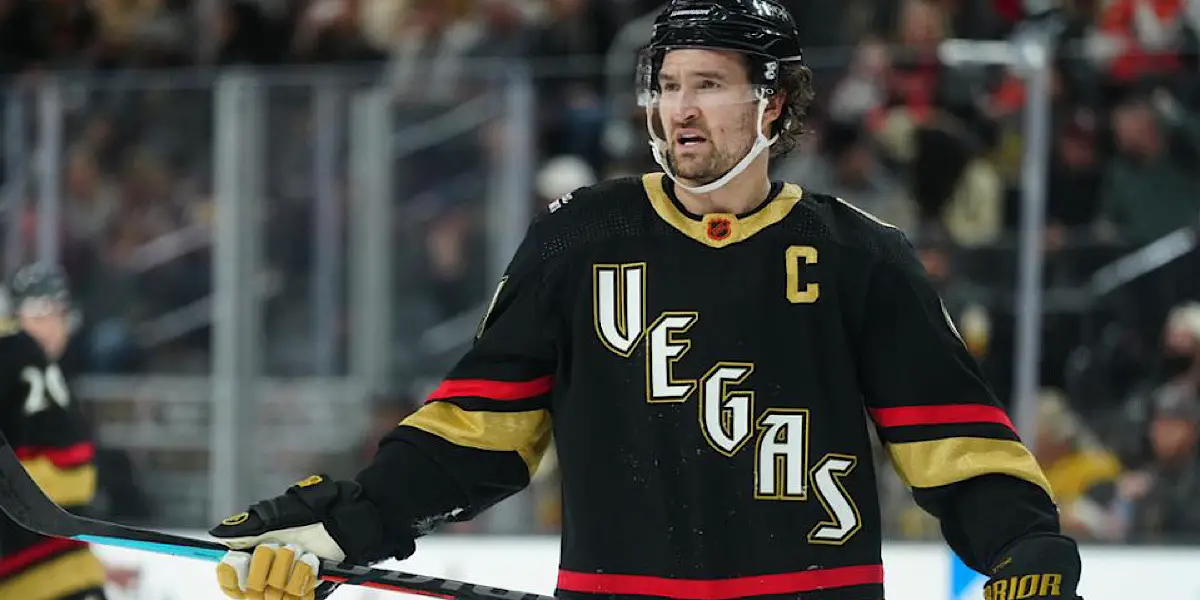 Vegas Golden Knights forward Mark Stone left Thursday's game versus the Florida Panthers in the first period with an undisclosed upper-body injury. On Friday, Vegas head coach Bruce Cassidy revealed he was considered week-to-week.
The 30-year-old Golden Knights captain missed a large part of the 2021/22 NHL season with a back injury playing only 37 of the teams' 82 games. Stone had a back procedure done mid-season, then another one done in the off-season before the start of the 2022/23 season.
Stone appeared in all 43 of Vegas' games this season, scoring 17 goals and 21 assists, helping lead the team to first place in the Pacific Division before getting injured Thursday.
The 6'3" 217lb right winger from Winnipeg, Manitoba, has played 218 regular season games recording 203 points with Vegas since being acquired from Ottawa at the trade deadline during the 2018/19 season has proven to be a vital player in Vegas' success. Losing Stone as the team just was getting healthy could be a big blow to the Golden Knights future success.
Drafted 178th overall in the sixth round of the 2010 NHL draft by the Ottawa Senators, Stone signed an eight-year $76 million contract with Vegas on March 8, 2019, shortly after being traded from Ottawa. With five years remaining and injuries becoming a regular occurrence, this could become a hard contract to stomach for Vegas, who already struggle with salary cap issues on what seems like a yearly basis.
One can only speculate on Stones' most recent injury but by labeling him as week-to-week right away and his history of injuries and most recent back surgeries, you don't have to look far to see how long a player could be sidelined if it's not a minor injury. Younger players such as fellow Golden Knight Jack Eichel and Philadelphia Flyers forward Sean Couturier come to mind when talking about NHL players being out for prolonged periods due to back injuries.
With the NHL trade deadline fast approaching on March 3, 2023, Vegas can only hope their captain has avoided a major injury and does not have to force General Manager Kelly McCrimmon into having to try to replace Stone or maybe a long-term injury could just be what Vegas needs to create some salary cap space to help bolster their roster for the playoffs. Time will tell if Mark Stone getting injured hinders or helps Vegas in the spring of 2023.
NHL trade deadline recap/ MWC Tournament bracket picks!
–
The Vegas Fever Podcast
A packed show started with Steven Marsh from Ice Times Hockey West, he came on to chat about the Golden Knights trade deadline approach, the crowded goalie room and what the Knights may have in store for Vegas fans during the playoffs.Tom Mosser wrapped up our show with his opinions on UNLV's basketball's  long season, along with his Mountain West Conference basketball tournament picks.Thank you for checking out our show! Please subscribe after you listen!