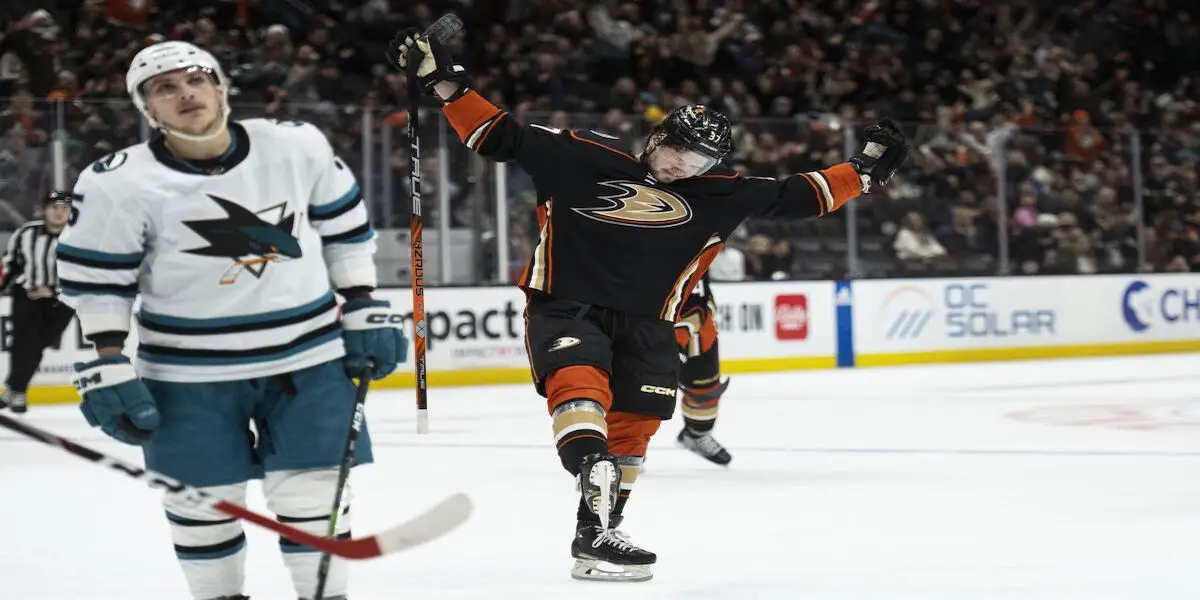 Welcome, one and all, to the Mason McTavish Show! He has arrived.
The Anaheim Ducks hosted the San Jose Sharks for a Friday night showdown on national television at Honda Center. This was game seven of a ten-game home stand for Anaheim, in which they've managed a 2-3-1 record. The Sharks entered play looking to remain perfect in the new year, having only played one game, a 5-2 defeat of the Chicago Blackhawks.
Erik Karlsson came into tonight's action on a 13-game point/assist streak that dates back to December 3rd. Kaapo Kahkonen got the nod in net for San Jose, with Anthony Stolarz to oppose him in the Anaheim crease. This was Stolarz's first game since returning from an injury he sustained in the first period of a 6-1 defeat against these Sharks on December 9th.
Ducks' head coach Dallas Eakins did a bit of lineup shuffling to the forward group before Anaheim's 2-0 win vs. Dallas on Wednesday when he slid Trevor Zegras to left wing next to Ryan Strome and Frank Vatrano as well as promoted rookie center Mason McTavish, to the top line to play between Adam Henrique and Troy Terry. The lineup for this game featured the same forward construction, but on the blue line, Colton White drew in for Kevin Shattenkirk (who would miss this one due to an illness).
Recap
San Jose got the scoring started early. Very early, in fact, as just 38 seconds into the game, as Alexander Barabanov found Matt Nieto with a pass on a two-on-one after Nieto jumped around John Klingberg to get to the puck. A broken breakout off a face-off led to San Jose's second goal when Steven Lorentz tipped home a shot from Erik Karlsson, extending his point/assist streak to 14 games.
Thirty-five seconds and a fight between Sam Carrick and Jonah Gadjovich were all that stood in the way of the Ducks answering when Frank Vatrano popped out an area pass to John Klingberg at the top of the right circle. Klingberg then avoided a few poke checks from Marc-Edouard Vlasic with some slick stickhandling and fired a pass across the zone to a streaking Trevor Zegras, who buried it high on the Kahkonen's blocker side. Toward the end of the period, Mason McTavish picked up a puck behind the net on a four-on-four, circled the zone, and found Ryan Strome on the doorstep to tie the game at two.
The teams traded blows for the remainder of the regulation, which saw Timo Meier and Mason McTavish each score a pair of goals. Meier deflected two outside shots past Stolarz, and McTavish banged home a puck that took a bad bounce off the glass as it was dumped into the offensive zone by Jakob Silfverberg. The Sharks took a 4-3 lead into the second intermission, but McTavish tied it up with a controversial tally just over 13 minutes into the third period. In a play very reminiscent of game one of the Western Conference Final between Colorado and Edmonton, Cam Fowler brought the puck into the zone seemingly on a missed offside call, only to have it eventually find the stick of Mason McTavish, who would snap it glove side from between the circles. Like Cale Makar in the WCF, Fowler did not touch the puck on the offensive side of the blueline when his teammate was offside, thus rendering the ruling onside, and the goal stood.
The game went to overtime, where in typical Mason McTavish fashion, he recovered from losing a puck battle only to win it back from Tomas Hertl in the neutral zone. He then finds a streaking Troy Terry, who is joined by John Klingberg for a two-on-one when Terry finds Klingberg between the hash marks and buries it for the win.
Offense
On the offensive side of the scoresheet, this game was all about Mason McTavish. He would finish the night with two goals and two assists in 17:34 of ice time. What goes unnoticed is the little things Mason does in all three zones to put himself in position to make plays, find teammates in tight spaces, and win battles on the wall and in open ice. He never gives up on a play (like we saw in the overtime winner) and shows a level of ice sense that can't be taught. He does need to clean up his work in the defensive zone, however. He can sometimes lose his check after a turnover or get beat out of a corner occasionally. These are rookie mistakes that he will certainly clean up as the days go by.
Trevor Zegras and Ryan Strome have found a good rapport in the two games they've played together. The two of them, along with Frank Vatrano, have shown a good ability to transition from their own zone and create offense on the rush at the other end. When in the zone, they have been able to find each other with creative passes to soft spots on the ice. Early returns on that experiment have proved positive.
Another positive was the powerplay, specifically the second unit. The subtraction of Kevin Shattenkirk ended up making that unit far more dynamic. They were moving the puck quickly and precisely while constantly in search of seam passes. There was movement from all five players through the zone, and it created a few quality chances.
Defense
John Klingberg had his fingerprints all over this game. He was determined to be a factor all night long. He was sharp on breakouts, often finding his center low in support for a smooth and easy zone exit. He actively joined rushes up ice and picked his spots beautifully to make himself an option. Even the goals against that he was directly involved in didn't bother me as he was attempting to make the correct play, but there was either a miscommunication or, simply, a good play was made by a Shark.
Cam Fowler provided his usual stability on the backend over a total of 27:21 minutes on the ice. He was patient and thoughtful with the puck while never getting caught out of position defending. He split his ice time pairings with John Klingberg and Dmitry Kulikov.
The Ducks, as a five-man defensive unit, were far better at pouncing on loose pucks and supporting the puck in the defensive zone for easier breakouts. They had trouble recovering from failed exits, however, leading to them giving up quality opportunities. The front of the net remains an issue for the team as well. Too many times, they fail to box out an opponent and allow them to get sticks on point shots or rebounds lying around the crease.
The penalty kill has been phenomenal of late, and that trend continued in this one. They have now killed 17 of their last 18 penalties. Adam Henrique and Jakob Silfverberg are doing a great job high in the zone of pressuring puck carriers and not allowing seam passes.
Goaltending
Anthony Stolarz, like John Gibson, usually does, made the saves he had to in order to give his team a chance to win. He stopped 37 of 41 shots and couldn't have been expected to make saves on the goals he did give up. Three goals against were on tips or screens, and the other was a tap-in off a two-on-one. He performed well in his return to action and should be proud of the job he did
Summary
Anaheim probably didn't deserve to win this game, but there were major improvements to the breakout and offensive zone dynamics. They will have a tough game next as they will host the league's best team, The Boston Bruins, on Sunday evening. Can they extend their winning streak to three games?
On this week's chaotic episode of LAP, Jake, Chris, and Lou talk about the Stanley Cup Final, some coaching changes and share some thoughts on the ESPN and TNT broadcasts. They also talk at length abouth why Florida's uniforms need to change and finish things up with listener questions!Follow Late Arrivals Twitter: @latearrivalspodInstagram: @latearrivalspodFollow the hostsChris: @CJKChelConnor: @91_PlutyJake: @_JRobles71Louis: @Louiex37 Intro/ Outro done by Will Rice/ @pastorwillrice