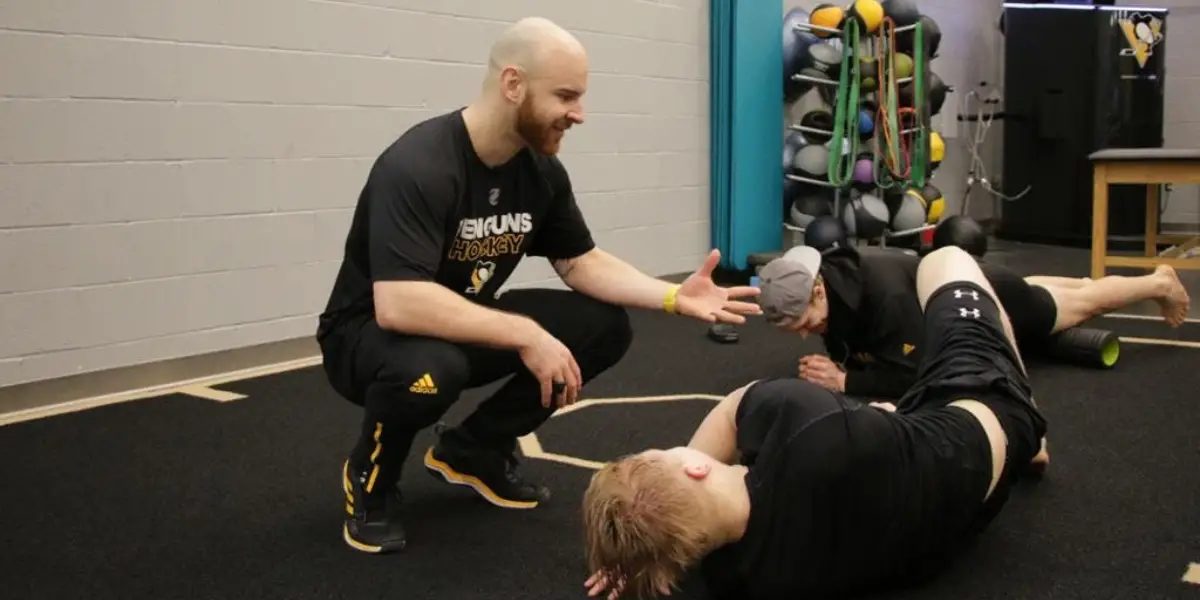 A Bold Move for the Canucks
The Vancouver Canucks have announced the hiring of Alex Trinca as their new Director of Human Performance. This move is a significant step forward for the organization, as they aim to strengthen their team's performance on and off the ice. But who exactly is Alex Trinca, and how will he contribute to the team's success?
Alex Trinca: An Expert in Human Performance
Alex Trinca has an extensive background in sports science, making him an ideal candidate for the Director of Human Performance position. With a Master's degree in Exercise Physiology, he has spent years working with elite athletes, helping them improve their overall physical and mental well-being. His expertise in sports nutrition, strength training, and injury prevention is invaluable to any sports team.
Trinca's resume includes seven years with the Pittsburgh Penguins, which explains managements familiarity with Alex. This experience has given him a unique understanding of the demands placed on athletes at the highest level. It's safe to say that the Canucks have made a smart choice by bringing him on board.
How Will Trinca Impact the Canucks?
So, what can Canucks fans expect from Alex Trinca as the new Director of Human Performance? For starters, he'll work closely with the team's coaching staff to develop customized training programs that cater to each player's specific needs. This personalized approach will ensure that players reach their full potential and perform at their best throughout the season.
Furthermore, Trinca's expertise in injury prevention will be crucial in keeping the team healthy and on the ice. In a sport as physically demanding as hockey, injuries can derail a season or even a career. By implementing cutting-edge techniques and strategies to minimize injury risk, Trinca will play a vital role in the team's long-term success.
Another area where Trinca will make a significant impact is nutrition. A properly balanced diet is essential for athletes, and with Trinca's guidance, the Canucks will be able to optimize their players' nutritional intake. This will help them recover faster after games, maintain optimal energy levels, and avoid the dreaded "burnout" that can plague professional athletes.
A Promising Future for the Canucks
In conclusion, the Vancouver Canucks' decision to hire Alex Trinca as Director of Human Performance is a bold and strategic move. With his extensive experience and expertise in sports science, Trinca can help the team reach new heights of success. By focusing on personalized training programs, injury prevention, and nutrition, the Canucks have taken a crucial step toward building a healthier, stronger, and more resilient team. It's an exciting time to be a Canucks fan, and we can't wait to see what the future holds under Trinca's guidance!
HSP – May 29th 2023 – Canucks Cap Issues, CFL Pre-Season and Arturs Silovs is the man!!!
–
Hughes Sports Podcast- HSP
Introducing the Hughes Sports Podcast, your go-to source for insightful discussions and expert analysis on the hottest topics in the world of sports. Join your hosts, Jake and Kevin Hughes, as they delve deep into the captivating realm of sports.In our latest episode, we spotlight the Vancouver Canucks' cap issues, dissecting the complexities and implications of their financial challenges. Jake and Kevin meticulously analyze the team's salary cap situation, offering invaluable insights into the strategies the Canucks can employ to navigate this obstacle and achieve long-term success.But that's not all! We also dive into the exciting realm of Canadian Football League (CFL) pre-season action. With a keen eye for detail, Jake and Kevin break down the standout performances, highlight emerging talents, and provide a comprehensive overview of what to expect in the upcoming CFL season. Whether you're a die-hard CFL fan or a newcomer to the sport, this episode will keep you well-informed and ready for the gridiron action.And let's not forget our tribute to the incredible goaltending prowess of Arturs Silovs. Recognizing his exceptional skills and immense contributions to the sport, Jake and Kevin pay homage to Silovs' extraordinary talent and discuss how he has become a force to be reckoned with in hockey. From his remarkable saves to his unwavering determination, we delve into why Silovs is the man to watch out for.Tune in to the Hughes Sports Podcast for a captivating blend of SEO-focused copywriting expertise and in-depth sports analysis. Jake and Kevin Hughes bring their passion, knowledge, and wit to the forefront, delivering a podcast that will keep you entertained, informed, and craving more. Don't miss the latest episode—your ultimate sports fix awaits!