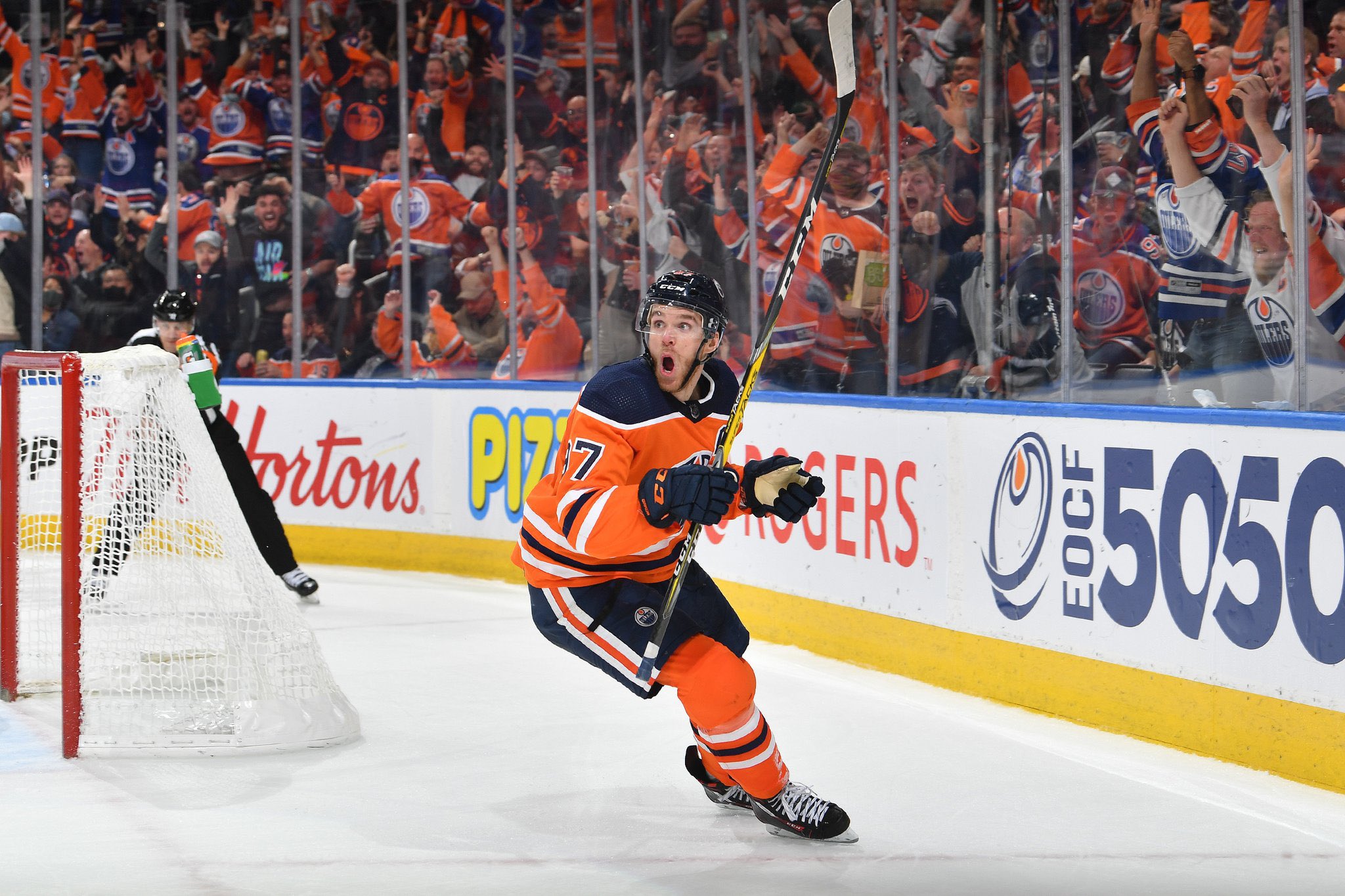 On Friday night, the Edmonton Oilers celebrated the retirement of Kevin Lowe's number 4 with a thrilling come from behind victory over the New York Rangers. Edmonton trailed 4-1 late in the second period before rallying to cut the deficit to 5-4. Then, with 3 minutes remaining in the 3rd period, Connor McDavid deked around 4 Rangers defenders and scored one of the most incredible goals I've ever seen. This type of goal is nothing new from Connor, so in this article, we'll take a look back and break down the human highlight reel's best work.
The Morgan Reilly Goal – Jan 6, 2020
McDavid's first career goal in his home city of Toronto was memorable. On this play, Ryan Nugent-Hopkins intercepts a pass at the defensive blueline and dishes to McDavid, who skates one-on-one against Maple Leafs Defenseman Morgan Reilly. McDavid slows down and begins to glide and look back as if waiting for a trailing teammate to catch up for a pass. Then, the millisecond Reilly does a crossover to his left, McDavid explodes to Reilly's right and catches him off balance. Connor protects the puck beautifully and goes short-side top shelf on Michael Hutchinson for his first NHL goal at Scotiabank Arena.
Coast to Coast – Jan 30, 2021
For this goal, McDavid winds up from his own zone and picks up speed. He blows by Zach Hyman in the neutral zone before taking on multiple leaf defenders. Justin Holl waves his stick towards McDavid, who then moves to the inside to avoid the poke. Jake Muzzin, the primary defender covering the middle of the ice, drifts a hair too far to McDavid's outside left, allowing Connor to explode to the inside again. Mitch Marner is too far away from Muzzin to close the gap, and McDavid splits the defenders. Muzzin desperately attempts to stop McDavid and gets his stick blade caught in Connor's skate. Despite being off-balance, McDavid finishes with a nice move on Frederik Andersen.
Oh My, Welcome Back! – Feb 2, 2016
After missing several months with a broken collar bone during his rookie season, McDavid returned against the Columbus Blue Jackets on Feb 2. Midway through the 2nd period, the Oilers begin rushing up the ice through the neutral zone. Then Oilers forward Benoit Pouliot puts the puck on a tee for McDavid, who reaches around Blue Jackets defender Jack Johnson. Seeing that Johnson is beat, Justin Faulk lunges towards McDavid, only for Connor to toe drag around him. Faulk then tumbles to the ice, and McDavid absolutely undresses Joonas Korpisalo for the first goal in his return from injury.
What Can You Say? – Nov 5, 2021
This one is my personal favourite. Much like the goal against Morgan Reilly, McDavid slows down for a split second, then turns on the jets. He immediately blows by Dryden Hunt and Kevin Rooney. He then challenges Partik Nemeth 1 on 1. He moves to the outside, and Nemeth bites. As soon as he crosses over, McDavid accelerates to the inside and gets around Nemeth, all while Jacob Trouba frantically swings his stick, trying to knock the puck away. McDavid gets through all four defenders and finishes with a backhand beauty and a shocked facial expression. Even he couldn't believe what he had just done. I think an argument could be made that this is the greatest goal in the history of the NHL. Leave your thoughts in the comments below!