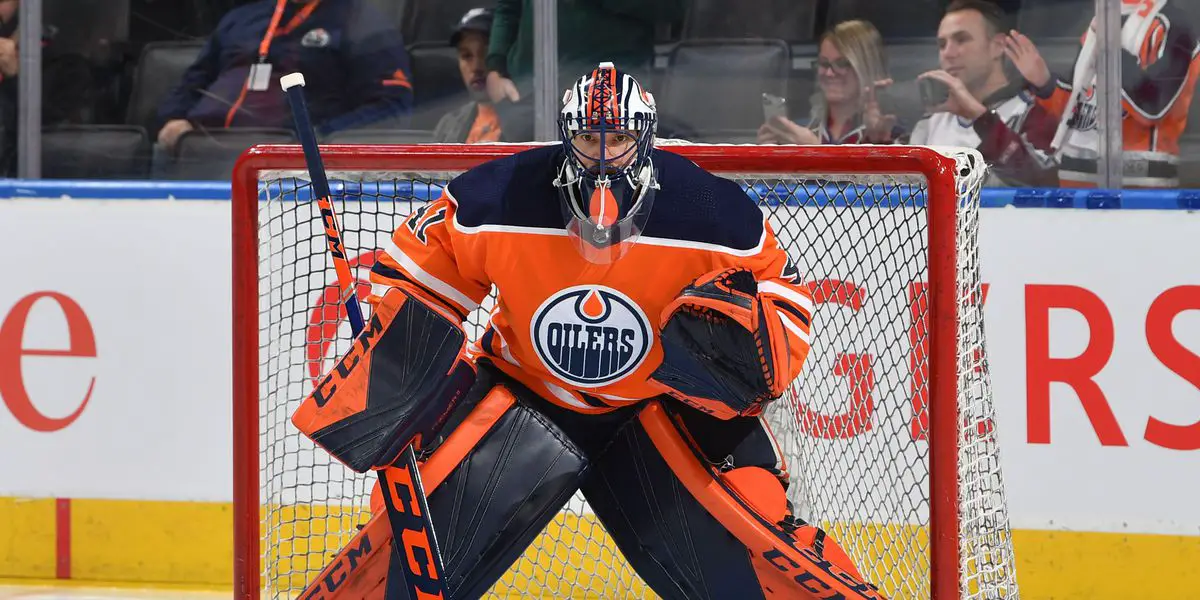 On October 19th, in a game against the Anaheim Ducks, Mike Smith appeared to tweak something in this lower body. Koskinen came in to relieve Smith on that night, and the Oilers managed to rally back from the 5-3 deficit to defeat the Ducks 6-5. After the game, it was believed that Mike Smith's injury was nothing too serious and he would only miss a week or two at maximum. However, on Thursday morning, Daniel Nugent-Bowman of The Athletic reported that Smith had suffered a setback in practice and was sent back to Edmonton for further evaluation. Smith has already been out for over 3 weeks and has missed 9 games. Now it seems that Smith will not be back with the team any time soon, and the Oilers will be left with the goaltending tandem of Mikko Koskinen and Stuart Skinner for the foreseeable future. So what does that mean for this team?
While some have been critical of Koskinen's play at times, The fact is, the Oilers are 8-1 this season with Koskinen between the pipes. He has posted a fairly solid .918 Sv% and a goals saved above expected (which many believe to be the gold standard goalie metric) of 1.9, which is certainly above average. The Oilers should not be worried about their ability to be competitive with Koskinen in the net. For a 1B, he has been more than good enough. This year, one big difference is that the team feels like Stuart Skinner is NHL ready and can come in relief to provide Koskinen with nights off. In his first start of the season, the Oilers came out with a dreadful performance in Detroit in which Skinner was peppered with 38 shots. Aside from 1 bad mistake while playing the puck, Skinner was excellent, making 35 saves and posting a GSAx of 2.7! After the game, Skinner said he "felt like he belonged" in the NHL, which is definitely a good sign for the kid's confidence. Skinner is an essential piece for the Edmonton Oilers going forward, as the last 10 Stanley Cup Champions have all had a goaltender drafted and developed in their system. It will be a huge opportunity for the young goalie during this stretch to prove he can be that guy for the Oilers someday. Skinner posted a 20-9-1 record in the AHL last season while having a GAA of 2.38 and Sv% of .914, so he has been showing some promising improvement over the past year, and a sign that he might be developing into the goaltender that the Oilers hoped he would become when they drafted him 78th overall in the 2017 entry draft.
The Bottom Line
While some may have their concerns about a Koskinen-Skinner tandem, they are winning with them right now and winning matters. Obviously, the Oilers will feel much more comfortable when Smith is back to 100%, as the veteran goalie has been a major part of the Oilers' success over the past few seasons. Smith is still the number 1 goaltender, and will likely still be number 1 come playoff time. The one major concern I would have is Smith's age. At 40 years old, father time might be catching up with him. Smith has already been somewhat injury-prone for his entire career, so it would be reasonable to worry that he could potentially go down in the playoffs. The Oilers would have to be comfortable enough with Koskinen or Skinner to step in if that happens during crunch time. While Koskinen's numbers have been good for now, if he starts to falter as the season progresses, there is plenty of time for the Oilers to reevaluate the situation and see if they need to make a trade. Rumours have been swirling that big name goalies like Marc-Andre Fleury may be available, so it's something to consider for sure. The Smith injury gives the Oilers a good long look at Koskinen to make sure they are confident with him being a part of this team for a playoff run.