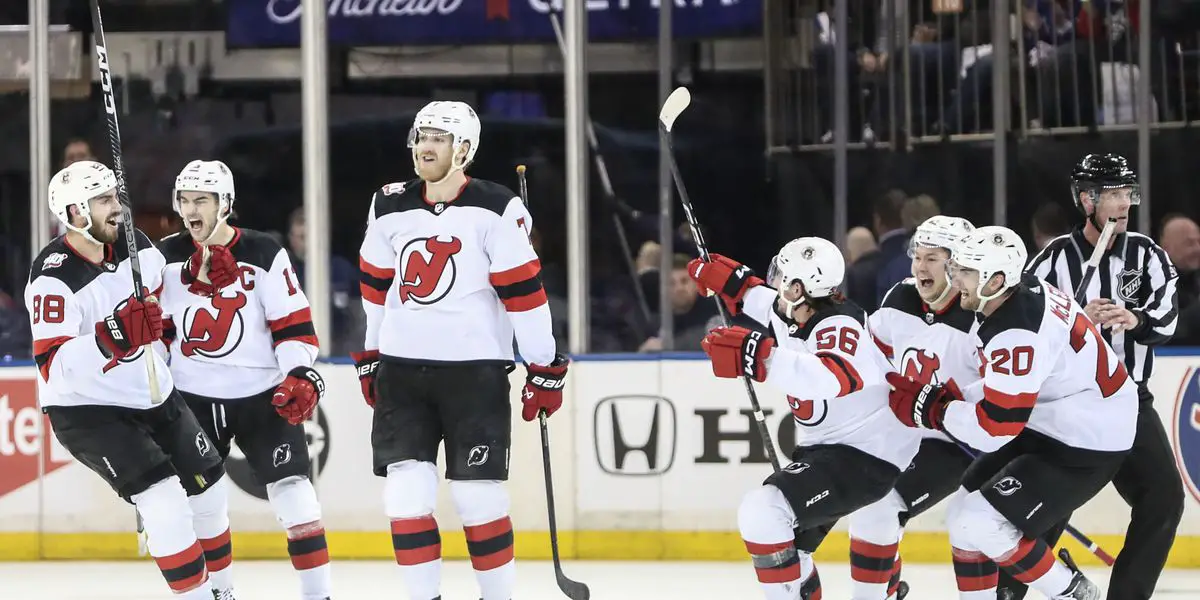 If you're a Rangers fan, you just knew. Those first two games were almost TOO perfect. So while it was no shock that a team as talented as the Devils would not go away quietly, the Rangers had a glorious chance to put a stranglehold on the series and possibly save some energy for the next round. Yet, once again, they let it slip through their fingers as the Devils prevailed in overtime by a 2-1 score.
Even the great Rangers' teams never seem to make it easy on themselves. Even when they eventually prevail in these series, they always seem to be one big goal or stop away from putting a team away, which rarely happens. So, enter drama into this series. Let's break down the good, the bad, and the in-between.
THAT'S GOOD
DEFENSE AND GOALTENDING
If there's one very positive takeaway from last night's Game 3, it's that the defensive structure and Igor continued to shine. It's not like the Devils' offense magically found their game. They were still stifled, sloppy, and hounded at every turn. Their only goal in regulation was a power play snipe by Jack Hughes after a bizarre sequence of events that led to the man advantage. (On that note, Igor needs to be smarter. Timo Meier knew what he was doing by laying on Shesterkin's leg, but you can't pound on him like that and not expect to get the ref's attention. The team as a whole needs to be smarter than that.)
Still, it's very encouraging that the Rangers continued to make this dynamic offensive team look downright stunted and discombobulated. Of course, there's a lot to throw away offensively from this game (see below), but our fortunes will turn back in our favor if the defensive game plan (both D-men and forwards) continues to shine like this.
CHRIS KREIDER
He'll get a quick shoutout here as he scored the night's only goal on a beautiful snipe over Schmid's shoulder. An engaged Chris Kreider is a wonderful thing, and it's incredibly encouraging that he scored it at even strength.
You don't have to be a hockey coach to know that they would focus on him on the power play after what he did the first two games. So, for him to still score in the game in another fashion is a great sign. Now, if only that would rub off on some of the other players.
THAT'S BAD
ARTEMI AND MIKA
Let me preface that this will not be a bash job, and three games is still a small sample size. Simply put, though, we need more from both of these players. Period.
Statistically, the numbers aren't horrific, as both have two assists in three games. However, both players were our top point-getters during the season, and both are scoring threats. This team will not get by if they don't start finding the back of the net.
Panarin was by far the most egregiously bad of the two last night. He had several glorious chances where he just blatantly missed the net, including on an early breakaway. (How is Panarin only 1 for 11 on breakaways this season? That is mindboggling.). I don't think we're asking for a hat trick a night here, but he has to come through on some of these golden opportunities, especially with his (usually) accurate shot. It is frustrating because he came out of the gate with two assists in the first period of Game One. He looked focused and on a mission. Since then, he doesn't have a point in almost NINE periods. That can't happen.
At least Mika had some point-blank shots on the net last night, but he also seems a little off with his shot. This happened last postseason too. He was almost non-existent early in the Pittsburgh series. Once he took off, he never came down (till the whole team ran out of gas), but it's not enough to praise him just for hitting the goalie. We need him to find his shot now, especially on the power play where the Devils' focus will be on Kreider, so his prowess will be necessary.
Again, these recaps aren't definitive. They assess what is happening at the moment. These are two of my favorite players. We could be sitting here after a five-game series win that had Bread and Mika ultimately shine. Until then, though, we haven't had enough from these two players. At least ONE of them has to get going, and we'll be fine. If they both are held dormant, this series could get more interesting than it already has become.
POWER PLAY
I won't get too crazy here cause this unit was fantastic in the first two games. However, you deserve what you get if you go 0 for five on the power play. It's also here cause it's basically directly related to the two players above. In many ways, as they go, so goes our power play. 
CAN I GO NOW?
BEST GOAL/BIGGEST GOAL: CHRIS KREIDER
Unfortunately, our only candidate. Still, at the time, it was massive. It was a beautiful shot and an important goal. We just needed more of them.
WORST OPPOSING GOAL: DOUGIE HAMILTON
I don't need to explain this one. The dagger in any OT loss will always fill this category.
MVP OF THE NIGHT: CHRIS KREIDER
These awards are more hollow in a loss like this, but I'll give it to the only goal scorer. Igor was solid again, with some nice saves, but it was more our defensive structure that kept it close.
UNSUNG HERO: JOHN BRANCY
I'm giving the unsung award to the singer. Honestly, there was some fine work on the defensive end, but I don't feel anyone really stood out as "wow, they played a really good game that went unnoticed." With a team this talented, I won't give extra credit just for getting shot ATTEMPTS on net. The effort was there, but not the results. That was not the case for that AMAZING National Anthem to start the game. The crowd was pumped, and Brancy killed it.  
Game 4 is Monday Night at MSG.
In this week's episode we discuss the new rumors regarding the Rangers coaching situation. Then go on to the fun stuff discussing the impact Tkachuck's play will make on the game, Rangers players and more. Thanks for listening! Please rate and review our show on your favorite listening platform. Check out our partner's website at www.insidetherink.com for all your latest hockey news.