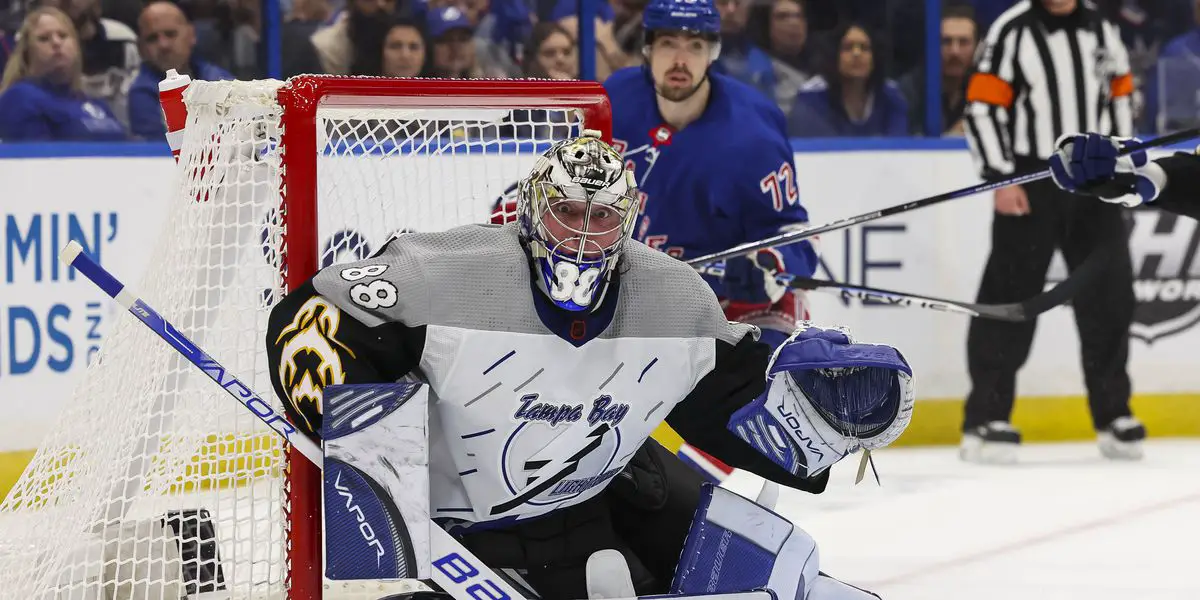 Last night, the NY Rangers were defeated by the Tampa Bay Lightning 2-1 in a shootout loss highlighted by an outstanding goalie matchup. Andrei Vasilevskiy ended up being slightly better than Igor Shesterkin, although the Rangers squandered several opportunities as they once again left a point on the table they could have had. So, let's break it down.
THAT'S GOOD!
IGOR 
There will be no shock if this becomes an evergreen section in the GOOD category. Igor was stellar last night with thirty-nine saves, not to mention putting the Rangers in position a couple of times to win the shootout to no avail. His prowess makes the defeat sting even more as the only goal by Tampa came off a mis-hit by Braden Point that lightly bounced off Shesterkin's pad and into the net. Still, the Rangers would sign up for this performance every night. They would be victorious against any other goalie in the world.
REUNITED, AND IT FEELS SO GOOD
Only one goal for the reunited Mika-Kreider line, but you take that every night. Lack of finish plagued every line in the contest, but still, there were encouraging signs with this combination. Kaapo Kakko fit in nicely as well and continued his strong play. Of course, Gallant has fallen in love with his blender, so who knows how long they stay together but for the sake of the team, and Kakko, it would be nice to let them cook together for a solid chunk of games and see what happens.
THAT'S BAD!
FINISH HIM!
No, I'm not saying to pull out Vasilevskiy's spine and show it to him. (Man, I hope everyone gets the Mortal Kombat reference in this category headline, or this seems extremely dark). However, the Rangers had several opportunities throughout the game to at least nab that second goal off of Vasy and couldn't convert. Obviously, much of that is credited to his goaltending (including an insane robbery of Chytil). Yet, it also says something about a team when they have three breakaways during the game and can't convert. If you factor in all the missed attempts in the shootout, this feels like a huge opportunity wasted by the offense. 
 It's extra frustrating when everyone knows the book on Vasilevskiy is he's almost impossible to score on down low. Therefore it became maddening how little the Rangers tried to elevate the puck on him, highlighted (or lowlighted?) by Trocheck's weak shootout attempt trying to go five-hole. Even when they did attempt to go high side, they were wildly inaccurate all night, continuing the disturbing trend from the previous game against the Capitals.
It was a confounding night because, unlike that Washington game, the Rangers, for the most part, played well. Yet time after time, even though this Tampa team that was coming off a back-to-back wanted to give this game to the Rangers, they were never able to take advantage. Too often this season, even on nights the Rangers are playing sound, they lose precious points in the standings that hopefully don't come back to bite them.
POWER PLAY
As mentioned several times before, the Rangers team of last season weren't exactly five-on-five mavens either when it came to scoring. However, the weapon they possessed was a lethal power play that was pretty consistent all year.
While there have been phases of that same domination (even recently), there has equally been an abundance of slumps like the one they are experiencing now.
The Rangers again went 0 for the power play, including an absolute gift in the OT for a four-on-three advantage. What's even more concerning about not scoring on them is the lack of cohesion and smooth play usually associated with our man advantage.   
It's hard to predict if our even-strength scoring will become a consistent force anytime soon, especially with Gallant's constant line juggling. However, there is no excuse for this power play, with its level of talent and experience, not to be a unit in the league's top ten. The Rangers' inconsistent season will only drag on if they don't figure it out soon.
CAN I GO NOW?
I was very encouraged by the play of Kravtsov. Yes, he missed a breakaway and clearly needs to gain some strength in the offseason, but he is really starting to look more comfortable out there.  
Time to put Alexis Lafreniere in the lineup again. Let him learn on the job. Sammy Blais missed the net on an excellent chance, but this isn't even directly related to him. Laffy should be playing, plain and simple.
I touched on it earlier, but we have just not been good on breakaways, in general, this year. Nothing really points out our lack of finishing ability more than that.
We went off on the refs last game, so we won't dive deep into them again, but how in the world did they not see Hagel's "goal" in real-time? Let's put aside that the whistle should have been blown since Igor stopped the puck for a few seconds. Hagel literally reached in with his glove and threw the puck in the net, and they called it a GOAL!!! Then somehow, the review took more than two seconds. Yes, it's sort of funny, but also just more embarrassment for the league. Jeez.
The next game is New Year's Day in Florida against the Panthers. Another team that is struggling with inconsistent play, so it's time to exploit that and get back to the structure and explosiveness that should be the team's trademarks.
In this weeks episode we have on Nick Morgan from Locked on Predators pod to discuss coaches Hynes and Laviolette.Thanks for listening! Please rate and review our show on your favorite listening platform. Check out our partner's website at www.insidetherink.com for all your latest hockey news.