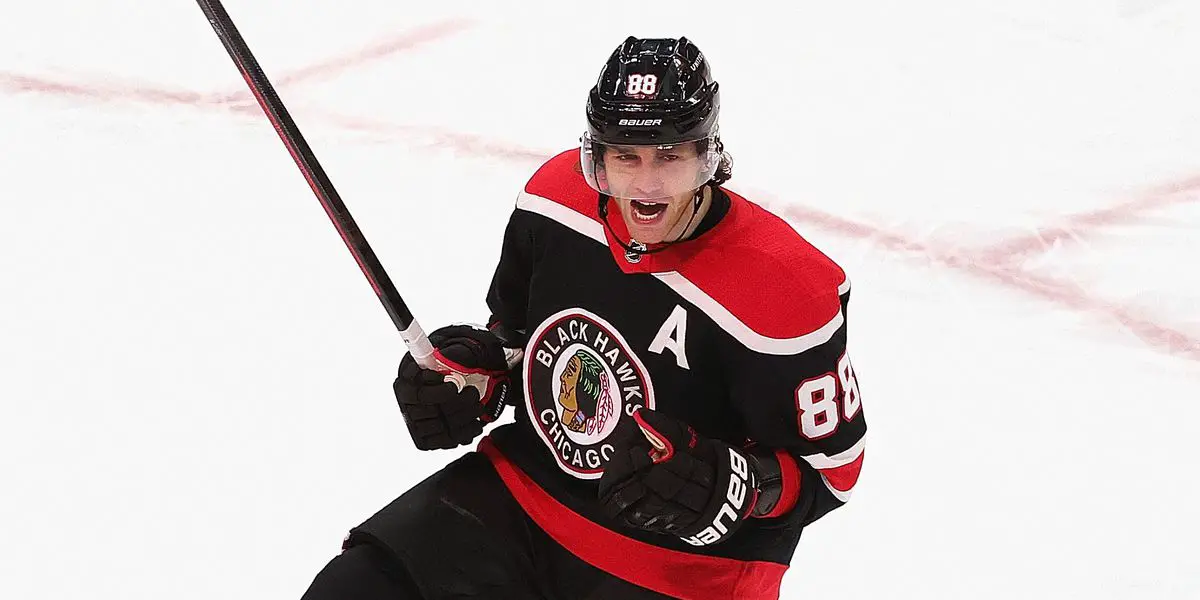 It's no secret at this point that the Chicago Blackhawks are in full rebuild mode, and Patrick Kane's time in the windy city is coming to an end. Even with a no movement clause in place, many expect Kane to waive it as the trade deadline approaches. Kane still has plenty left in the tank to offer a contender looking to solidify their run at the Stanley Cup.
The pending UFA and 3-time Stanley Cup winner will be sought after by a handful of teams, with the New York Rangers and Boston Bruins near the top of the list.
Kane holds the cards to his future due to the NMC on his contract, so that the final say will come down to him. The Rangers make a lot of sense not just because he is from the Buffalo area, but he would be reuniting with former teammate Artemi Panarin. The two are close, and the thought of the two reuniting in a Blue Shirt uniform would be a Christmas wish come true for them.
There are just a lot of factors that make sense for a Blackhawks-Rangers trade to take place. The Blackhawks are a rebuilding team and will want draft picks or prospects, and the Rangers will have the assets to get the deal done compared to other teams.
Here are the multiple reasons why both teams could be a perfect match:
As just mentioned, the Rangers have the assets needed to get Kyle Davidson to say yes to a trade. They have two 1st Round Picks in 2023 as well as having plenty of young players who are either in or close to the NHL.
As of Sunday, the Rangers now have $7.1 million in Cap space, making it that much easier to absorb Kane's contract even after Chicago retains 50 percent. This will also allow them to add additional players besides Kane if they choose too
The proximity to Kane's hometown of Buffalo could play a major role, especially if talks of an extension were to be had. If the Rangers are looking to give up some high-end talent, they will want to ensure Kane will stick around for at least a few years to make it worth it.
Charlie Roumeliotis speculated on what a possible trade could be:
''Would the Rangers part ways with K'Andre Miller or Braden Schneider? Doubtful. What about Filip Chytil, Kaapo Kakko or Alexis Lafreniere? That's where the conversation would probably go next, and that's where it should go next. Multiple league scouts I spoke to weren't very high on Vitali Kravtsov, so I don't think he'd be a prospect the Blackhawks would get overly excited about."
Heading into the Holiday Break, the Rangers rattled off seven wins in a row to get themselves back into the playoff portrait. The Rangers will need a strong second half if they want to be one of the top three teams in the Metro, as they are currently in the Wild Card race.
On the season, the 34-year-old Patrick Kane has tallied five goals and 20 assists on a struggling Chicago team. While those numbers may worry some fans, they shouldn't, as the elite goal scorer and playmaker is coming off a season that saw him score 25 goals and record 92 points which was the third-highest mark of his career. The talent is still there for the right winger; he just needs to find a team that's dedicated to winning and has players capable of keeping up with his skill.
Kevin is back from vacation and dives right back into hockey with the boys as the Bruins wagon keeps rolling. They touch on the playoff race as the top teams in the east are all locked up while the West is still a free for all.DraftKings Sportsbook – Boston's hometown Sportsbook IS LIVE right here in Massachusetts! Bet local on all your favorite sports from the comfort of your own home with DraftKings. To celebrate, ALL new customers will receive up to TWO HUNDRED DOLLARS in BONUS bets when you sign up for DraftKings Sportsbook using code insidetherink! Soon you'll be able to bet local on money lines, spreads, props, and more with one of America's top-rated Sportsbooks – DraftKings Sportsbook!  Download the DraftKings Sportsbook app and sign up with code ITR to get up to TWO HUNDRED DOLLARS in BONUS bets to use mobile sports betting in Massachusetts. That's code insidetherink only at DraftKings Sportsbook.  If you or a loved one is experiencing problems with gambling, call (800) 327-5050 or visit (https://helplinema.org/) to speak with a trained specialist free and confidentially twenty four seven. 21+. Physically present in MA. Eligibility restrictions apply. Subject to regulatory licensing requirements. Eligibility and deposit restrictions apply. Opt in required. Bonus issued as free bets. Terms at draftkings.com/ma.