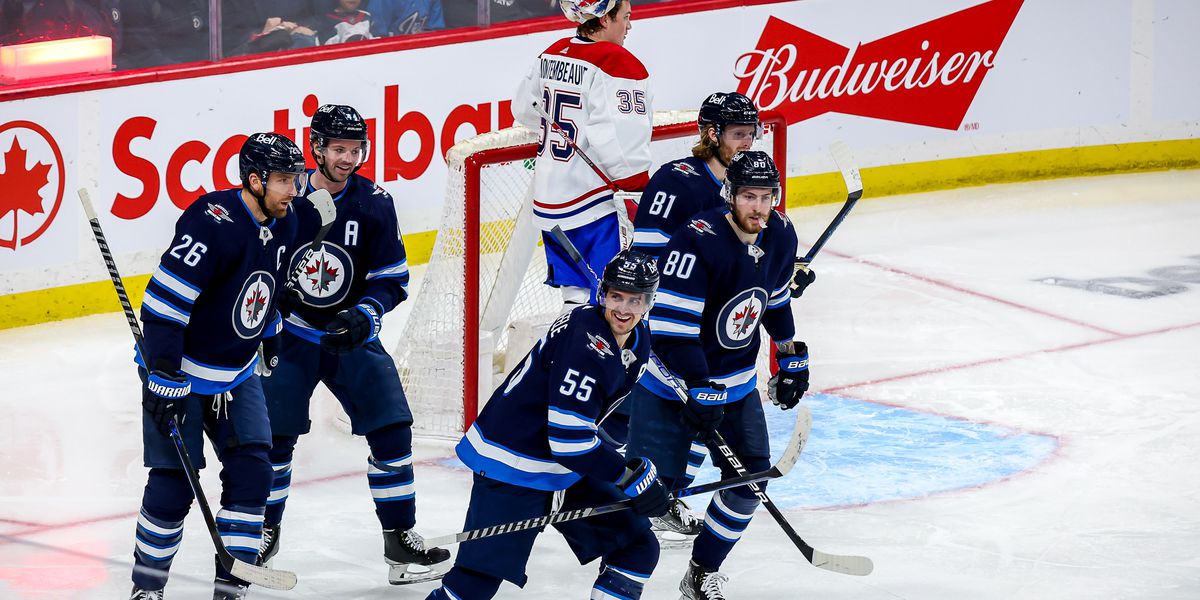 Coming into tonight's game against the Winnipeg Jets, the Montreal Canadiens were riding high on a season-long 5-game winning streak. Many have said this team has completely transformed under interim Head Coach Martin St. Louis and the game tonight would be a perfect example of such.
Big props to the Winnipeg Jets tonight in how they presented and supported Ukraine with the playing and singing of the Ukrainian anthem. In many ways, it would be cool to see every NHL team do this before the games.
Samuel Montembeault was tabbed as tonight's starter for the Montreal Canadiens, winning his last three starts and sporting a .957Sv% over the previous three starts. With his confidence running as high as it was, it would soon plummet as the Habs would find themselves in a 4-0 hole, with Montembeault allowing four goals on the first six shots he would face.
Things were starting to look better for the Canadiens, with Josh Anderson scoring his 9th of the season. In a flurry, Montreal made the game 4-3 after goals from Josh Anderson (2nd of the night) and Artturi Lehkonen, who seems to be increasing his trade value as the games go on.
The Jets were shell-shocked going into the locker room as they once found themselves dominating the game, and 2 Josh Anderson goals and 1 Artturi Lehkonen goal later. It's a one-goal game.
Montreal made up for their porous start by scoring to tie the game 4-4 four minutes into the 2nd period as Josh Anderson collected his first career NHL hat trick.
Discipline would become a theme for both teams tonight as Andrew Copp wired one low glove to give the Jets back the lead 5-4. As Canadiens fans have seen in the past with former HC Dominique Ducharme, this team would not have fought back to make this a game.
The Winnipeg Jets wouldn't look back as Mark Scheifele would score his 2nd of the night to add some reassurance. The Jets would continue to dominate the 3rd period as Pierre-Luc Dubois snipes it past Sam Montembeault to make it 7-4 for the Jets.
In desperate need of momentum, Josh Anderson drew his 2nd penalty of the night. Although they didn't score, they generated some offensive zone pressure as Brendan Gallagher would go to the front of the net and create a massive pile as players jammed away at the puck, but the goal would get called back due to kicking motion.
As the 3rd progressed, the Canadiens got sucked into another penalty as Chris Wideman would get tagged with the instigator penalty after a scrum with Mark Scheifele. Paul Statsny would score on the ensuing powerplay to make it 8-4, setting a season-high for the Jets with four powerplay goals.
Something that needs to be worked on is special teams. It's hard to win games when you take six penalties and allow four goals on those powerplays. Likewise, you are rarely given six opportunities to take advantage of that! You can't go 1/6 on powerplays. This game ultimately fell on who would execute better on special teams, and the Winnipeg Jets proved just that.
Looking forward, Montreal continues their Western road swing with the next game up against Tyler Toffoli and the Calgary Flames on Thursday night at 9 pm Eastern.
Pags' Points
Powerplay: It sits 31st in the league and only scoring 1 goal on 6 chances is very bad. Have to find a way to generate more high danger scoring chances and put the puck in the net. It looked more like a power outage.
Goaltending: I'm not sure what else Canadiens fans can expect with a Montembeault/Hammond tandem but I think after the last few games, they expected a better start from Montembeault. This was another big factor in the result of the game
Joel Armia: During this game, it seemed like Armia couldn't get it going and quite frankly over the past couple games it seems as though he hasn't adjusted to the new coach. He can't make a pass, he isn't putting himself in the best position to shoot the puck.
Cole Caufield-Nick Suzuki-Josh Anderson line: Man is this line so dominant. Martin St. Louis has produced magic with this line and seems to always improve with each game. They got in on the scoresheet with Josh Anderson's 14th of the season (2nd of the night) and continue to create scoring chances for one another on a nightly basis.
Photo credit: Jeff Chevrier/Icon Sportswire via Getty Images