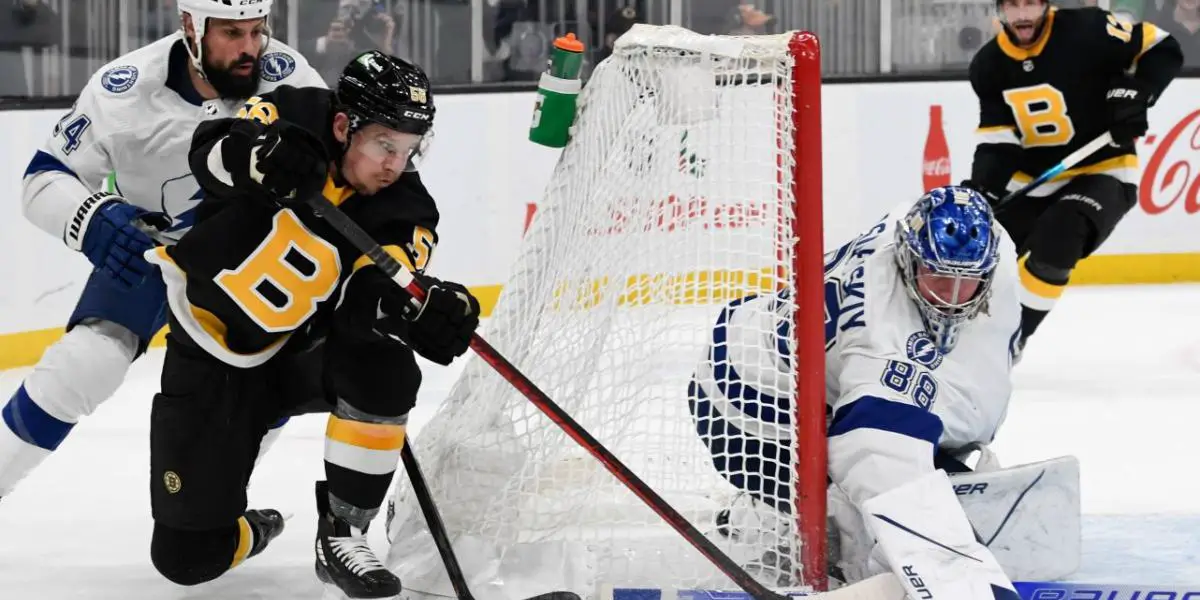 As the Bruins' regular season comes to an end and the team begins to gear up for the playoffs, it's time to reflect on the players' contributions throughout the season. Players have certain expectations associated with them from the beginning, whether it be David Pastrnak and Brad Marchand scoring 30 plus goals, Charlie McAvoy being an elite number one defenseman, or Patrice Bergeron being an elite two way forward once again. These are all expectations of your top players that you'd expect them to meet, and if they don't, it's disappointing. The same cannot be said for all players, though, as some have lower expectations coming into the season, and they excel past the expectations set forth. This year, the Bruins have a handful of players who have excelled past what many expected they would produce, as Erik Haula, Jake Debrusk, and Jeremey Swayman have been producing all season and deserve the award. When this happens, the Bruins honor one of those players with the NESN Seventh Player Award, which is given to the Bruin who goes above and beyond expectations for the season.
Debrusk
For Jake Debrusk, the word quit was never an option as the right-winger was promoted to the top line alongside Brad Marchand and Patrice Bergeron and has produced at a high level. Coming off an extremely down year, the 14th overall pick in the 2015 Entry Draft, who many thoughts wouldn't even be on the roster as he requested a trade in November, would have his name mentioned and be the favorite for this award. Debrusk's above-level production has netted him a two-year contract extension with a $4 million AAV keeping him in Boston for now. It has been a significant turnaround for Debrusk, who originally started the season as a bottom-six forward before his promotion to the top line that has now seen Debrusk reach the 20-goal mark for the second time of his career. On the season, Debrusk has produced 22 goals and 14 assists for 36 points, including seven game-winners. Debrusk's second-half surge has been a major key to the Bruin's success as they continue fighting for one of the three spots in the Atlantic Division. Without Debrusk's offensive production and all-around motor each night, who knows what position the Bruins would be in with ten games remaining.
Haula
One of the bottom six forwards General Manager Don Sweeney signed last July to fill out his roster, along with Nick Foligno and Tomas Nosek, has played a greater role than anticipated. Originally slotted as the third line center between Nick Foligno and Jake Debrusk, Haula got the call to the second line to solidify a line with Taylor Hall and David Pastrnak. While Pastrnak and Hall have benefitted from playing together, Haula has benefitted the most as these two players push him to be good. On the season, Haula has 14 goals and 23 assists for 37 points as he has had an offensive explosion over the last month and now has six goals over his last eight games played. Haula's 23 assists are three short of tying his career-best of 26 that he set in the 2017 season with Vegas and his 14 goals are the third-highest of his career and the most since his 2017 season, where he set all-new career highs in Sin City. To further show the impact Haula has made since January 1st, David Pastrnak has scored 31 goals, and Taylor Hall has chipped in another 11, while Haula has produced his own offense while managing to have won 52.6 percent of his faceoffs this season. It has been a vast improvement for Haula as nobody expected him to get the opportunity and hold on to it for the second-line center position, and he hasn't disappointed.
Swayman
Being a rookie goaltender in the NHL is never an easy task but especially when you have to try and fill the skates left behind by Bruin's legend Tuukka Rask. When Rask returned in January to try and give it one more go, Swayman was the odd man out between as he was shipped down to the AHL to play for the Providence Bruins. Rask's return to the Bruins only lasted four games as he couldn't overcome his nagging hip injury that required surgery in the offseason and led to his retirement. Swayman has looked all the part this season as the rookie goaltender out of the University of Maine has compiled a 20-10-3 record that includes a 2.28 GAA and a .918 save percentage. The 23-year-old Swayman has three shutouts on the year and has been tasked with tougher matchups in recent weeks as Head Coach Bruce Cassidy instills trust into the young netminder. Like any rookie season, there are bumps in the road, but Swayman has been a professional as he works through them to get better and do whatever it takes to help his team win.
Who Deserves to Win?
While all three players and a list of honorable mentions, such as Charlie Coyle and Trent Frederic, are well-deserved candidates, only one player can take home the honor. Due to his ability to step up to the second line and anchor it for two elite players, the honor should go to Erik Haula. Haula is in the midst of his second-best season offensively during his career as he outperforms the bottom-six label attached to him when he was brought to this team. Swayman is a close second as for a rookie goaltender to come on to the scene and win 20 games is no easy task in a loaded Eastern Conference. If Haula does win, he joins a list of Pastrnak (2016-17), Charlie McAvoy (2017-18), Chris Wagner (2018-19), Charlie Coyle (2019-20), and Nick Ritchie (2020-21) who were the past five winners.
The boys are back after a long break but have plenty to talk about as the playoffs are in full swing. We go series by series, looking at how teams have fared so far and who will come out on top. Thanks for listening! Please rate and review our show on your favorite listening platform. Check out our partner's website at www.insidetherink.com for all your latest hockey news.