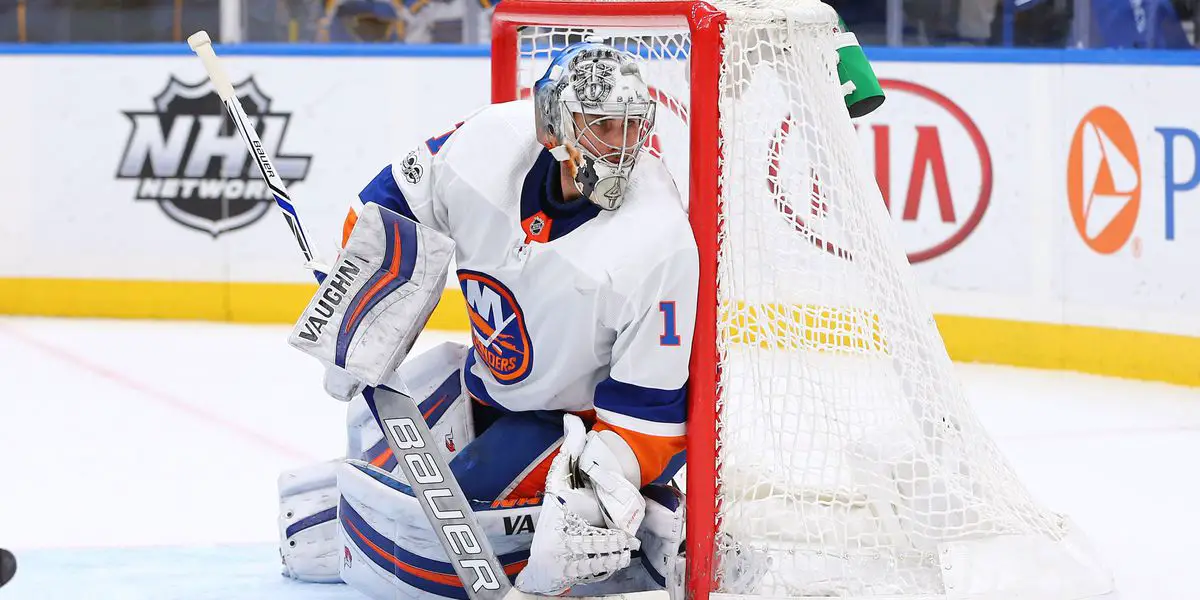 Thomas Greiss started 179 games in his five years on Long Island, and he is playing his first game back since he left in free agency in October of 2020. Let's take a look back and celebrate his career and the New York Islanders.
Signed originally as goalie depth in July 2015, Greiss wasted no time rewarding the Isles for their investment. He posted 2.36 GAA and .925 SV% in a then career-high 38 career starts and took over the starting role for an injured Jaroslav Halak. He then posted a 1.79 GAA and .944 SV% as he (with some help from John Tavares) carried the Islanders to their first playoff series win in 23 years against the Florida Panthers.
The 2016-17 season did not start out well for anyone on the Islanders, especially the goalies. A controversial three goalie system that took practice time away from each of the goalies and even caused Halak to request a trade and subsequently be sent down to the AHL. Couple that with the team sitting last in the Eastern Conference in mid-December, and pretty much everyone was unhappy. 
Through all of this, Greiss had been calm and continued to perform and earned himself a three-year extension on January 30th, 2017 and his play helped get the Islanders back into the thick of playoff contention. Unfortunately for the Islanders, the poor play of backup JF Berube caused the team to overwork Greiss, and his play slipped as a result. They did call up Jaroslav Halak, and he played well, but it was a little too late as they fell just one point shy of the playoffs. 
Hopes were high for Greiss and the Islanders heading into 2017-18, but a 5-0 blitzing by the Blue Jackets on opening night should have been a warning sign for what was to come that season. But Greiss rebounded with a 7-1-2 record, and a .913 SV% in his next ten starts as the Isles started 15-7-2 and were top 4 in the Eastern Conference.
But shortly after, the wheels came off, and the Islanders were one of the worst defensive teams of the 2010s. They went 20-30-8 in their last 58 games, and Greiss was especially poor, posting a .882 SV% and a -17.9 Goals Saved Above Average, which was the 6th worst in Islanders history. 
Enter Barry Trotz, Mitch Korn and Piero Greco.
The 2018-19 season could not have been more different than the 17-18 season. The Islanders went from the worst defensive team in hockey to the best, and Greiss and new addition Robin Lehner were the best goalie tandem in the NHL as they split the Jennings Trophy. Greiss rebounded with a .927 SV%, 2.28 GAA, and a 19.8 GSAA, a complete 180 from his dreadful 17-18 season. Greiss once again was the 1b in a goalie platoon as by January Lehner had become the de facto starter.
With 2019-20 on the horizon, it was clear that Greiss's time with the Islanders was coming to an end. He was 34 years old, and in the last year of his contract, the Islanders also had a certain Russian goalie prospect who was ready to come over following that season. Greiss also took a backseat to another newcomer in Semyon Varlamov after they rotated each of the first 33 games of the season. Greiss again posted a solid .913 SV% and a 2.74 GAA in 28 starts before COVID-19 paused the season.
When hockey returned in the summer of 2020, Varlamov was given the game one start in the qualifiers vs. Florida. Varlamov was excellent vs. the Panthers and even better in their series win against Washington. In the second round against Philadelphia, Varlamov struggled, and Greiss came in relief during game two and started both games four and seven, winning both and recording a shutout in the latter and helping propel the Islanders to the 3rd round of the playoffs for the first time since 1993.
Greiss got the nod for game one vs. Tampa Bay and got lit up, as did the entire team in an 8-2 drubbing. Then Varlamov got the net back and started the rest of that series, and before we knew it, Thomas Greiss had played his last game as a member of the New York Islanders. 
It was a very unceremonious way for Greiss to go out, especially because at the time of his departure, he was a top 5 goalie in team history (arguments for Varlamov/Sorokin are more valid as of today), and if you disagree with that let's take a look at where he ranks in Islanders history.
He ranks 5th in wins, 5th in GAA (min 100 games played), 4th in SV% (min 40 games played), 1st in SV% (min 100 games played), 6th in playoff wins, 5th in playoff SV% (min 1 start), 2nd in playoff SV% (min 10 starts), 4th in playoff GAA (min 1 start), 2nd in playoff GAA (min 10 starts). 
His game has fallen off in the two seasons since he left, and we don't know how much longer his NHL career will be. And while the tribute for his efforts is shown on the scoreboard in UBS Arena Thursday night, a fanbase will be reminded that Thomas Greiss was indeed Wunderbar.