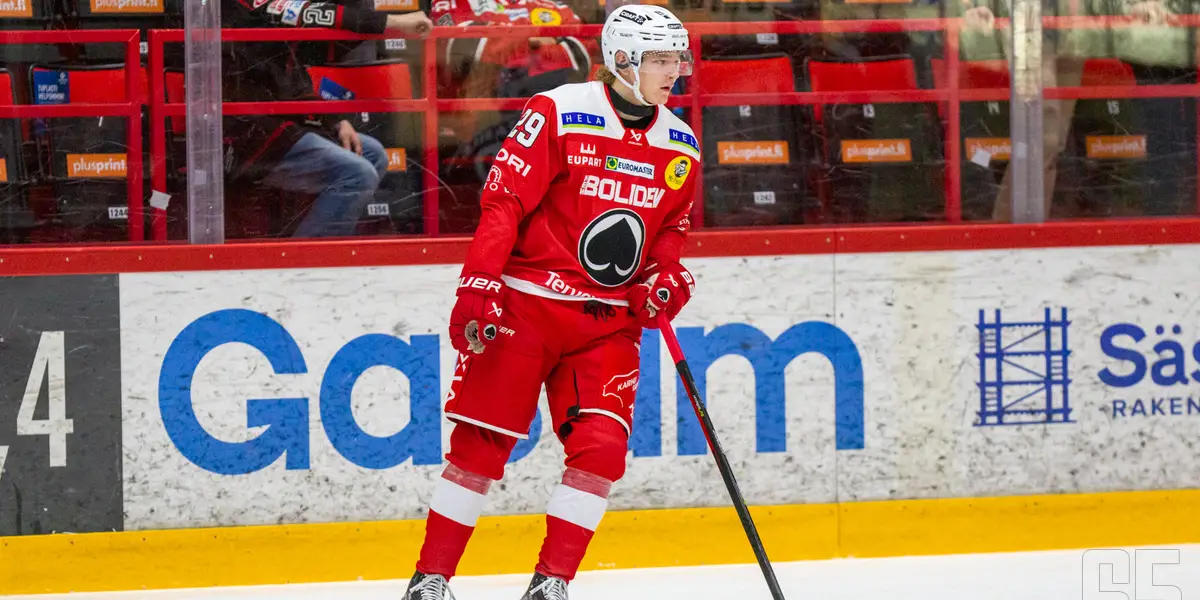 Lenni Hameenaho is a reliable and active right-handed winger from Finland who is eligible to be selected in the 2023 NHL draft. Born November 7th, 2004, Hameenaho is a talent developed out of the Assat organization in his home nation. In the three seasons before 2022-23 (his draft-eligible season), he climbed the ladder of Finnish junior hockey, playing primarily U16 in 2019-20, U18 in 2020-21, and U20 in 2021-22. Over those seasons, he totaled 181 points in 131 games. Assat deemed his progression worthy enough to complete the ladder and play in Liiga (Finland's top league) for the 2022-23 season. In a limited role and playing against grown men nightly, Hameenaho scored 9 goals and added 12 assists for 21 points in 51 games during the regular season. He would go on to score three goals and an assist in Assat's eight-game playoff run as well. Not too shabby for a 17/18-year-old winger. 
Despite his production at the country's highest level, Hameenaho is ranked by most outlets between 40-70th overall, good enough to be a second or third-round pick during June's NHL draft in Nashville. The reliable, versatile winger has an average frame (6 ft, 174 lbs) and a projectable NHL skillset while playing a mistake-free brand of hockey.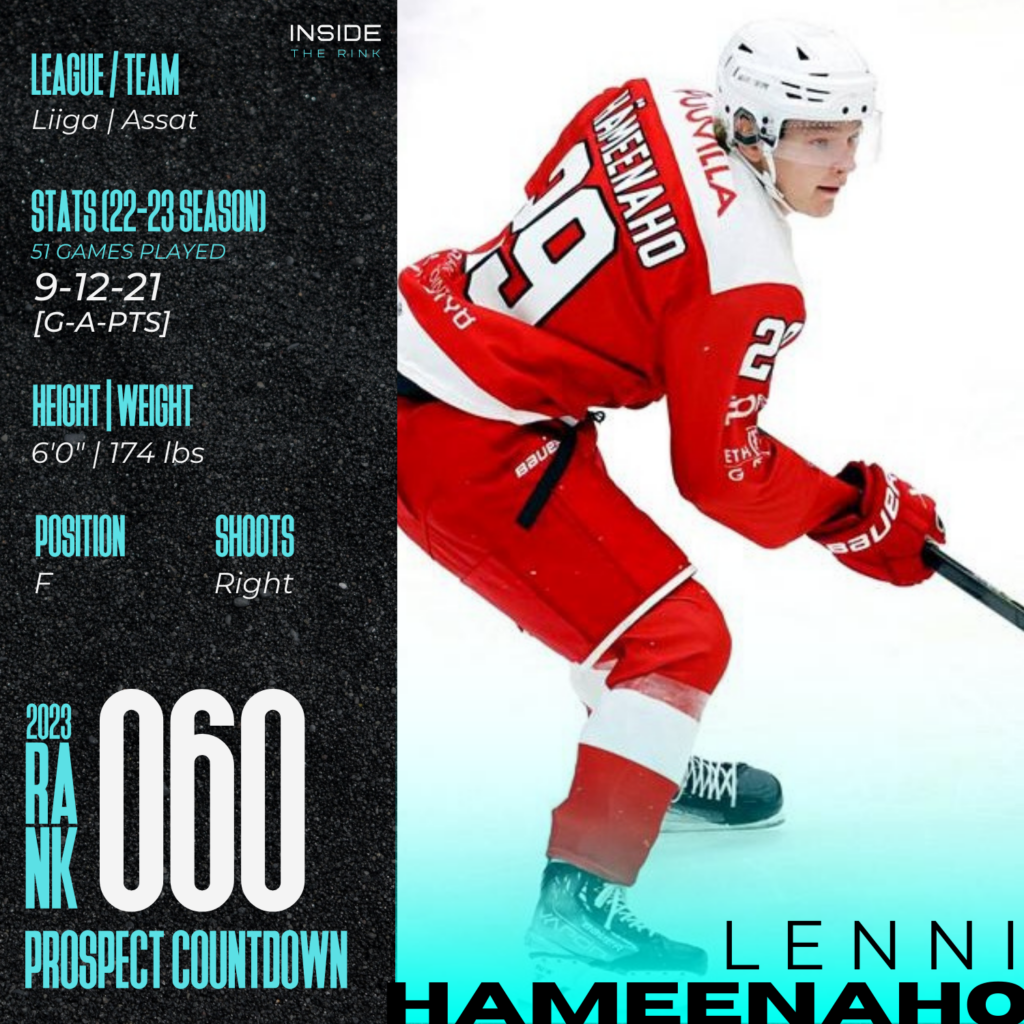 Scouting Report
Hameenaho is a very good skater despite lacking game-breaking top-end speed. He is fantastic on his edges and explosive in all four directions, a skill rare at the winger position. This ability allows him to always make himself available as an outlet option, face the puck at all times, and scan the ice surface without losing speed as his team moves the puck up the ice. With the puck on his stick, he plays a risk-averse, meat-and-potatoes style but will show flashes of high-end skill and creativity. 
Defensive Zone
What stands out most to me when watching Hameenaho play is his work in the defensive zone. He shows the willingness to play responsibly, sacrifice his body, and compete when the puck is 200 ft from the opposing goal, something rare for a 17/18-year-old winger. He is incredibly active and seemingly tireless when the opposing team has sustained pressure in the defensive zone. His feet are never at a standstill as he works to eliminate shooting and passing lanes while excelling in his ability to take away the time and space from his assignment to force poor decisions and turnovers. 
Several modern NHL teams deploy a man-to-man defensive system. This system demands diligent and disciplined defenders. Assat ran this system in Liiga, and Hameenaho thrived in it. When he assumes his typical winger assignment of covering the opposing point-man, Hameenaho ensures that his check isn't allowed to receive seam passes or sneak low toward the goal line. When he is the first forward in the defensive zone on the back check, he assumes the responsibilities of a center. He stays with his check low in the zone, engages in battles in the dirty areas of the ice, and supports the puck on the breakout. When the puck goes high in the zone, and his assignment is in front of the net, Hameenaho even boxes out like a defenseman would so his goalie can get a clear view of the shot. This ability to play in some of the most difficult spaces so astutely is impressive for such a young player. 
Transition
When his team gains control of the puck, Hameenaho quickly anticipates and gets to his spot for breakouts. When he has control of the puck in the defensive zone, he is proficient in small areas to either find ice, find a teammate for an outlet pass, or clear the zone safely if he is under duress. This is where his edgework stands out because he is always facing the middle of the ice; reading and scanning for where and how he should move the puck.
Skating with the puck up the ice and into the offensive zone, Hameenaho plays a very simple game. He isn't one to dissect defensemen and back checkers, often electing to get to the front of the net by any means necessary. However, in glimpses, he has shown the ability to be creative and put a clever move on a defenseman one-on-one to get space for a shot. 
Other Areas of Strength
Hameenaho gets most of his points from around the front of the net. He isn't the biggest or most assertive forward but is clever in how he times his screens and cuts to the front. He displays poise and good hands around the net. If he is to produce at the NHL level, this is where he will tally the majority of his goals.
What Needs Improvement
As I mentioned above, Hameenaho has the puck-handling ability of a highly-skilled forward. He can manipulate defenders to create chances and should be looking to explore unleashing that aspect of his game more. He plays a responsible game to a fault at times and is often unwilling to take a risk with a dangle or dangerous pass. Hopefully, after having played a full 2022-23 season in Liiga, he will be more comfortable and willing to create more in the offensive zone.
Like with many young players who play against older competition, he loses too many battles and is knocked off the puck too easily. He also has a tough time feeling where pressure is coming from when he has possession. There's so much intelligence and defensive awareness away from the puck in his game, one would like to see that translated when he has it. Ironing out these kinks will hopefully come with repetitions in those situations as well as filling out his frame. 
Looking Ahead to the Draft
Despite being ranked eighth among European skaters by Central Scouting (the highest of any outlet), it's difficult to see a team selecting him in the first round of the draft. He seems destined for a second or third-round selection by a team looking for stability at the wing position. Because his play style is so appealing to coaches, I wouldn't be surprised to see Hameenaho playing NHL hockey well before others drafted in his range. He is likely earmarked for a middle or bottom-six role if/when he is a full-time NHL regular and could develop into one of the better penalty-killers from this draft while providing the depth scoring that so many teams in today's NHL covet. 
On this week's chaotic episode of LAP, Jake, Chris, and Lou talk about the Stanley Cup Final, some coaching changes and share some thoughts on the ESPN and TNT broadcasts. They also talk at length abouth why Florida's uniforms need to change and finish things up with listener questions!Follow Late Arrivals Twitter: @latearrivalspodInstagram: @latearrivalspodFollow the hostsChris: @CJKChelConnor: @91_PlutyJake: @_JRobles71Louis: @Louiex37 Intro/ Outro done by Will Rice/ @pastorwillrice