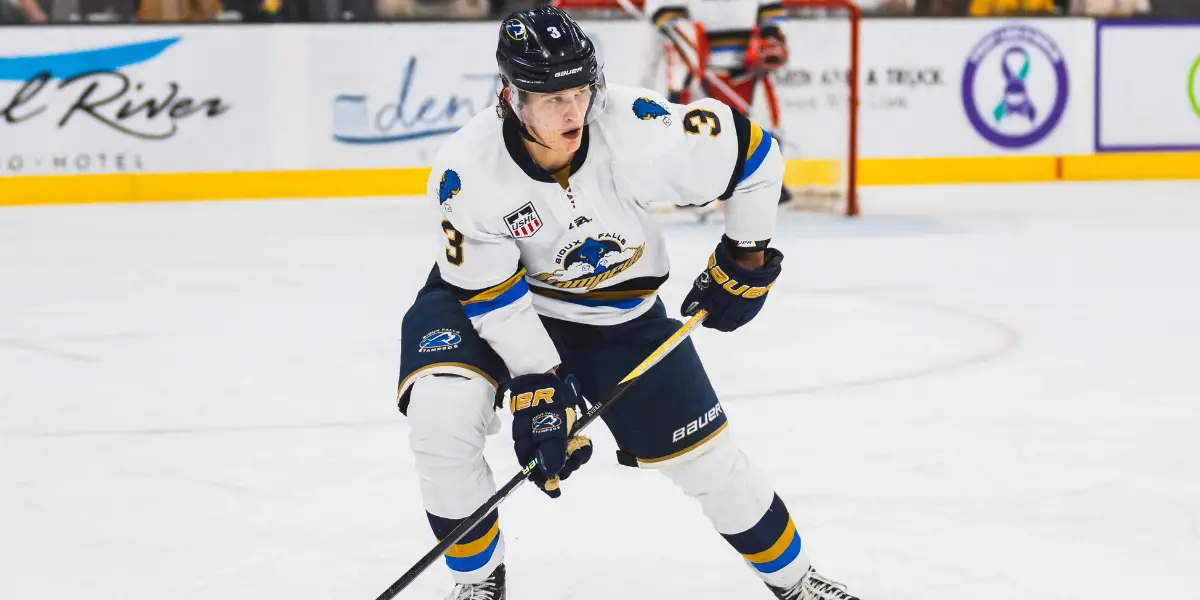 Maxim Strbak is a 2023 draft-eligible, right-shot defenseman from Slovakia who possesses true two-way ability. Son of former professional hockey player Martin Strbak, Maxim was born on April 13th, 2005, in Kosice, Slovakia. Martin played 22 years of professional hockey in just about every major league in the world (NHL, AHL, KHL, SHL, Liiga, Slovakian league, and Czech league). Because of this, Maxim was exposed to the life of a professional hockey player as well as several different countries and cultures as a child.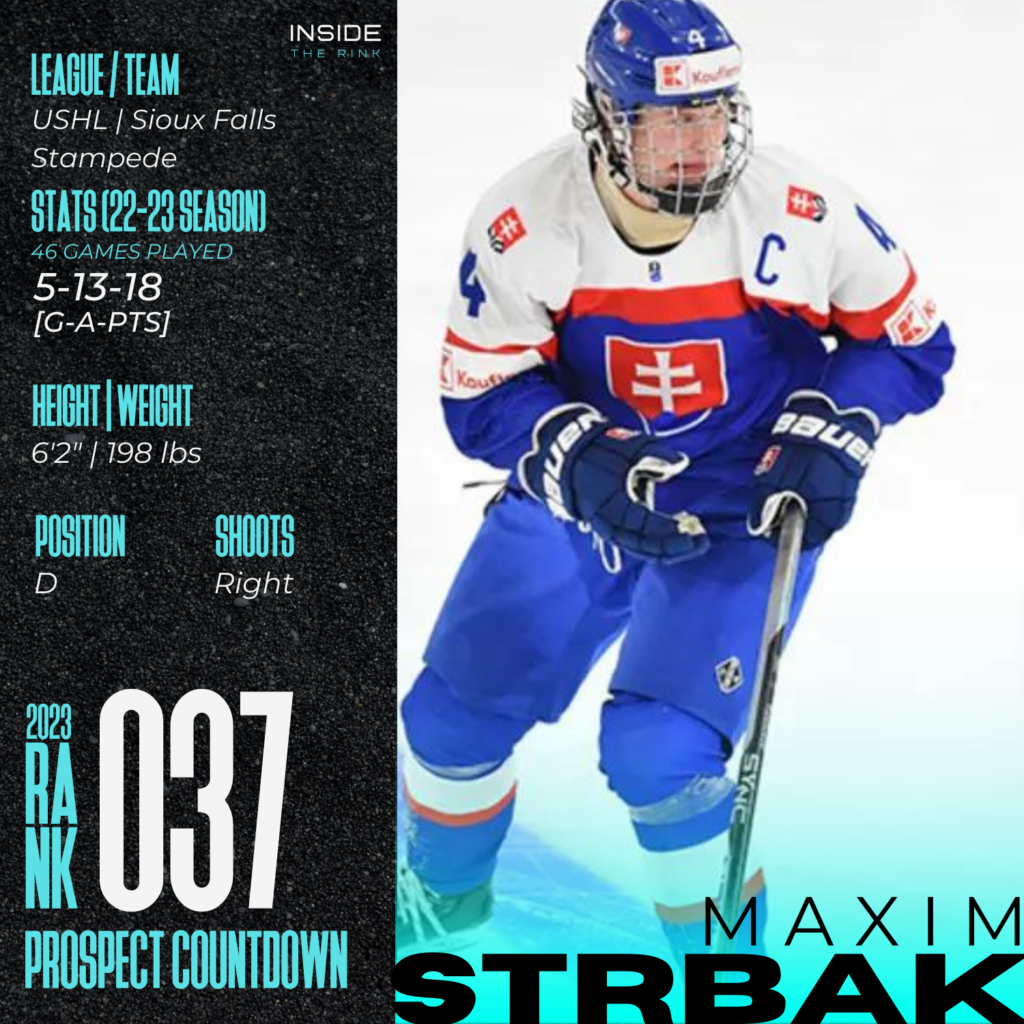 When it came time to start his own hockey career, Maxim signed with the Pelicans organization in Finland to play in the U16 junior division before the 2018-19 season. After that season, Strbak was signed by Jokerit, for whom he would play 87 games between the U16, U18, and U20 divisions over the course of the following three seasons. For his draft year (2022-23), Strbak headed to the USHL to play for the Sioux Falls Stampede, where he would play 46 games and score 18 points. He was selected to represent Slovakia at the 2023 World Junior Championship tournament, where he totaled three assists in five games as a 17-year-old. He also captained Slovakia in April's U18 World Championship tournament, at which Slovakia made an improbable run to the bronze-medal game, and they ultimately lost to Canada in overtime. Strbak tallied six assists in his team's seven games during that run. 
Strbak, a clear leader on and off the ice, plays a brand of hockey that is mostly translatable to the NHL. Most outlets have him projected to be taken somewhere between 30 and 50 at next month's NHL entry draft. However, it wouldn't be surprising to see him drafted higher due to NHL general managers' bias toward defensemen with his makeup and frame (6-2, 198 lbs).
Scouting Report
Strbak has the rare ability to quarterback a powerplay and play on his team's first penalty-kill unit. He is intelligent and creative with the puck on his stick in every zone and genuinely nasty in front of his net. Skating will be cited as the biggest weakness in his game. To me, it either seems as though his feet don't compute at the same rate his brain and hands do, or he is still adjusting to his "man body." His potential could reach new heights if he can figure out his stride and edges. 
Puck-Moving
When one sees that a 6-2 defenseman with a pedestrian point total is projected to be selected in the second round of the draft, it is likely assumed he would fit in the "defensive-defenseman" category. While Strbak is very capable in his end of the ice, the aspect of his game that stands out most upon viewing is his passing ability. This is where his vision and hockey IQ shine. He has great instincts for getting to loose pucks and reading the oncoming forecheck. He loves to draw in the F1 forechecker and make clever passes through or around him to a forward moving with speed up ice or to his defensive partner. Strbak may have limited mobility, but he excels using his stride and extended stick to change the angle of his passes to slickly open up new lanes and find different ways to get passes off. 
Strbak also isn't shy about joining a rush. Though his stride may seem clunky, it does have some power behind it. As a weak-side defenseman on a breakout or regroup, he loves to barrel his way to the front of the net and drive opposing defensemen backward to battle for rebounds or open up ice behind him for his teammates. At the point, Strbak shows excellent puck skills and is confident and astute walking the blue line to open up shooting and passing lanes. He has a heavy shot from that spot, and it finds its way to the net or the stick of a teammate more often than not. If a puck is turned over in the offensive zone or finds its way moving up Strbak's boards, he has a good read on if/when to pinch and keep the play alive. 
Defensive Zone
As mentioned before, Strbak is a nightmare to go up against in front of his net. As a 17-year-old, he overpowered several 20-year-olds during the World Junior Championships last winter. He doesn't make it easy to gain position for a screen or deflection, and if one does, they are made to pay for it. He can also find and clear rebounds or loose pucks with the best of them. In board and corner battles, he uses his body to gain leverage in order to separate the opposing player from the puck as well as protect it but does it without being dirty. 
Away from the puck in his end, his intelligence is once again on display. Passing lanes are negated with the use of his apt positioning and active stick. Coaches will love his ability and eagerness to block as many shots as he can. He will often eat pucks two or three at a time. 
What Needs Improvement
Strbak will likely never be a great skater. He needs to find ways to overcome his deficiency in that aspect of the game. It costs him the most when defending the rush. He needs to work on his angles and when to engage an oncoming opponent. Too often, he will force a player wide, struggle to pivot, and in doing so, will give too much space outside and get beat to the net. Working on his edges and footwork will go a long way toward cutting down these events. He could also gain from reading his back-checkers a little more adeptly so he can better judge how much space to give. With the way the modern NHL game is played, Strbak will need to find a way to defend the rush efficiently and effectively.
Looking Ahead to the Draft
With his abilities, compete level and size, there is a wide range of potential outcomes for Strbak at the NHL draft. I wouldn't be surprised to hear his name called at the end of the first night, and I would be surprised if he fell all the way out of the second round. He is committed to Michigan State University in the fall, where he will start his NCAA career. 
It will be fascinating to see him against more physically mature competition because he was able to physically dominate junior hockey. With his desire to improve his craft, I have no doubt he will welcome the challenge of improving his game and adjusting to a faster brand of hockey in college. It's doubtful Strbak will ever become a number-one defenseman in the NHL, but if fully realized, his play style would be a perfect complement to that of a true NHL number-one defenseman. To me, he seems like a moderate-risk/high-reward defenseman that can thrive under the right circumstance, and whichever team selects him will hope they found a gem.