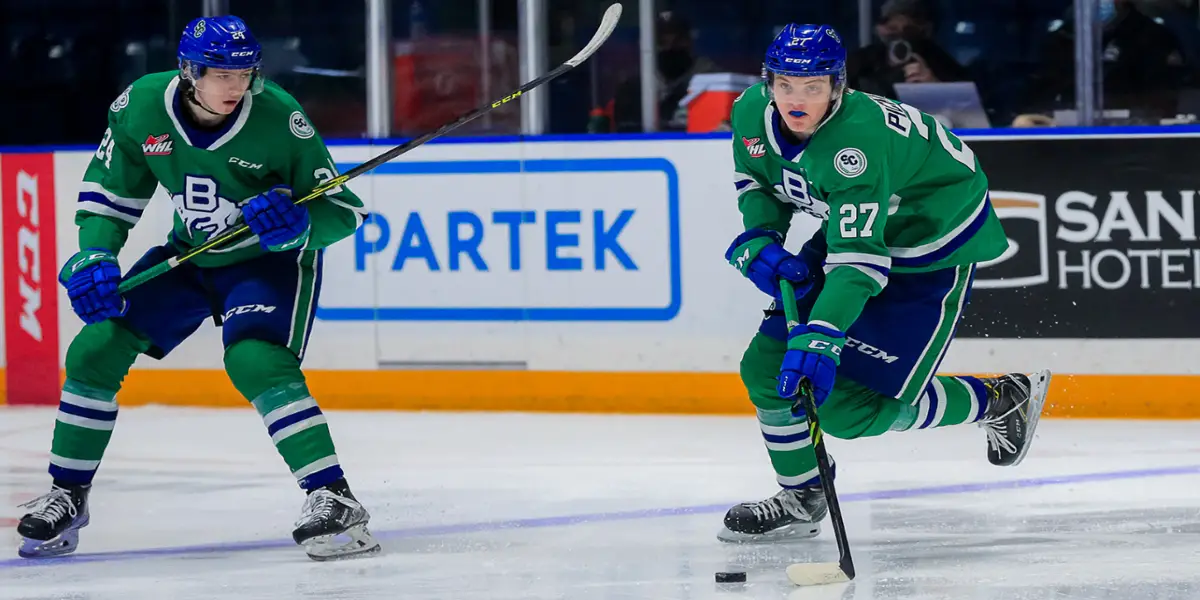 With the NHL just a day away, In this article, we are taking a look at the best three players that the Leafs should draft with a special guest Gordon Munro from DobberProspects.com.
Owen Pickering, LHD:
Size: 6'5 180lbs
Team: Swift Current Broncos (WHL)
DOB: 2004-01-27
Owen Pickering is a prime example of a player that you can't let his size deceive you, and he's not going to be a big bruiser at the next level. Instead, he's a smooth-skating defenceman that uses his long and lean frame to interrupt opposing players as they try to advance in his zone. He also has a nice offensive game as he often carries the puck up the ice and joins the rush. Sometimes this bites him as he sprints back and tries to strip the puck from the opponent. You'd like to see him produce more offense as well, but given the team around him and the fact he was tasked with playing all-situations, he can be cut some slack. Moving forward, he has a lot of raw talent, but he'll need to refine his game to make a big impact at the next level.
Tristan Luneau, RHD:
Size: 6'2 190lbs
Team: Gatineau Olympiques (QMJHL)
DOB: 2004-01-12
The QMJHL's top-scoring draft-eligible defenceman, Tristan Luneau, has the talent to be a solid puck-moving defenceman at the next level. He has all the tools you'd expect from an offensive-minded blueliner and more. He demonstrates great poise with the puck, sometimes taking an extra stride to assess the ice properly. He has good speed and nice edges, which allow him to use his high offensive awareness and vision to make clean passes. He also likes to take shots from the point where he can be a legitimate threat with his hard and accurate shot.
Gleb Trikozov, W
6'1 185lbs
Omskie Yasterby (MHL)
DOB: 2004-08-12
The prototypical modern-day forward, he's slick and crafty; Trikozov does most things well. He's a fast skating transition machine, constantly carrying the puck and driving play on his line. He compliments this with a great passing ability he uses to advance play up the ice as well. He also has a nose for the net, often shooting in high-danger areas. Trikozov is also great off the puck in his relentless pursuit of opposing puck carriers, using his stick a lot to pickpockets. Overall, he's a highly skilled player with a very nice 200-foot game.
The Leafs are looking for players with a strong two-way game—just looking at their former picks. Matthews Knies is dominating both sides of the ice in the NCAA. Rodin Amirov shows great two-way poise but won't be seeing the NHL in the near future with a brain tumor but is still skating and recovering well. The Leafs have a good amount of forward prospects, and I am hoping they go with Tristan Luneau, the right-handed defenceman out of the QJMHL as a 19-year-old. He should be able to crack the lineup two to three years after T.J Brodie's deal expires.
The boys are back after a long break but have plenty to talk about as the playoffs are in full swing. We go series by series, looking at how teams have fared so far and who will come out on top. Thanks for listening! Please rate and review our show on your favorite listening platform. Check out our partner's website at www.insidetherink.com for all your latest hockey news.