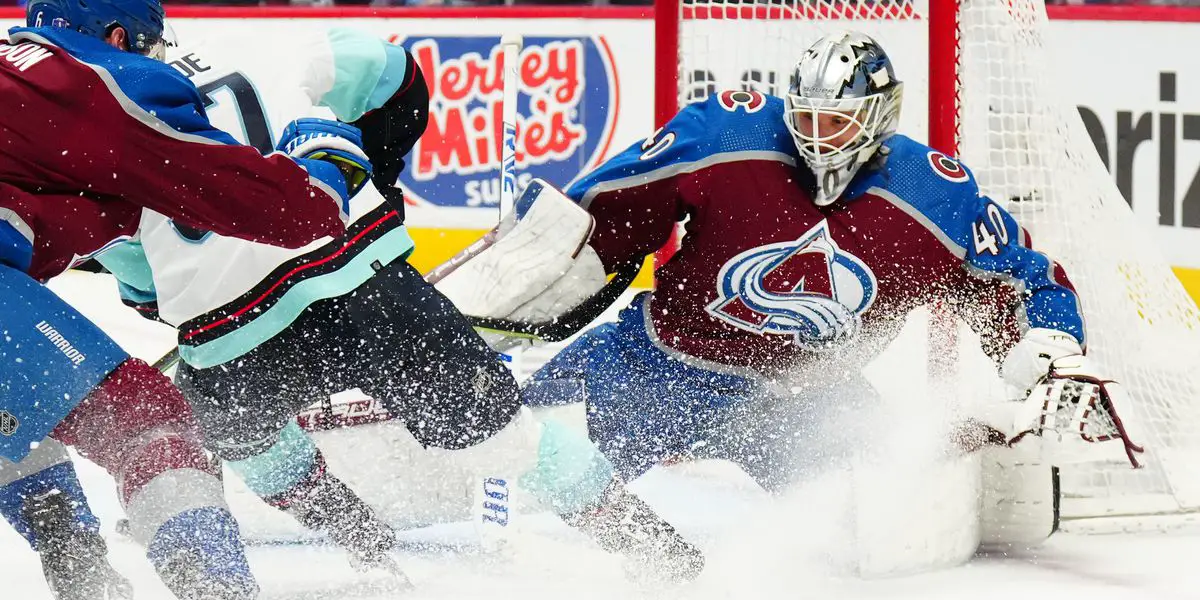 COLORADO AVALANCHE (1-1) VS SEATTLE KRAKEN (1-1) 
8:00 PM MT | CLIMATE PLEDGE ARENA
The best-of-seven First Round series of the 2023 Stanley Cup Playoffs between the Colorado Avalanche and Seattle Kraken shifts to the Emerald City of Seattle with Game 3 slated on Saturday night at Climate Pledge Arena. The Avalanche will look to build off their 3-2 victory in Game 2 and break the current 1-1 tie in the series. Seattle is ready to host 1st NHL playoff game in Seattle in 104 years. Expect to 'hear the Roar' from the Seattle Faithful.
LAST TIME OUT – GAME 2 RECAP
The series is now tied thanks to Devon Toews' game-winning goal in the third period to even the series in a 3-2 victory. Toews factored in on Valeri Nichushkin's first goal of the playoffs. Artturi Lehkonen also scored his first goal of the postseason and was assisted by defensemen Bowen Byram and Cale Makar. Goaltender Alexandar Georgiev stopped 27 of the 29 shots that came his way as he earned his first-career playoff win. Darren Helm made his postseason debut as the winger returned to the lineup for the first time since April 1 after being sidelined with a lower-body injury during the final stretch of the regular season.  
Goalie and former Avalanche Philipp Grubauer got the start in the net again, turning away 38 of the 41 shots he faced. For Seattle, center Yanni Gourde assisted on both of their goals – a shorthanded goal scored by forward Brandon Tanev and another even-strength strike scored by defenseman Justin Schultz. Forward Eevi Tolvanen also assisted on Schultz's goal. 
GOALTENDING
Goaltender Alexandar Georgiev made his second consecutive start in net, earning the win thanks to stopping 27 of the 29 shots he faced. He is now 1-1-0 in the 2022-23 postseason and 1-2-0 overall. He now holds a 2.37 GAA and .922 sV% in his young playoff career. 
Goalie Philipp Grubauer also made his second consecutive start in goal but lost despite stopping 38 of the 41 shots that came his way. In the 2022-23 playoffs, he is also 1-1-0 with a 2.03 GAA and .947 sV%. Grubauer is 20-11-1 in 34 games started for his career, with a 2.47 GAA and .915 sv%. 
PLAYERS TO WATCH
Cale Makar recorded his 46th career postseason helper Thursday night, one shy of tying Sandis Ozolinsh (47 for the most by a defenseman in franchise history and matching Ozolinsh for the sixth-most by any Avalanche skater. He has collected 61 career points in the postseason, moving ahead of Valeri Kamensky (60) to take over sole possession of 10th place in franchise history in playoff points. 
Defenseman Justin Schultz's goal was the first by a defenseman in franchise history, and Brandon Tanev's shorthanded goal was also the first in franchise history. 
Game Quotes
"I think we were just trying to relax a little bit. You know, we came out a little tight, and the belief in our room is always there, and that's something that drove us throughout the rest of the game. Second and third periods, we finally got to our game and showed what we could do." – Defenseman Devon Toews on Thursday's victory. 
"I think it was kind of getting back to our game. We weren't making plays, we weren't doing the things that made us successful in the back half of the season, and I think once we did that, we just started to pour them on and wear them down, and that's when we started to get our chances." – Forward Evan Rodrigues on the game Thursday evening.
Quote Credit: by Mason McFee @Avalache / ColoradoAvalanche.com
"Seattle fans are renowned," Kraken president and CEO Tod Leiweke said. "Our fans are already renowned around the NHL. The best part of Saturday night is going to be to hear that roar because there is a true love affair between this team and our fans. It's a thing of great wonderment for me."
This will be another memorable moment in a long journey, a reward for the fans who took a leap of faith, persevered through a pandemic, stuck with the Kraken through a trying first season, and have turned Seattle into a dynamic new NHL market.
The boys are back after a long break but have plenty to talk about as the playoffs are in full swing. We go series by series, looking at how teams have fared so far and who will come out on top. Thanks for listening! Please rate and review our show on your favorite listening platform. Check out our partner's website at www.insidetherink.com for all your latest hockey news.