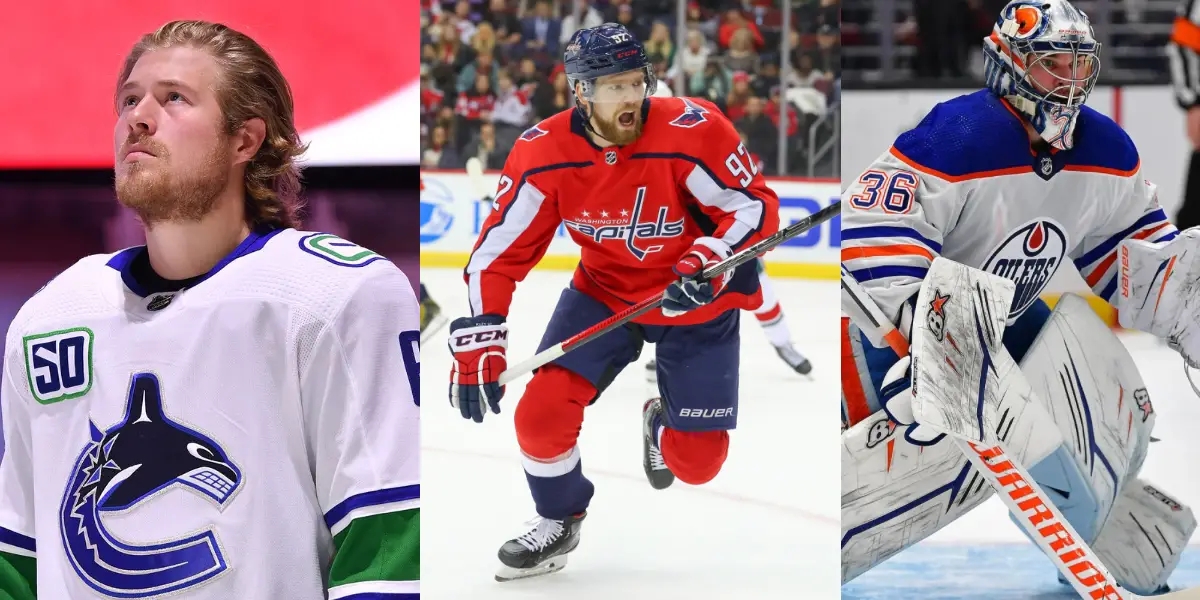 Welcome to Inside The Rink's latest News & Rumors column. In this episode of the series, we will be focusing on the Toronto Maple Leafs, Edmonton Oilers, Washington Capitals, and Vancouver Canucks.
Maple Leafs Stun Lightning; Take Commanding Series Lead
The Toronto Maple Leafs were down 4-1 to the Tampa Bay Lightning with just over 10 minutes left to play in the third period. It seemed like a foregone conclusion that the Lightning would tie up the series 2-2, but the Maple Leafs picked up their play immensely and scored four unanswered goals to steal the win in overtime.
Related Story: NHL News & Rumors: Maple Leafs, Canadiens, Penguins & Sharks
It was stunning to see Andrei Vasilevskiy and the three-time reigning Eastern Conference champions blow such a large lead with such little time left in the game, but alas, now the Leafs have put a stranglehold on the series. They now have three chances to win one more game and finally end their first-round curse.
Oilers Could Be Forced to Make Trades This Summer
The Edmonton Oilers are heading into the offseason over the salary cap. As a result of this, Allan Mitchell wrote in a recent piece for The Athletic that players like Jack Campbell, Kailer Yamamoto, Brett Kulak, and Cody Ceci "might be in play" this summer.
It ultimately would make sense for the Oilers to move at least one of these players to become cap compliant. It will be interesting to see what GM Ken Holland does this offseason.
Capitals Expected to Listen to Offers for 2 Forwards
The Washington Capitals had a disappointing 2022-23 season that saw them miss the postseason. They were expected to be a playoff team, and changes could be on the way this offseason because of it. The Athletic's Tarik El-Bashir wrote that the Capitals will likely listen to offers for Evgeny Kuznetsov and Anthony Mantha.
Related Story: NHL News & Rumors: Oilers, Flyers, Canadiens, Senators
Kuznetsov has been in the rumor mill before, and there should be a market for the top-six center. In 81 games this season, the 30-year-old had 12 goals and 55 points. Mantha, on the other hand, posted a 27-point campaign in 67 games. The 6-foot-5 winger has shown in the past that he can produce like a top-six forward, so perhaps a change of scenery could help him get things back on track.
Multiple Canucks Players Becoming Trade Candidates
In a recent article for The Athletic, Harman Dayal and Thomas Drance discussed a handful of players who could be on the move this offseason. In it, they named Anthony Beauvillier, Brock Boeser, Conor Garland, and Tyler Myers are the four Canucks who could be traded to help free up cap space. With that, they also wrote that they believe that Travis Dermott will be traded.
Related Story: NHL News & Rumors: Maple Leafs, Canucks, Penguins, Senators & Lightning
The Canucks are going to need to move out salary, as they are already over the cap for the 2023-24 season. Out of the handful of players who they wrote could be on the move, Boeser is the biggest name. However, Beauvillier, Garland, and Myers could certainly generate interest as well.
The boys are back after a long break but have plenty to talk about as the playoffs are in full swing. We go series by series, looking at how teams have fared so far and who will come out on top. Thanks for listening! Please rate and review our show on your favorite listening platform. Check out our partner's website at www.insidetherink.com for all your latest hockey news.