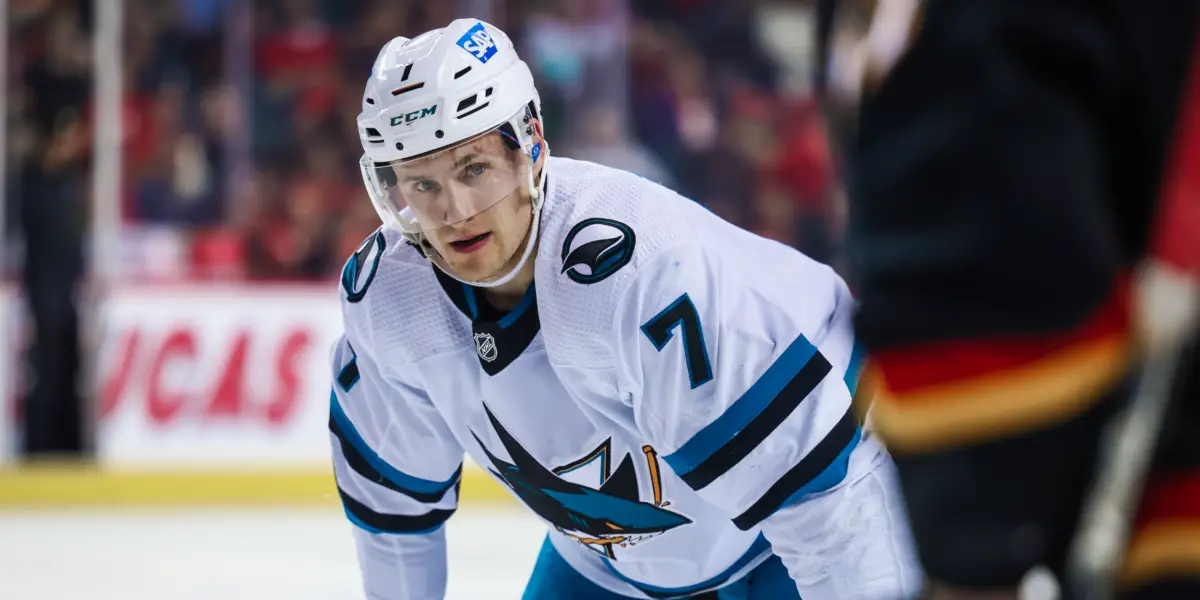 When Mike Grier was hired last season, one of his first moves in free agency was signing center Nico Sturm. Sturm was coming off winning a Stanley Cup with the Colorado Avalanche after being traded from the Minnesota Wild. Sturm had played a fourth-line role for the Avalanche. In the thirteen playoff games Sturm suited up for, he ended up playing a crucial role on the penalty kill and ended up fifth among forwards in PK minutes played.
Mike Grier signed Sturm last offseason to a three-year deal worth $6 million ($ 2 million AAV). This was arguably the best signing Grier made last year as Sturm set a career-high in goals (14), assists (12), and points (26). Grier started the season as the fourth-line center but quickly won the job as the third-line center last year when Nick Bonino proved ineffective as center. Sturm's most common teammates last season were Evgeny Svechnikov and Noah Gregor; neither are with the organization anymore. Svechnikov plays in the KHL, and Gregor is on a PTO with the Toronto Maple Leafs.
Sturm finished second among Sharks forwards last season, playing 141 penalty kill minutes. Only Logan Couture played more. While Sturm was an effective penalty killer, his offense was what shined last season. Sturm really established himself as a solid third line center for the Sharks last year despite not having the highest quality of teammates surrounding him. If Sturm can replicate this success with a deeper forward group, Sturm could be in for another great year.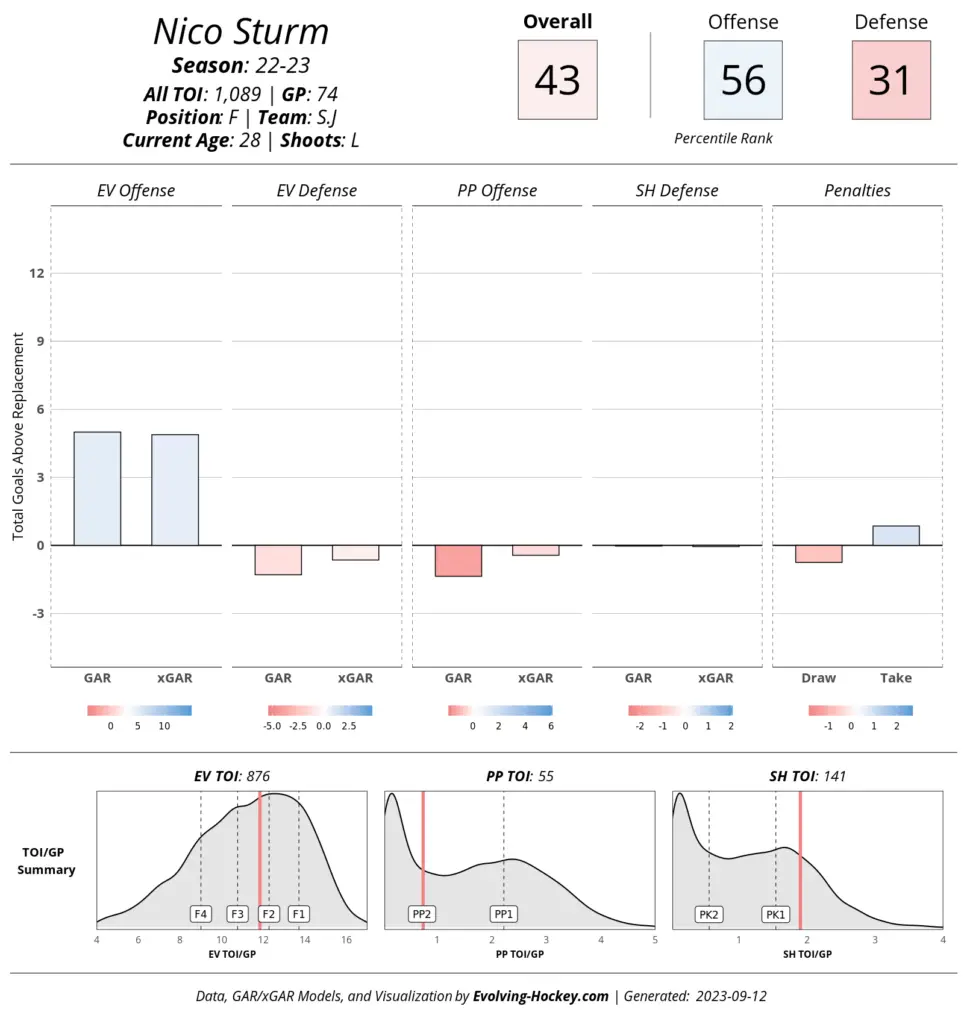 Where does Sturm fit?
What David Quinn does with the 3C is one of the biggest questions for the Sharks in this training camp. Sturm was great in the role last year and has a chance to have better teammates with potentially Filip Zadina, Mike Hoffman added in the offseason, Luke Kunin returning from injury, and Fabian Zetterlund with a full offseason. Mikael Granlund, who was acquired in the Erik Karlsson trade from the Pittsburgh Penguins, is the other option for Quinn at the pivot. The big issue with the Sharks is that they don't have a natural 4C after trading away Steven Lorentz for Anthony Duclair. Ryan Carpenter is a potential player for the Sharks in that role but is more likely destined to play in the AHL this season.
Granlund doesn't have the defense and physicality that Sturm provides, so expect Granlund to win the third-line job. With the additions the Sharks have made in the forward group, Sturm should see some of the best linemates he's had in a while, even on the fourth line. Kunin, Kevin Labanc, and/or Zetterlund could make a spicy fourth line for Quinn.
What's next for Sturm?
Sturm still has two years left on his deal and won't turn 29 until May. Unless a team is very interested in Sturm's services and is willing to overpay, expect Sturm to stay in San Jose for the year. Sturm will be a bottom-six forward for the Sharks but could be in line to have his most productive season because of the increased depth in the forward group. For the Sharks, having a player like Sturm around the organization is great because he can help elevate younger players around him and is a consummate professional. With the Karlsson trade, there is a spot for another alternate captain, and Nico Sturm should be the favorite to get an A sewn onto his jersey this camp.
Bold Prediction: Nico Sturm scores 10 goals and has 20 assists for the Sharks.
Other Season Previews:
Alexander Barabanov Season Preview
Thomas Bordeleau Season Preview
Anthony Duclair Season Preview
Mikael Granlund Season Preview