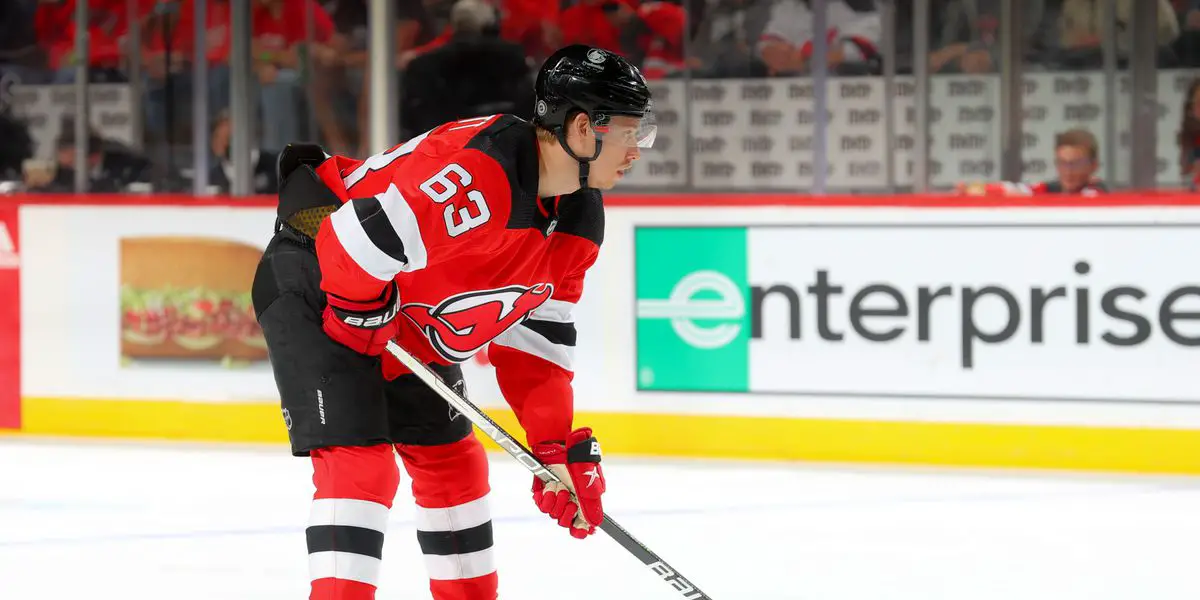 The New Jersey Devils have always been known for their stellar goaltending and being able to defend. What gets lost in the shadows is the caliber of wingers that have come and gone. Remember 1995 playoff hero Claude Lemieux? Crash line enforcer Randy McKay? Those were some fun times.
Then there were the offensive wingers. The two Czech wingers, Patrik Elias and Petr Sykora, were the offense in the early 2000s. Zach Parise would climb the ranks, and Lou Lamoriello would go big and sign Ilya Kovalchuk. Since the 2012 Cup run, the Devils' best winger to come through was Taylor Hall. He is long gone, and the Devils have been unable to replicate that.
Enter Jesper Bratt. Drafted by the Devils in the sixth round in 2016, the homegrown talent has made a name for himself and emerged as the winger they have needed. Now that he is due for a contract, it's time the Devils paid him and kept him around.
The Situation
The New Jersey Devils are currently undergoing contract negotiations. It could be long, but it will be worth it in the end. Given the cap space that the Devils have, there is no reason not to be able to sign him. A trade would be foolish given that manager Tom Fitzgerald wants to make the team more competitive. Bratt has established himself as part of the core that would see him be part of Jack Hughes, Nico Hischier, Dawson Mercer, and Dougie Hamilton. Trading away Jesper Bratt does not improve the team and would leave a gaping hole in the top six.
Why The Devils Should Sign Bratt
Jasper Bratt had a stellar campaign for the New Jersey Devils. He suited up in 76 games and finished the season with 26 goals, 47 assists, and 73 points. These would all be career-high totals for the winger. He has only tallied double-digit goals twice in five seasons with the team and never hit 20 until this season. He has consistently hit the 30-point mark until breaking out this season. In other words, Bratt has gotten better and has proved his part of this core going forward.
Bratt would finish the season averaging 1.03 points per game. He would average 3.31 points per 60 minutes and was a large part of the Devils' offense as he carried an on-ice expected goals percentage of 59%. Bratt has substantial possession numbers as he led the team in Corsi For Percentage at 59%.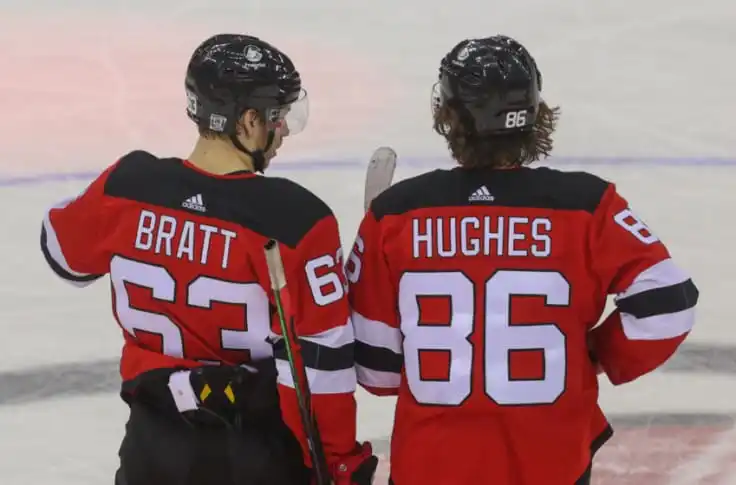 The chemistry between Jesper Bratt and Jack Hughes was one of the eye-opening things in the season. According to Money Puck, in 166 minutes of ice time together, they would average 3.64 expected goals per 60 minutes. The duo was dynamite together on the ice, and they shattered those expectations by averaging 3.96 goals for per 60 minutes.
Granted, the two had to be split up to provide more balance, but signing Bratt would help the Devils form a duo that could terrorize the league for quite some time.
What Else Can They Do?
The Devils signing Bratt long-term would be in the team's best interest. If you aim to improve, keep your best players in town. The Devils currently hold the second overall pick where they could draft a high-profile talent or trade the pick for a proven NHL scoring winger. Signing Bratt and bringing in another scoring winger could make for a lethal top-six. Regardless it should be a no-brainer for Tom Fitzgerald to put pen to paper and keep the star winger in town for the foreseeable future.
A deep dive into the Atlantic division, did Detroit do enough to be a playoff contender? Will goaltending be Toronto's Achilles heel? What's going on in Florida?Thanks for listening! Please rate and review our show on your favorite listening platform. Check out our partner's website at www.insidetherink.com for all your latest hockey news.