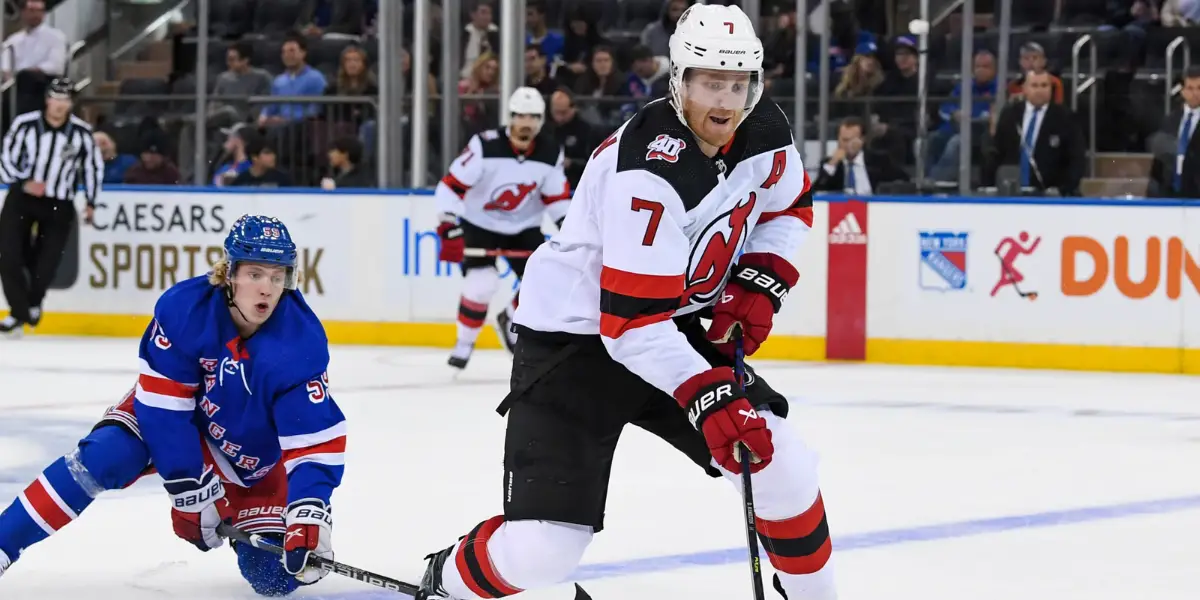 If you're a New Jersey Devils fan, there isn't a need to get you excited about your team; you're already there. Atop the division and second in the league only to the equally hot Boston Bruins, New Jersey is enjoying a start to the season unlike any other. The Devils, a team that's only seen the playoffs once in the last decade, is legitimately being discussed as a Stanley Cup contender. Multiple factors have changed this year, but there's no arguing that New Jersey has been lacking a true top-tier defensive pairing. Enter the pairing of Jonas Siegenthaler and Dougie Hamilton.
An NHL Journey
Dougie Hamilton was drafted in 2011 by the Boston Bruins with the 9th overall pick. Hamilton was supposed to be the solid number-one defenseman who could be the pivotal piece in the Bruins starting to build a younger defensive core. There are plenty of stories as to why that didn't go well, but at the end of the day, Dougie found his way out of Boston and headed to Calgary. From Calgary (where the ending wasn't great either) to Carolina, Dougie has struggled. Ultimately though, he maintains his stature as a top-pairing defenseman. Enter the New Jersey Devils.

The Devils took a risk on a guy who's left town on more than one occasion, signing him to a seven-year 63 million-dollar deal. Upon signing that deal, Hamilton posted his 2nd fewest-point season and had some trouble on the defensive side of the puck, ending the season with a minus-19 in 62 games. Again, with the good news for the Devils, though, enter Jonas Siegenthaler. The Washington Capitals took Jonas in the second round with the 57th overall pick. He spent some time in the NHL before being sent to their minor league affiliate, Hershey. Siegenthaler was traded to the Devils on April 11th, 2021, and subsequently has found himself with a second extension for five years, 17 million dollars.
You may be asking yourself, at this point, how did this unlikely due end up being maybe the best defensive pairing in the NHL right now? Let's take a look at that.
An Early Look at the Siegenthaler-Hamilton Pairing
It's worth noting we're less than a quarter of the way through the season, and it's likely these numbers will shift a bit, but what stood out the most is the Goals Against per 60-minute stat. Siegenthaler and Hamilton currently have a league-leading 1.84. To put that into perspective, that's .04 better than the Toews-Makar duo in Colorado. Not only is that better, but they're also the 12th highest in minutes logged together, with 247.4 minutes.
The Devils finally have a first and second pairing that puts them in a top-tier NHL-caliber category. The defensive stats are no less impressive for the Graves-Marino pairing. What's setting Siegenthaler and Hamilton apart this year is the offensive production you're starting to see from Dougie Hamilton (what Boston saw in him when they drafted him 9th overall).
Hamilton is currently fourth on the team in points with 14. This comes from five goals and nine assists. To put that into perspective, that's only 16 fewer points than he had in the entirety of last season. Not only is Hamilton finding success on the score sheet, but his offensive upside also shows even when he doesn't get points. Hamilton has a career-high 7.7% shot percentage. In the non-numerical category, his shot looks fantastic.
Where Do They Go From Here?
The Devils are on a 12-game win streak as of writing this article. I do not intend to project how long that can go, nor do I think the "Fire Lindy" crowd is forever gone. I maintain that regardless of a few bumpy spots that are bound to come up in an 82-game NHL season, the New Jersey Devils are the real deal. This will be a fun team to watch, and a back-end as great as this one should make Devils fans feel great about their team's position.