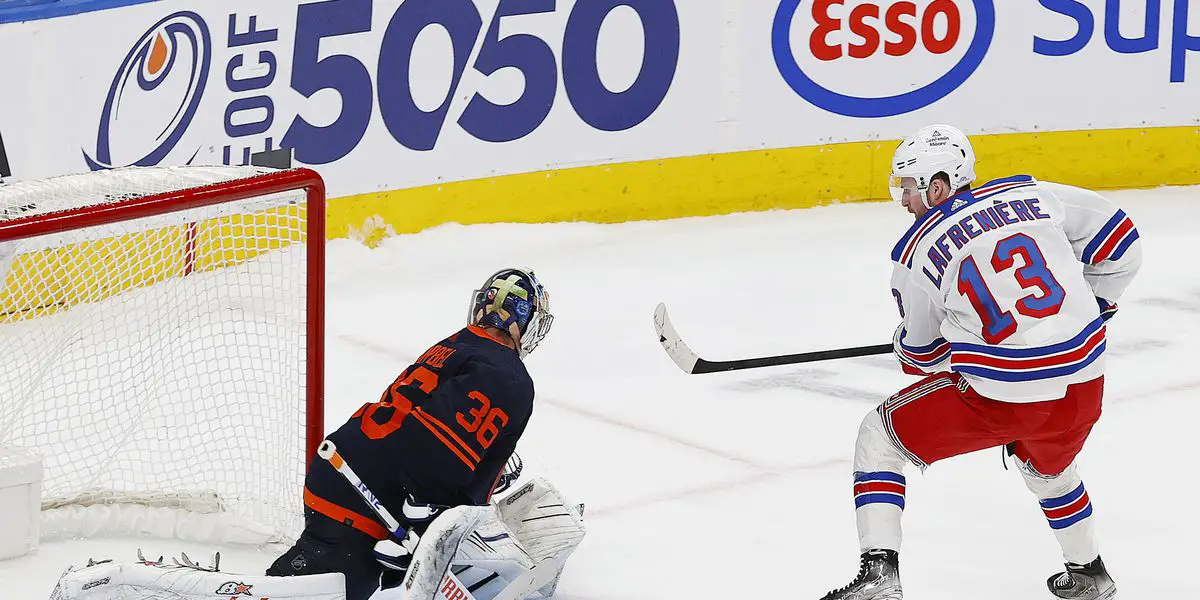 It may be lazy for a team to adopt and carry over a slogan or hashtag from season to season. However, when the Rangers are exhibiting this high level of play coupled with unquestioned resiliency, there isn't a better mantra that describes it than "NO QUIT."  
It's the only way to frame the Rangers' unbelievable 5-4 SO win over the Edmonton Oilers for their seventh win in a row. The team rebounded from two three-goal deficits and a first period that they and Igor would especially like to forget. It was something to see, so let's break down the good, the bad, and everything in between.
THAT'S GOOD!
NEVER OUT OF IT
The turnaround is quick with a game in Calgary tonight, so rather than single out players in separate categories, it's easier to sum it up like this. Last year's version of the Rangers has fully returned.  
The entertaining and flawed version that takes the fans on a roller coaster but is NEVER out of a game. You can't go to bed early; you can't say, "that's game" in the 1st period (I'm guilty of this); you can't turn away. You just can't.
The Rangers had every excuse to lose that game last night. They have been rolling lately with six wins in a row, everything is clicking, and this was their first game on the west coast against a good opponent. So when they went down 4-1, it would have been easy to pack it in and say they were due for a bad game.
The opposite happened. Every lousy tendency of the first period that led to that deficit was shored up. It was the Rangers who then controlled play throughout.  
The turning point was ironic because, at first, it felt like it would be the death blow. The Oilers got another power play early in the second period leading 4-1. Until then, this was an advantage the Rangers seemed unable to stop. Not only did the Rangers stop it, but Chris Kreider was launched shorthanded, got a lucky bounce off an Oiler's skate, and swept one past Campbell to cut the lead to 4-2.  
From then on, a game that once felt like it was about to unravel instead felt like a familiar thread. The Rangers kept coming and almost cut the deficit to one right before the period. They didn't, but it was only a precursor of what was to transpire.
Kaapo Kakko opened the third period with relentless board work in the offensive zone and slid a perfect pass to a rejuvenated Lafreniere, who didn't miss.  
The Oilers seemed to realize their grasp on this victory was slipping away as they tightened up their game to keep things steady at 4-3. However, the Rangers were later awarded a power play that became a five-on-three soon enough. That was too easy an opportunity for a blazing Mika Zibanejad, who won't be denied when he gets on one of these streaks. The game was tied at four, and that was just the beginning of the insanity.
The three-on-three OT was precisely what the NHL envisioned when they created the gimmick. No boring skating in and out of the zone for these five minutes. Both teams went up and down the ice with reckless abandon. There was an equal amount of chaos mixed with glorious chances. An Oilers win seemed inevitable when Mika tripped McDavid with one minute left. (Mika was tripped right before that by Draisaitl, but whatever.). However, the Rangers survived, and we were off to the shootout.
Ryan Nugent-Hopkins and Kaapo Kakko traded opening goals, but after that, it became a back-and-forth of great goaltending mixed with some questionable shootout attempts. FOUR times the Rangers had the game on their sticks with some formidable shooters, only to come up short each time.  
Finally, after a fifth Igor stop, Alexis Lafreniere made a slick move and put the puck through Campbell's five-hole to complete the incredible victory.
It would have been so easy for the Rangers to relent and just get ready for Calgary, but they didn't. That's why the slogan stays right where it is.
THE CHRONICLES OF IGOR
Okay, I lied; we're going to single out Igor. Putting him here is a tricky placement because he was responsible for the giant hole created in the first, just as much as anyone. The defense was porous, but Shesterkin seemed shaky, let up a couple of goals he usually doesn't, and the whispers about his game were starting to become louder.
Gallant said he might even have pulled him if the game got out of hand, but that became a moot point. Much like the rest of the team, maybe more so, Igor settled down, reverted to form, and became the wall we know him to be.  
The difference between the vulnerable first-period Igor and the shootout Igor was a staggering chasm. Calm, cool, and collected. It felt like he wouldn't have let in another goal for another ten rounds as the Rangers got ready to trot out Niko Mikkola to try to end this thing.
So, while you still want to see Igor be more consistent, it's pretty impressive that a goalie can make that type of transformation in-game. That bodes well for any adversity we might face.
THAT'S BAD!
THE FIRST PERIOD. YIKES.
The weird part is the Rangers have played MUCH worse periods overall. However, when they were ugly, they were horrendous.
The first goal allowed on the penalty kill; they let Zach Hyman stand alone in the crease for an eternity so he could whack away at the puck several times before it found its way past Igor.
After that, it was another sequence where they completely lost their way and allowed back-to-back goals in a blink.
When they let the Oilers regain their three-goal lead at the end of the period, it felt like a bad omen for the rest of the night. Credit them for fighting back, but this is not a formula they should adhere to.
The song remains the same when it comes to reasons. Breakdowns in coverage, failure to clear, letting players skate in untouched, etc. All the worst traits of this team appear when they lose their structure. When you do it against a team with this type of firepower, you're usually staring at a big number on the scoreboard for the other team.  
CAN I GO NOW?
Hoping this is a slight finishing hiccup for Chytil, who seemed to reverse that trend hitting everything in sight this season. A few instances, but the most egregious was having Campbell flat on his stomach and hitting him right in the mask with the whole top half of the goal open.
To be fair, Campbell did have a good number of legitimately good saves, including a stellar one to rob Vesey (who has been the victim of a lot of those lately)
Tarasenko has yet to get going, but honestly, that's even more encouraging. Imagine what this team can do when he becomes a threat as well.
The NHL is making the Rangers work and making us very tired. Right back at it tonight with a 10 pm EST start against Calgary. After that, fly back for a Monday night home game against Winnipeg. This is fun, isn't it?
In this weeks episode former Rangers goalie Dan Blackburn comes on to discuss his time with the Rangers, the draft, and more.Thanks for listening! Please rate and review our show on your favorite listening platform. Check out our partner's website at www.insidetherink.com for all your latest hockey news.