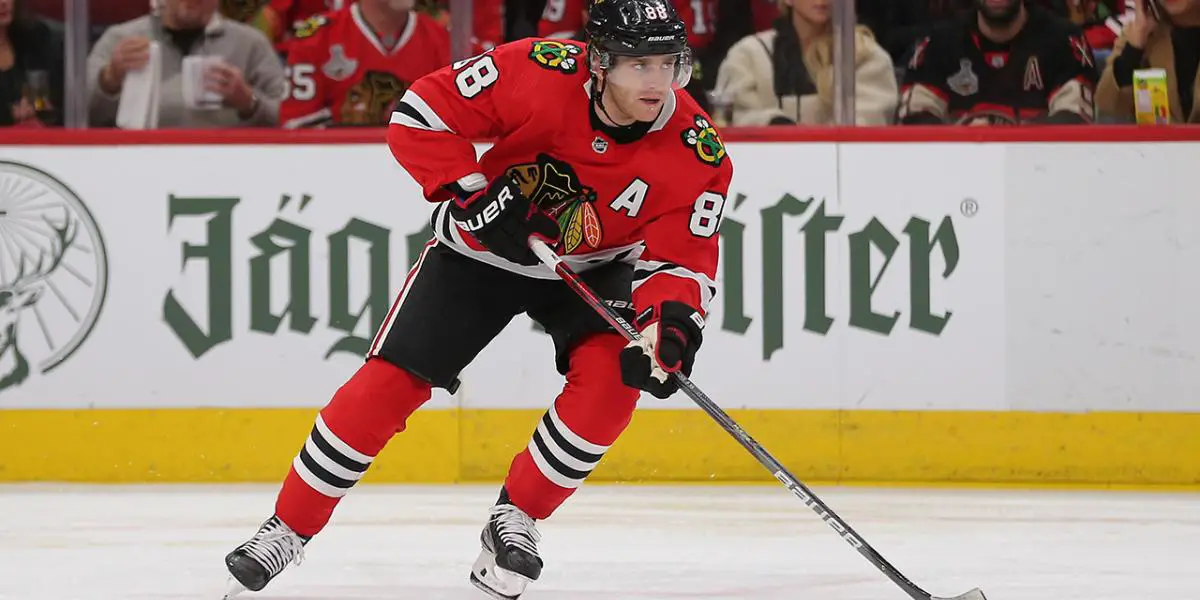 As the Patrick Kane trade talk surrounded the Rangers all season, it seemed like that would be finally put to rest. When Vladimir Tarasenko was dealt to the New York Rangers, he was reunited with good friend Artemi Panarin. It was not the reunion most Rangers' fans expected, but it was welcomed nonetheless, and the Russian star scored in his debut as a Ranger with a pass from Panarin himself.
Unfortunately, it has not been.
Patrick Kane still wants to go to the Rangers. Apparently, he had his sights set on them since the beginning, but his poor play this season caused the Rangers to look elsewhere – and rightfully so. Even though the cap gymnastics needed to add Kane would be tough to navigate, the Rangers are revisiting the possibility of adding him to their team.
That would be a mistake. Kane is not the player he was, and adding him to this Rangers team would likely emphasize their current problems instead of fixing any of them.
Why Kane is not a good fit
Patrick Kane certainly has the pedigree you want to see from a deadline acquisition – 3 Stanley Cups, a Hart trophy, Art Ross trophy, Conn Smythe, and more – but it is important to remember that Kane is no longer that player. Sure, it's easy to get caught up in his most recent point totals, as he has 10 points in his last four games. Aside from his accolades and point totals, let's look into why Kane wouldn't drastically improve this team.
Kane is no longer a great player
Patrick Kane was once a great player. He is no longer that player, plain and simple. While yes, he is playing on an atrocious Chicago Blackhawks team, that team is atrocious in part due to the play of Kane. He's been fine offensively, nothing remarkable, but he is a defensive black hole.
In the 2022-2023 season, he is in the bottom 3% of WAR for all NHL players. WAR stands for wins above replacement, and being in the bottom 3% indicates he is only better than 3% of ALL NHL players. That is downright awful. Adding on to this, even though he's scored ten points in his last four games, he only has 35 points in 50 games. For an offensively gifted player, that is not good enough, and it doesn't come close to making up for his atrocious negative impact.
It would be too easy to write this off as simply just playing on a bad team. There have been claims that he's only so bad because "why would anyone want to play for the tanking Chicago Blackhawks?" It's a valid claim, considering he watched the team trade away young players like Kirby Dach, Alex DeBrincat, and Brandon Hagel when Kane believed the team could've kept them all. That must have been frustrating; however, Kane hasn't just been bad this season.
If we look at Kane's WAR since 2019-20, nearly three years ago when none of those players were traded, it was still abysmally low. Kane has been consistently bad since 2020-21 – another indication that he is not simply a player losing motivation, he is on the decline.
An Aging player with an untreated injury
This decline in play is nothing to really be surprised about. Kane is 33 turning 34, and he's not getting any younger. The fact is players simply decline in quality as they age, and Kane is no exception to the rule. When the league is getting younger and faster, a player like Kane (who may still be a very skilled forward) just won't cut it on a competing roster. Another thing to consider is that players might be more prone to injury as they age. Come playoff time, an injury from a rental who is supposed to slot into the top six is not ideal.
Even if a player does decline due to age, that doesn't mean he's worth nothing. Just look at Patrice Bergeron and Erik Karlsson, two players past the age of 32 who are having near career years. Who's to say Kane can't turn it around and join them?
Here's the kicker, though – Kane is injured. And not just a minor injury either. No, Kane has been suffering from a hip injury that is so bad allegedly the whole league knows he needs surgery. That's no small thing to ignore, especially when one is giving up valuable assets for him at the deadline.
The Rangers are just fine without Kane
When looking at the roster for the New York Rangers, it's rather hard to find a place where Kane would fit.
Chris Kreider, Mika Zibanejad, and Jimmy Vesey have been one of the Rangers' best lines all season. A mix of two highly skilled scoring players with tremendous chemistry in Zibanejad and Kreider, combined with a defensively elite Jimmy Vesey who's hard on pucks and causes turnovers in the offensive zone, which Zibanejad and Kreider can then capitalize on. If you add Kane to this line, not only do they get a lot weaker defensively (something Kane wasn't good at even in his prime), but they also lose that gritty, hard-nosed forward that Zibanejad and Kreider gel so well with.
The second line of Artemi Panarin, Vincent Trocheck, and Vladimir Tarasenko have only been together for so long, but so far, they've found success. Trocheck and Panarin struggled to connect early in the season, but it seems as though the addition of Tarasenko has made both players better, especially with each other. Trocheck also has been on fire recently, with 14 points in his last 12 games. Safe to say that this line should not be split up.
Let's move now to the kid line. If my previous article was any indication, this line should absolutely not be split up. They've been nothing short of dominant the past dozen games, and they've all done so while piggybacking on each other's success. Would Kane fit on this line? Absolutely not.
Then there's the fourth line. Sure, Barclay Goodrow and Tyler Motte have been good, but Jake Leschyshyn has been pretty awful. Despite this, adding Kane doesn't really solve this problem. One could argue that Kane would slot on the top line, allowing Vesey to play on the fourth line with Goodrow and Motte, but in doing so, you would sacrifice the defensive prowess of that top line.
It's not worth adding Kane, even if the roster balances out. His defensive inability would no doubt have an effect on Zibanejad and Kreider, and even if he scored at the rates he has previously in his career, his negative impact would negate any offense that came his way.
In this week's episode we discuss the new rumors regarding the Rangers coaching situation. Then go on to the fun stuff discussing the impact Tkachuck's play will make on the game, Rangers players and more. Thanks for listening! Please rate and review our show on your favorite listening platform. Check out our partner's website at www.insidetherink.com for all your latest hockey news.