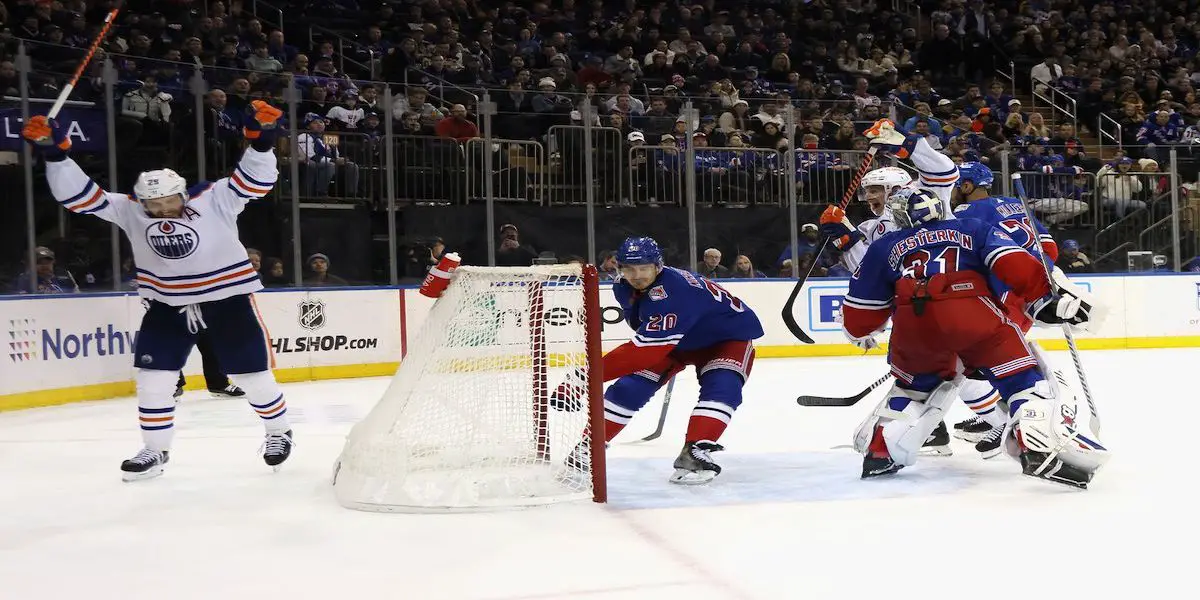 It is officially time to worry about the NY Rangers. 
This is fresh off what can only be described as a full-blown 3rd-period collapse against the Edmonton Oilers to lose 4-3 in regulation.  
The Rangers entered the 3rd period leading 3-0. It was not perfect, but an impressive performance up to that point, considering they had to deal with the emotional letdown of having not one but TWO goals taken off the board. 
It makes it all the more baffling then that the same team can cower and wither in the 3rd period by allowing four unanswered goals to the Oilers to fall short. 
Their overall game started quite sharply as Adam Fox (who is back to Norris form and the only Ranger consistent from day one) made a perfect pass to Alexis Lafreniere for a tap-in and a 1-0 lead. That ended an 11-game goal drought for Laf.  
Rangers seemed to feed off that on their recently dormant power play as Panarin sniped one past Campbell. However, that goal was reversed as Panarin was a sliver offside entering the zone, so Rangers settled for the one-goal lead.  
In the second, the Oilers began to control more of the flow, and only a stellar Igor kept them scoreless. The Blueshirts seemed to have the hockey gods rewarding them for that when Braden Schneider ripped one past Campbell for a 2-0 lead. Again though, the tally was challenged for goalie interference, and after what seemed like an hour-long review, it was disallowed. 
Having two goals taken away could quickly deflate any team, which is why it was heartening instead to see the Rangers respond so intensely. Kreider buried a rebound to make it 2-0, and only 33 seconds later, Gauthier scooped in a shot during a scrum around the net. The Rangers held firm and went into the locker room with a 3-0 lead amidst rousing cheers. 
It only made what was to come even more of a gut punch.  
A K'Andre Miller penalty early on led to an Oilers' power play that didn't convert but essentially led to an Evan Bouchard goal after PP time expired. It was only one goal, but it seemed to give Edmonton all the life it needed. 
As it's happened too often this season, the Rangers did not respond to adversity and let the other team dictate their play completely. Sure enough, that led to another Evan Bouchard goal on a slapper (a player who had zero goals before today, mind you), and it was 3-2.  
The dread and tension were palpable in MSG, which hung over the ice and proved to smother. 
The Oilers had their way with the Rangers in all facets, and it paid off when Dylan Holloway got his first NHL goal (a Rangers specialty) past a now suddenly shaky Igor.   
It was a tie game at that point and what seemed to be a sure Rangers win now became an exercise in holding on for dear life to get one point. It was not to be as Lafreniere was called for roughing with 2+ minutes left, and Draisaitl quickly converted a McDavid pass for the game-winner on the power play. 
Please make no mistake, from a Rangers perspective, this is as bad as it gets. Stay tuned for a separate article on why this loss highlights the flaws in this team's DNA this year that should have fans very worried. (Believe me, my fan side is begging my journalist side to let me unleash here, but I'll save it). 
All that needs to be said is this was a game the NY Rangers let excruciatingly slip away. They need to find out why this type of trend has become the norm instead of the exception quickly. 
Seasons tend to get late very early these days. 
In this weeks episode we talk about the promising signs and questionable decision making. We also have 3 Brand new segment's for the pod. Thanks for listening! Please rate and review our show on your favorite listening platform. Check out our partner's website at www.insidetherink.com for all your latest hockey news.