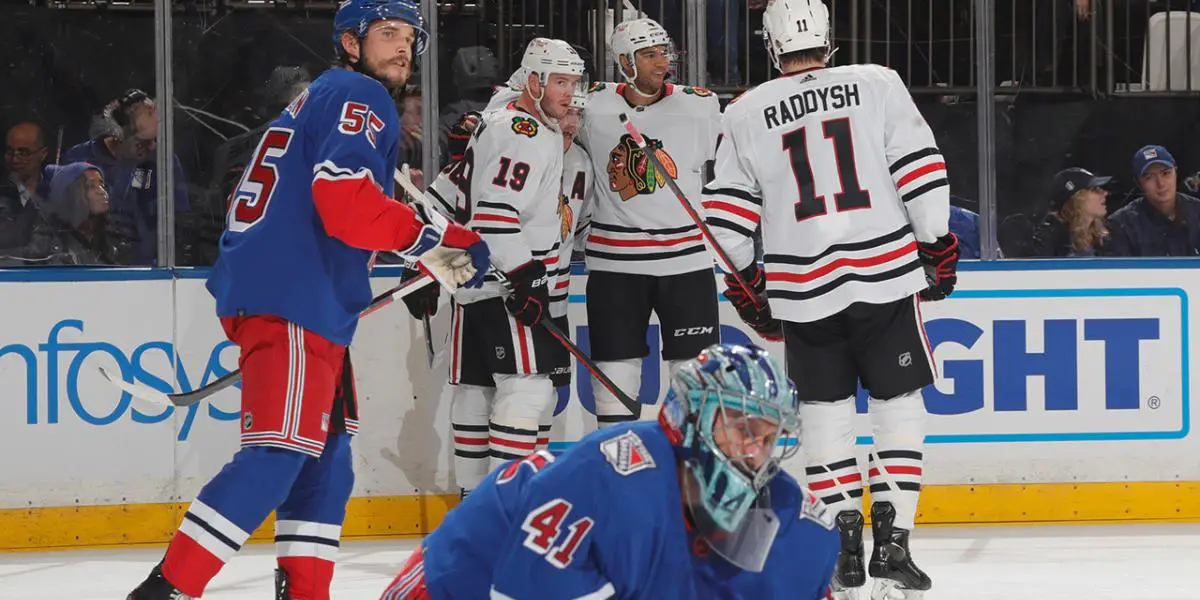 The term "rock bottom" is tricky when you apply it to a sports team, especially with a season still in progress. No matter how bad the situation might appear, it's impossible to know if things might get even worse.
The Rangers better hope not because last night signified a low point in a season increasingly becoming full of them. They let the Chicago Blackhawks, losers of eight straight games, come into MSG and beat them handily 5-2.
Perhaps, a play-by-play recap of the game isn't even necessary because it's the same script being written each game. We've seen this movie before.
The first eight minutes of this game were a microcosm of the same issues that have plagued the Rangers throughout this season. They started the game strong, cycling and possessing the puck, keeping it primarily in the offensive zone. Yet, this led to only two low-danger shots, with many more misfired attempts and blocked passes. Soon after, a bad turnover behind their net (as they are wont to do) by Libor Hajek eventually led to a Reese Johnson deflection for a 1-0 Chicago lead, despite the Rangers controlling most of the play. A push from the Blueshirts soon followed that goal, but again, they failed to capitalize on an excellent scoring chance. In front of a wide-open net, Alexis Lafreniere mis-hit the puck right into Mrazek's pads. It was another opportunity for the Rangers to answer back to the other team's energy and spark something, but failing to take advantage.
The Rangers' recent trend of terrible 2nd periods continued as well. They gave up TWO early power-play goals in succession to Chicago for a 3-0 deficit that felt insurmountable and turned out to be.
A brief spark was provided by Jacob Trouba, who laid out Andreas Athanasiou with a massive hit. That incident initiated an absolute melee, leading to a Rangers power play. Mika Zibanejad ultimately connected on a one-timer for a previously dormant PP unit. The goal cut the lead to 3-1 late in the period and gave the Garden faithful hope that the Rangers could somehow salvage this game.
However, as has repeatedly been the case, it was not meant to be. The Rangers showed little fire, and when Taylor Raddysh scored 4:46 into the period to make it 4-1, MSG went quiet. Despite a late desperation goal with their net empty, the Rangers' fate was sealed as they suffered their 2nd stunning defeat in two nights.
The outcome is even more glaring considering the number of goals the Blackhawks had been allowing to their opponents. During their eight-game losing streak, Chicago gave up five or more goals six times! The Rangers were only able to muster two goals, and that's with Mrazek being pulled for the 3rd period due to injury. They barely even tested a cold Arvid Soderblom, again unable to take advantage of what should have been a favorable break for them.
Unfortunately for the Rangers, their slate gets no easier. Their next five games look like this:
vs. St Louis
At Vegas
At Colorado
vs. NJ Devils
vs. Toronto
Four of those five teams are currently at the top of the NHL standings. That's a scary gauntlet considering this is coming right after the Rangers have lost to three of the WORST squads (Anaheim, Ottawa, Chicago) in the league in the last ten days alone.
Last night's loss indeed felt like the Rangers had reached an abyss of epic proportions. However, looking ahead at that upcoming schedule, with no impactful personnel changes imminent, was it rock bottom? We'll have to wait and see.
In this week's episode we discuss the new rumors regarding the Rangers coaching situation. Then go on to the fun stuff discussing the impact Tkachuck's play will make on the game, Rangers players and more. Thanks for listening! Please rate and review our show on your favorite listening platform. Check out our partner's website at www.insidetherink.com for all your latest hockey news.