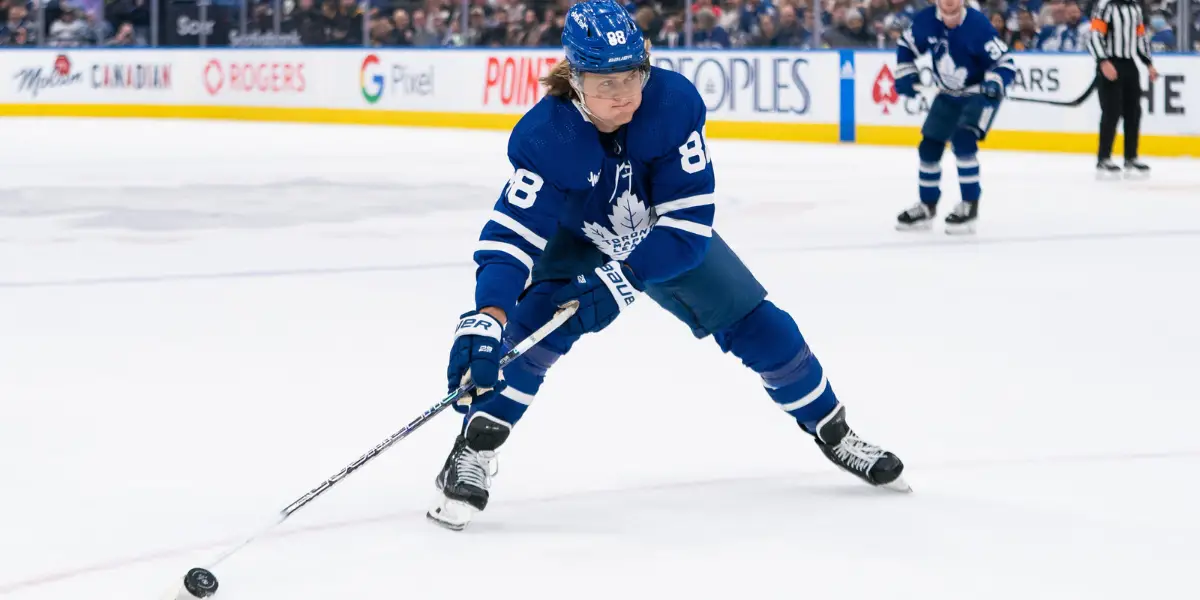 Training camp has begun!

I KNOW I'm not the only person jumping up and down for joy that the 2023-2024 NHL season is just a couple of weeks away. Training camps have kicked off, and with that, like every year, it brings new faces, new hope, and lots of excitement. What this year's training camp brought to the Leafs, however, was completely unexpected.

William Nylander has shifted from a right winger to center.

There has been lots of chatter around Leafs Nation since Elliotte Friedman broke the news about Nylander's position change, and with Treliving confirming it on the Leafs' media day, we now know for certain this is definitely happening. Like it or not.

Many questions remain, as we have only had one day of training camp so far, but there is a lot of speculation to be made.

Which line does he play center on?

Well, new GM Brad Treliving has made it clear that all three of Auston Matthews, John Tavares, and William Nylander will START camp as centers.

Nylander isn't going to center a top pair with Auston Matthews, that's for sure. Instead, he more than likely plays on a line that is designed as "middle six," meaning there will be no real distinction from the second to the third line. Basically, having lines 2A and 2B. Similar to how we all envisioned the first two lines to operate when John Tavares signed in Toronto.

Whichever line of the "middle six" gets humming will be the line that sees more ice. I'm sure John Tavares and David Kampf will hold down D-zone faceoffs, leaving Matthews and Nylander's lines to the O-zone draws.

Paired with the right players, which the Leafs have had many more since this time last season, Nylander could run a very threatening scoring line. He's not exactly a defensive scrub either, and he's played in the top 6 for the majority of his tenure in Toronto, meaning he can play against the other team's top players. Maybe not all of the time, but when needed.

Who plays wing on Nylander's line?

While, again, it's just the beginning of training camp, and lots of different combinations will be looked at, I have a suggestion.

I think having Tyler Bertuzzi and Matthew Knies alongside William Nylander could be the best second line in the league.


Bertuzzi is equipped with the speed to keep up with Nylander, joining him on the rush. Bertuzzi also has the vision and creativity to make dangerous plays in the offensive zone for his teammates, and with Bertuzzi's shot, he would gel nicely with center man William Nylander.

Matthew Knies does everything that your uncle complains that Nylander doesn't do. Even though Nylander is an actual tank that could probably beat up you and your uncle, Knies' game is tailored to playing in the dirty areas, fighting for pucks, and winning battles. Knies also possesses the skill to bury pucks and feed his linemates. He is what I would consider almost the perfect compliment to Nylander's style.
On day one, he was paired with Max Domi and Calle Jarnkrok.

Knies skated with John Tavares and Sam Lafferty.

Bertuzzi was with Auston Matthews and Mitch Marner.

But it's early.



Will it work?

We have had no indication up to this point that it will, and it seems like Keefe has tried this every year, but he was drafted as a center, and he has told head coach Sheldon Keefe that it's easier to shift from center to wing than to shift from wing to center on the fly. So starting him in the middle at training camp is sure to help him become acclimated to the center position early before possible role changes. I expect positive things to come from having so much talent in the lineup, and I believe this is the first step in a new look Leafs that is so desperately needed.
So Nice, It Ended Twice feat. Marty Zylstra
–
Leafs Late Night
WELCOME BACK TO LEAFS LATE NIGHT! Presented by Inside The RinkGalaxy Biehn / Marty Zylstra of Sports! Is FunCheck out Marty's Music- Lucky To Be Good, Good To Be Lucky- Mitch Marner Is Underrated- Joseph Woll Remembers.- Gregor's ArkNEW MERCH IS AVAILABLE!JOIN OUR DISCORD!Remember to follow us on Twitter @LeafsLateNight & IG @LeafsLateNightCheck out Mike, Josh, and Nathan's articles on the Leafs + many more! insidetherink.com