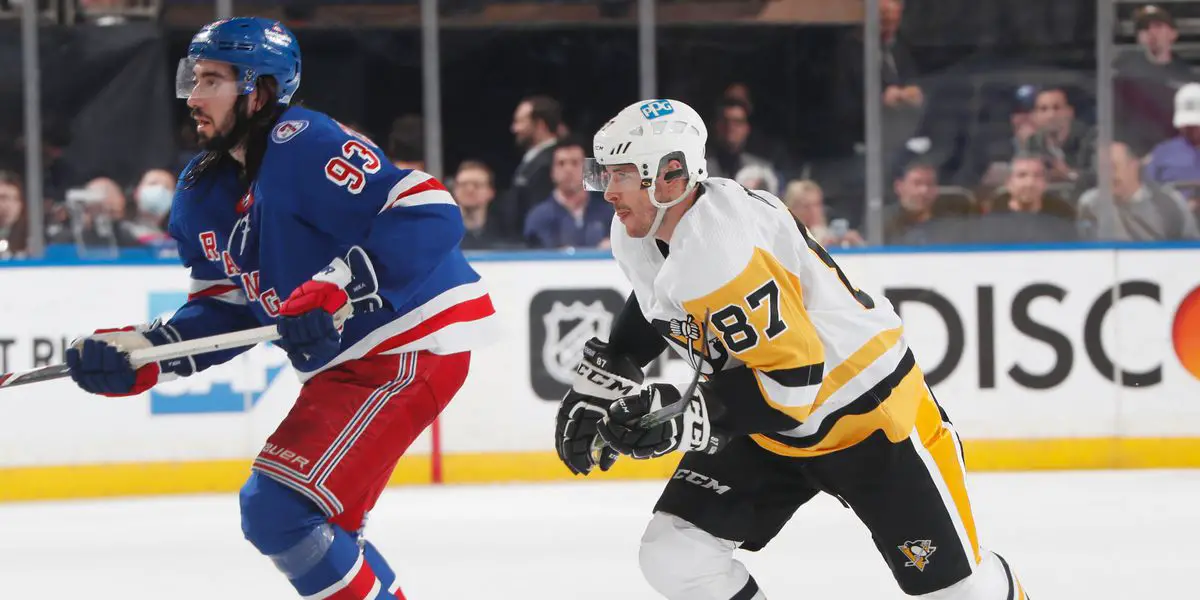 It took the Rangers turning into cartoons to finally get a regulation win they could feel halfway decent about. Preceding that were losses to Ottawa and Boston, a shootout win over Montreal, an OT win over Buffalo, and a pivotal OT loss to the Penguins. Needless to say, it's been an erratic stretch here as the Blueshirts start to have the playoffs in sight.
It hasn't been without some bright spots, but there are also still lingering concerns. (That's lingering, not Lindgrening, but also a concern.)
Let's break down what we've seen recently and what's to come with the good, the bad, and everything in between.
THAT'S GOOD!
FITTING IN
Perhaps our impatience clouds our judgment, and we expect all-time top-tier talent to come in and hum immediately. However, that is not always the case. While there were flashes for both Tarasenko and Kane, any chance we would see prime versions of them out of the gate might have been premature.
Watching the past two games and seeing the Panarin/Mika/Tarasenko line has gotten fans properly stoked, and who can blame them? Now though, you can tangibly see both players starting to feel more comfortable, resulting in more production. Couple that with Patrick Kane looking smoother and starting to unleash his skills. There is still work to do, but the exciting version of this team on paper can begin to manifest on the ice.  
POWER PLAY UNITS (PLURAL!)
I mentioned this before, but I love the move to split the power play units into two stacked combos instead of one dominant force. How deflating must it be for a penalty kill unit to try to race around and cover Mika, Kreider, and a Fox for a minute, only to blink and see Panarin and Kane coming on the ice?  
It's starting to pay off, as we are 5 for 14 (35.7%) over our last five games, and there is still room to get more lethal. If it does, even if our 5×5 has its inconsistency, we can get by if this becomes a weapon again.
FOURTH LINE
This fourth line is what we envisioned if we could get a legit Top six scoring winger. Now you have the ultra-valuable Jimmy Vesey wreaking havoc down there with Goody and Tyler Motte. It is the PERFECT dynamic and the fourth line we've been waiting for. Possession pests with the ability to pop in a goal here or there. Another secret weapon. Now we need the top nine to start consistently doing their thing.
JACOB TROUBA
Look, I can certainly put Mika Zibanejad in his own category, but I've come to expect this production from him. He's a wonderful all-around center who is still underappreciated in the mainstream.
Someone else who is probably underappreciated is Jacob Trouba. Granted, his and the team's early struggles (while wearing the "C") might have added extra pressure on him. There were also whispers he was playing hurt. He always brought the pain train and the grit, but his offensive contribution was subpar to nil.
Well, maybe now he is healthy, or the tide has turned, but he is starting to pour in the offensive production while remaining the physical force on the ice. We need this complete Jacob Trouba to thrive deep in the playoffs. Either way, especially with Lindgren out, Trouba stepping up like this has saved what could have been a deeper abyss.
THAT'S BAD
BREAKDOWNS
With everything on the table, the most worrisome continuing trend for the Rangers has been the sequences where they lose structure, break down and seem to forget how to play hockey. The only variable is if it lasts for a minute or two or the whole period.
Either way, the real problem is that these lapses ALWAYS lead to goals, and that is why we fall behind so often, or the games are always tight.
I realize the myth of "play a full sixty minutes" is somewhat unattainable, BUT the Rangers' mistakes are correctable as they are repeatable. It's almost like when your child does something wrong when he knows the right thing to do. You just want to say, "Come on, you're better than this."  
It's the same with this team. They need to cut down on the slow starts and regroup quicker when the game starts slipping away from them. Results-wise, they get away with it enough, but there is way less room for error in the playoffs.
SHOOT!!
My head hurts from repeatedly thinking and saying SHOOT, but yelling remains a legit thing. I know it's somewhat of a running joke in arenas all over the NHL. Fans just want players to shoot, shoot, shoot.
But holy heck, in the Rangers' case, it's true. I've never seen this many talented shooters pass up point-blank shots for a much lower percentage chance by a teammate. I can even live with the young players still trying to gain confidence, but when you have established snipers like Mika and Kane passing up ten-foot shots from the slot, that is a problem.
The frustrating thing is you saw Kane finally fire the other night and score. There are constant reminders throughout for these players that scream, "Oh yeah, I'm awesome. I should shoot more." yet they consistently pass away golden opportunities that lead to nothing.
I'm not saying this team needs to line up a shooting gallery, but getting a little more aggressive and selfish will only help. The evidence is all over the ice.
STAY OUT OF THE BOX!
No heavy anaylsis here. Yes, there are some ticky-tack calls, but we also get a little sloppy. Have to clean it up. I don't care if our PK is humming and dangerous with short-handed goals; you are playing with fire if you continue to give the other team advantages.
CAN I GO NOW?
I'm not diagnosing Igor as cured, but he's started to show signs of dominance again. We need him to be locked in to do something special, that's for sure.
The Rangers did not play this Lindgren injury well at all. I know he's a machine, but we all saw how his shoulder was hanging. In what way did that sight scream "day-to-day?" Especially when you factor in our salary cap woes, putting him on LTIR should have been the call from the jump.
There have been signs of solid play, but the kids have gone into a lull production-wise. I need one of them at least to start finding the back of the net.
I'm not going to get on Mikkola at all. I actually don't think he's been that bad, but either way, this is not the role or the minutes he should be playing. I'm surprised it's worked this well, for what it's worth. One thing is clear, though, if anyone doesn't see the FULL value Lindgren brings to this defense, you're not paying attention. Can't wait till he's back.
Two HUGE games with Pitt tonight and Saturday. Honestly, even if we win one, it puts us back in a very comfortable position for that third spot in the Metro. Either way, this is a team we should handle, so I need some revenge tonight for that lackluster performance on Tuesday.  
In this weeks episode we discuss the Rangers lack of structure, style and what they need to do better. After we have a few segments ending off with top 5.Thanks for listening! Please rate and review our show on your favorite listening platform. Check out our partner's website at www.insidetherink.com for all your latest hockey news.