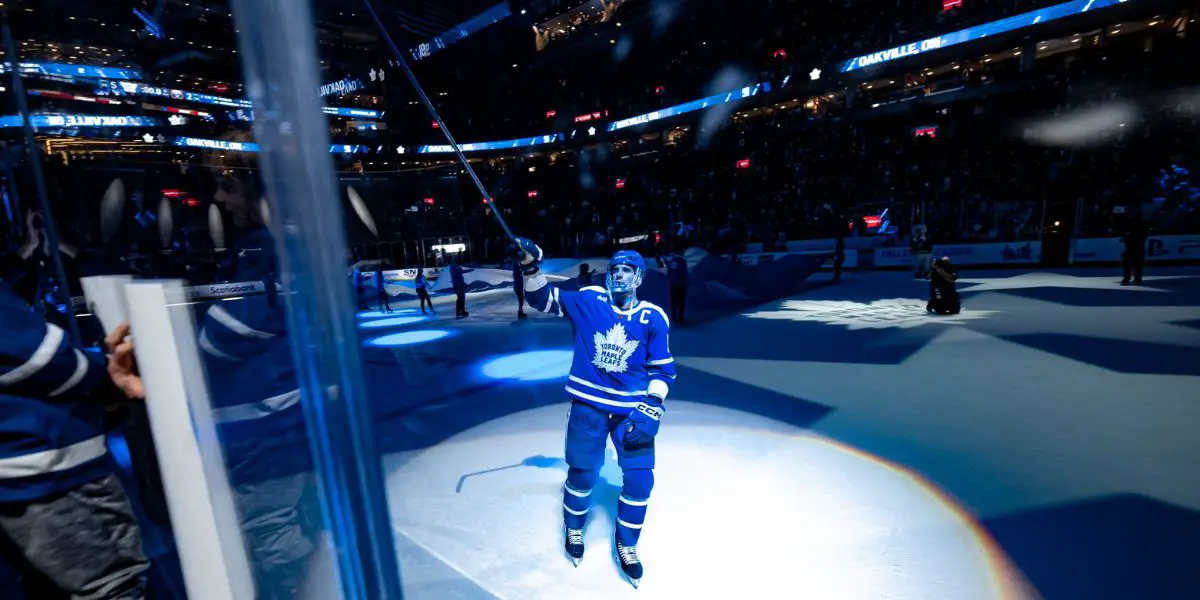 Even if you are a casual hockey fan, I would be willing to bet you have heard the name John Tavares hundreds, if not thousands, of times over the past 10-15 years. For those of you who may not know everything there is to know about Tavares, sit back and let me give you an overview of him and his journey to 1000 NHL games. He was born on September 20th, 1990. He is from Oakville, Ontario. Tavares first came into the spotlight when he was the first player in the history of the OHL to be granted exceptional status to enter the league at the age of 14. Some may be asking, what exactly is "exceptional status"? Well, it's when a player has exceptional skills and talent but they are underage, so the league considers the player to see if they deserve the honor.
In saying that, their on-ice abilities don't solely determine it. They must also prove they are a good person off the ice, and the league needs to see that they are exceptional away from the rink. For those who have followed Tavares' career, he checked every single one of those boxes, even at the young age of 14. After the league decided to grant Tavares exceptional status, it made him eligible for the 2005 OHL Draft, where the Oshawa Generals held the first overall pick. Of course, it was pretty clear who they were going to take with that selection … John Tavares. Tavares did not disappoint either; in his 2005/06 rookie season, he appeared in 65 games where he scored 45 goals and added 32 assists for a total of 77 points. Those are outstanding numbers for any rookie in the OHL, let alone a guy who was underage. Those numbers were so impressive that Tavares would be named the OHL rookie of the year. He wasn't done there, though. He returned for his second year and blew those rookie numbers out of the water. In the 06/07 season, Tavares appeared in 67 games where he scored 72 goals and added 62 assists giving him a total of 134 points … simply outstanding. He would be named the CHL Player of The Year that year. The Generals also made the playoffs that season, where Tavares played in 9 games, scoring seven goals and 12 assists for 19 points. His incredible sophomore season left people wondering, where can he go from here? How can he possibly top those numbers?
While Tavares did have a fantastic third season in the OHL, he did not top his second year numbers. He skated in 59 games with the Generals in the 07/08 season, where he scored 40 goals and 78 assists, giving him a total of 118 points … still incredible numbers. The Generals went back to the playoffs that year, and Tavares also appeared in 15 games where he scored just three goals, but he added 13 assists for a total of 16 points. Something was becoming more noticeable in Tavares' game that year, though. He was focusing and working incredibly hard on becoming a complete 200 foot player. He wanted to be effective both offensively and defensively, even if that meant his point totals suffered for it. The 08/09 season. John Tavares' NHL draft year. His last kick at the can showed NHL teams just how dominant of a player he could be. He did not disappoint. He appeared in 32 games for the Generals that year, scoring 26 goals and 28 assists for a total of 54 points, a great pace for the 18-year-old phenom. You may be wondering why did he only play 32 games? It was because the Generals, who were looking to get a head start on a rebuild, traded Tavares to the powerhouse of the OHL, the London Knights. He went on to appear in 24 games with the Knights, scoring 32 goals and 18 assists, giving him 50 points, an even better pace than he had with the Generals in the first half of the season. He would also appear in 14 playoff games with the Knights that year, scoring ten goals and adding 11 assists for a total of 21 points. For those of you who may be wondering what Tavares' career totals in the OHL were, don't worry; I got you. He had 247 games played, scoring 215 goals and 218 assists for a total of 433 points. A 1.75 points per game pace is outstanding. The next step? The NHL Draft in June. 
With the first overall pick in the 2009 NHL Draft, the New York Islanders are proud to select, from the London Knights, center John Tavares. There you have it; it was official. John Tavares had taken the next step in his hockey career and was officially a part of an NHL franchise. To the surprise of no one, Tavares made the Islanders opening night roster for the 2009/10 season, and he did not look back. He went on to appear in all 82 games that season, scoring 24 goals and 30 assists for a total of 54 points. Those are very respectful numbers for a rookie; he had the most points for the Islanders that year. Tavares did not see playoff action with the Islanders till his fourth season, but they did not make it past the first round. He played in 6 games and scored three goals and two assists for 5 points. Before the 2013/14 season, Tavares was named the 14th captain in Islanders history. He would also be named to the 2014 Men's Olympic Hockey Team. Unfortunately, he suffered an MCL and meniscus tear in his knee, which resulted in him missing the rest of the Olympics and the remainder of the NHL season. It was in the 2016 NHL playoffs when John Tavares did the unthinkable and he scored the series-clinching goal in the first round in overtime to send the Islanders to the second round for the first time since he had joined the team in 2009. Unfortunately, the Islanders would lose out in the second round, which was the furthest he and the Islanders ever got together. During the 2017/18 season, Islanders fans had a strong feeling that this would be Tavares' final season with the organization and he would test free agency, which is exactly what he chose to do. Tavares played a total of nine seasons on Long Island with the Islanders. Over those nine years, he played in 669 games. He scored 272 goals and 349 assists for a total of 621 points – a 0.93 points per game pace. 
On July 1st, 2018 … John Tavares came home. The former Islander signed a massive seven year $77 million contract to come home to play for his childhood team, the Toronto Maple Leafs. 
Tavares played alongside Mitch Marner his first season with the Leafs, and that duo did not disappoint. He wasted little time scoring his first goal as a Leaf as he scored in his first game against Carey Price and the Montreal Canadiens.
Tavares would go on to have a career year scoring a career-high 47 goals and 41 assists for a total of 88 points which was also a career-high. With Matthews, Marner, Nylander, and Rielly already with the Leafs organization, adding Tavares had to almost guarantee success and championships, right? Well, not quite. Yes, they have had fantastic regular seasons; there's no denying that. This core has set franchise records for wins and points in a single season. They have had amazing years in that regard. It's the playoffs where this group has yet to find success. On October 2nd, 2019, just one year after he joined the Leafs, the organization named Tavares the 25th captain in franchise history.  
This is Tavares' fifth season with the Leafs, and each year, they have been eliminated in the first round and in heartbreaking fashion each time, I might add. We do not need to relive those memories now; we all know what happened. However, one memory I will bring up is Tavares' absolutely terrifying head/neck injury in game one of the 2021 Stanley Cup Playoffs against the Montreal Canadiens. Tavares was hit knee on the knee by Ben Chariot, which caused Tavares to fall awkwardly. As he was falling, Corey Perry was backchecking and tried to jump to avoid Tavares, and in doing so, he nailed Tavares directly in the head with his knee at full speed. Tavares lay motionless for a few moments, then he tried to get up once the trainers got to him, but his legs gave out as he knelt up and he completely collapsed and passed out. He would eventually be stretchered off but not without giving the camera a thumbs up. Leafs nation as a whole was genuinely concerned for Tavares' overall health as a human being, not just a hockey player. As of today, Saturday, January 28th, 2022, John Tavares has played in 330 games. He's scored 140 goals and 183 assists for a total of 323 points. A 0.98 points per game pace is not bad for a guy who has had his fair share of Leafs fans say he is declining and isn't the player he used to be. 
Those who know me know that Sidney Crosby is my all-time favorite player. In saying that, John Tavares is a very close second to Sid. I have been a massive fan of Tavares since the first time I watched him light up the IIHF World Junior Hockey Championship tournament in 2009 in Ottawa. From that tournament on, I watched Tavares very closely, and I wanted him on the Leafs ever so badly for years. I will never forget the feeling when he decided to sign with the Leafs on July 1st, 2018. It almost didn't feel real, and I was in complete disbelief. It's hard to believe he's already been with the organization for five years. Many people have taken his time with the team for granted, but I have not. Watching him dawn the blue and white game in and out has been an absolute pleasure. I want him to win with the Leafs more than ever, and I hope I get to witness it. So here's to 1000 games, John. It's been quite a ride, and you have been through so much throughout those 1000 games. Enjoy the moment, you are more than deserving, and I can't wait to watch the rest of your career unfold. Oh, Captain, My Captain. 
WELCOME BACK TO LEAFS LATE NIGHT! Presented by Inside The RinkRoscoe / FanalystSteph / Darty Brodeur- Woah Boy- The PP Isn't Bad Tho- Papi's A Different Dude- Morgan's Rielly- The Great Food DebatesMERCH IS AVAILABLE!Remember to follow us on Twitter @LeafsLateNight & IG @LeafsLateNightCheck out Mike, Josh, and Nathan's articles on the Leafs + many more! insidetherink.com