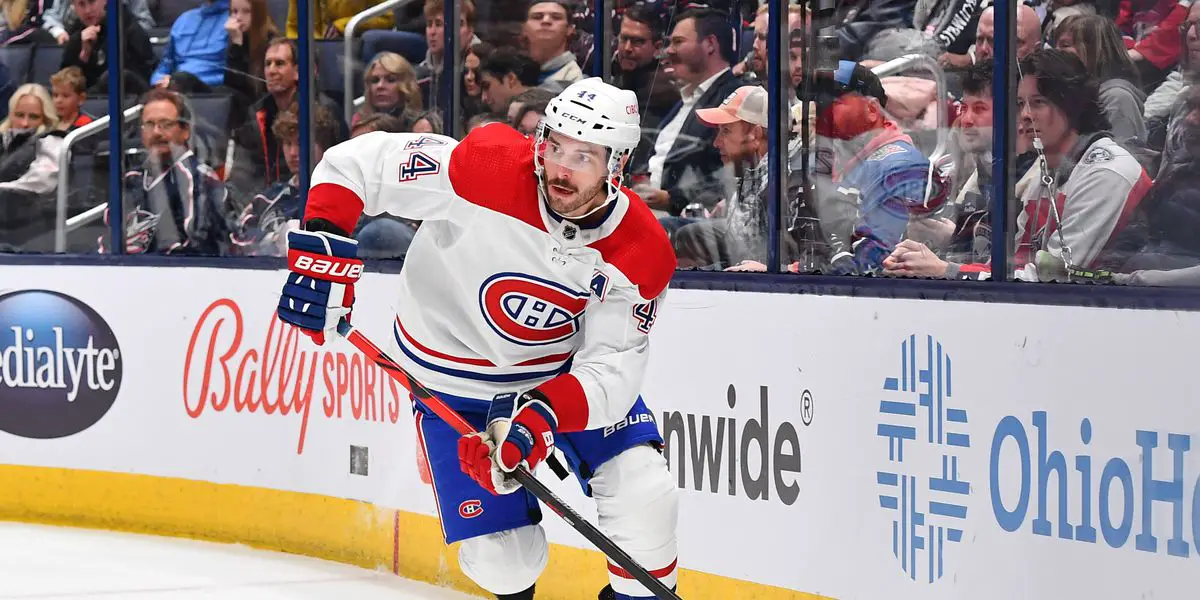 As the Oilers, defensive struggles continue, and Ken Holland works the phones. One name that keeps coming up is Joel Edmundson… oh boy. Joel Edmundson is a left defenseman on the Montreal Canadians, and he joined the Habs in 2020 after being traded for a 5th-round pick (the cost is so low because he was a pending UFA). Edmundson would sign in a 3-year, 3.5 million dollar deal with the Canadiens. Edmundson was drafted by the St. Louis Blues 46th overall in the 2011 NHL Entry Draft. After spending just over three seasons in the AHL, Joel Edmundson would join the Blues full-time in 2015-16 and would be a part of the Blues success in the 2018-19 post-season, where they would win the Stanley Cup against the Bruins in 6 games.
After winning the Stanley Cup, Joel Edmundson would be traded to the Carolina Hurricanes, spending his final contract season with them before being dealt to the Habs. Edmundson had a good 1st season with the Montreal Canadiens, as he would post a +/- of +28, 2nd highest among defensemen in the entire league. While +/- can be a very flawed stat and should never be used alone to determine how good ones defensive play was in a season, Edmundson must've been doing something right. Although that didn't completely carry over into the playoffs for the left-shot d-man, he still contributed to the Habs efforts in making it to the Stanley Cup Final, losing in 5 games to the defending champs in the Tampa Bay Lightning.
In the 2021-22 season, Joel Edmundson only suited up for 24 games, the lowest amount of games he's appeared in a single NHL season. This was due to a lower-back injury in training camp. The following off-season saw a bit of a scare, as Joel Edmundson had suffered another lower back injury, but it wasn't anything major. So far this season, Joel Edmundson has suited up for 16 games, putting up 3 points (1G, 2A), and holds a +/- of -6.
The Oilers woes are in the backend, especially at 5v5, but is Joel Edmundson really the guy that will bring the stability they need?
Not The Answer
Joel Edmundson really shouldn't be seen as the defensive upgrade the Oilers need because they will be sorely mistaken if they pull the trigger on that deal. Edmundson is a player that many analysts have called a "playoff defenseman," a guy that plays with the grit and edge that is allowed by the referees in the post-season, and they aren't wrong. Edmundson is a good physical presence, he's not afraid to have a go at someone in the corner or in front of the net, and at 6'5″, not many players can compete with him in that part of the game… but that's just not what the Oilers need. An Adam Larsson type of defenseman is what the Oilers need. A d man who can be physical can hold his own when the opposition wants to throw the body, but also one that doesn't sacrifice defensive play for it. Larsson was (by far) the Oilers best defensive d man, and they haven't replaced that since he left. Ken Holland tried to with Cody Ceci, who I've found to be reliable in the D zone, but he hasn't matched what Larsson brought.
With Joel Edmundson, you are getting that physicality but not so much actual defense. You aren't getting a guy who can make that solid defensive play and move the puck up the ice night in and night out. On top of that, the price is absurd. Reports from multiple analysts say Montreal will only consider a deal if the Oilers involve 2021 22nd overall pick Xavier Bourgault in the deal. The juice is, very much so, not worth the squeeze in this situation at all.
The defensive market is not cheap by any means. It is the most expensive it has been in the salary cap era. Teams are not holding back when it comes to asking price. The Edmundson price is, in my opinion, absolutely nuts… but the market value justifies the Habs wants. They aren't the only ones asking for a lot.
Make A Splash
When you have Connor McDavid and Leon Draisaitl, you *should* be a team going all in every season. I'll never forget when Connor McDavid put up 105 points in 56 games in the 2020-21 season, and Ken Holland decided the only necessary move was Dmitry Kulikov (who did play fine in his short time as an Oiler). Minus the 2019-20 season, where Ken Holland spent two 2nd round picks on Andreas Athanasiou, the Oilers are yet to make that big move at the deadline. Many considered last season's "big move" to be the Evander Kane signing, but to me, that should've justified making a big move. Kane was on a contract worth very little for the production he was bringing, and that could've been an opportunity to go all out.
Luckily, the Oilers can still do that, and they should for several reasons. McDavid and Draisaitl put on a show in the 2022 Playoffs and sent a message to every other team that they have grown. It's time for Holland to send a message to both Connor and Leon that he's serious about building a cup-contending team and go out and acquire that piece. Two, the piece they can acquire, while expensive, fits right into their needs. That player is Jakob Chychrun.
Chychrun has been on the market for quite some time and has asked for a trade. Now, the Coyotes won't just give him away cheap. Bob Stauffer (Oilers Now on 630 CHED) said that the asking price is similar to the price the Boston Bruins paid when they traded for Hampus Lindholm from the Anaheim Ducks.
This is a deal that Ken Holland and the Oilers should absolutely do. Chychrun would have some solid analytics at even strength, and he's young and still has two more seasons on his contract after this one.
The Oilers are also apparently looking at Erik Karlsson. This is a deal that could hurt the Oilers, as it would be expensive and not solve any of their defensive problems.
All In All
The Oilers needs are definitely beyond what Joel Edmundson brings. At that price, you might as well go for the big fish in Jakob Chychrun. Young, cheap, and signed on for multiple seasons, it just makes too much sense not to.
The boys are back after a long break but have plenty to talk about as the playoffs are in full swing. We go series by series, looking at how teams have fared so far and who will come out on top. Thanks for listening! Please rate and review our show on your favorite listening platform. Check out our partner's website at www.insidetherink.com for all your latest hockey news.