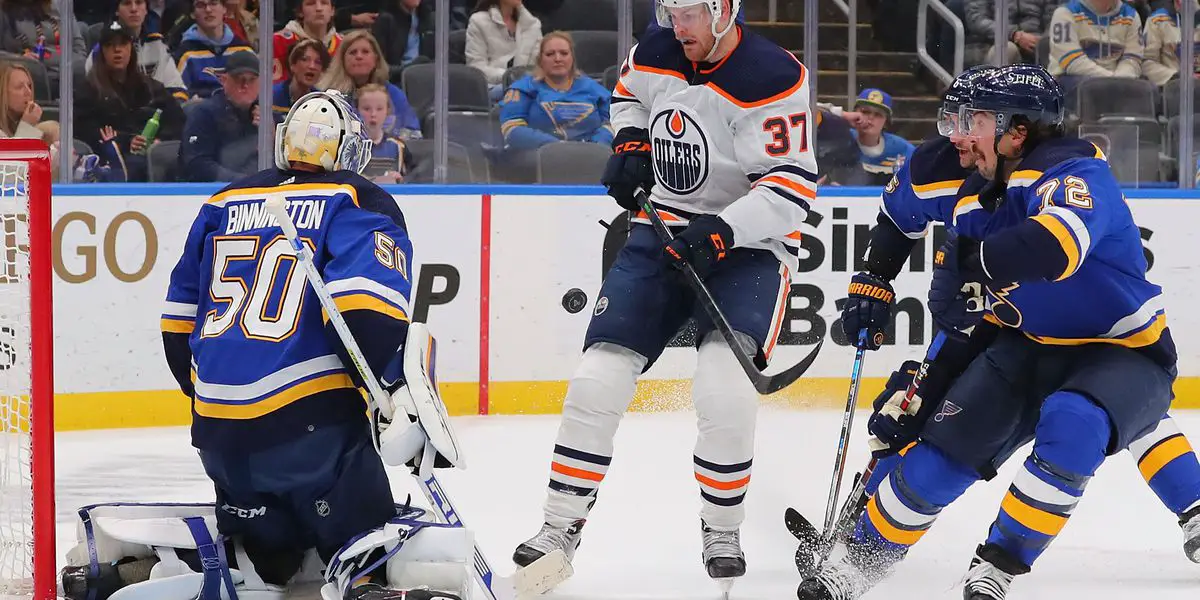 So I guess it was rust… not near the best performance as Oilers start flat and end flat, losing to the Blues 4-2. It wasn't a strong game for many. The Oilers played slow, not physical, and looked very lazy. The Blues, on the other hand, looked anything but that, as they were flying, and their pieces coming off of IR made a big difference.
The 60:
1st Period: It was a tough first period from Samo. This was something the Oilers have been getting used to, slow starts. Not even a quarter mark through the first frame, and the Blues would notch the first goal of the game thanks to Kyrou, as he made a great defensive play that led to a 2-on-0 chance in which Robert Thomas would bury a tap-in. It was a tough read by Dmitry Samorukov, who was playing in his first NHL game, as he got caught hesitating, leading to the odd-man rush. The next goal was scored at the 13:01 mark, off of a great move from Kyrou and a terrible play by Samorukov, as he let his man beat him to the outside and ultimately lost him. As a rookie, mistakes will happen, but Tippett decided that was enough as that was Samorukov's last shift of the entire game. Although it was 2-0, it wouldn't take long for the Oilers to respond, as under a minute late, Draisaitl would make a great move and cut into the slot to rip one low blocker to cut the deficit to just one.
2nd Period: The first half of this period was the Oilers' best play of the entire game; everything was clicking. It would keep this way as Bouchard would take a shot through a screen and score his 6th of the season to tie the game. Now the second half, the Oilers would get back to looking out of sync. Yamamoto tries to make a backhand feed to Draisaitl but is way off, turns it over, and the Blues head up the ice, Duncan Keith loses his man, and Tarasenko buries one to give the Blues the lead again. Another bad defensive read that costs the Oilers. Bouchard would take a hooking penalty at the very end of the 2nd, and the Blues would start the 3rd on the powerplay.
3rd Period: Just 16 seconds in, the Blues would cash in on the powerplay, making it 4-2. The Oilers pushed pretty hard at moments, but Jordan Binnington played great. Warren Foegele would have a wide-open net but gets robbed by Binnington. In Foegele's next shift, he would set up Barrie on a great cross-ice feed, but he would get denied again by Binnington. The Oilers' momentum was gone after those two saves, and the Blues would close it out and win 4-2, taking sole possession of first in their division.
Mike Smith's Return
Mike Smith's first game back wasn't too bad, but he had moments where he looked lost and way out of position. Again, the first game in 2 months was expected to be a little rough at moments. He had some good moments, too, making great saves on Tarasenko and Klim Kostin. While he made some key saves, he let out too many rebounds, which led to the 4th goal against. Expect to see him back in the net tomorrow against the Devils.
Let's Talk About Tippett
When Dmitry Samorukov made that costly mistake and cost us our 2nd goal against, Tippett decided enough was enough and sat Samo for the rest of the game. At this point, there was still over half of the first period to play. Now, I understand sitting players to send a message when they deserve it, and truth be told, Samo did deserve to sit for a while. Yes, he's a rookie; growing pains are a part of being a better defenseman, but sitting him the whole game was a terrible move. Some will say that it's all a part of "accountability," and while they would be right, I would like to see that for everyone. Duncan Keith made a terrible read and let Tarasenko walk right down the middle, wide open, and score. Duncan Keith was out there next shift. Another thing, it isn't fair to Keith to ask him to play top pair minutes, yet he played 26:50, almost half the game… Keith is 38 years old. In the final 1:20 of the third, Tippett put Kyle Turris on the ice. Turris has 2 points in 18 games. My point here is that Tippett is making wrong decisions and not understanding which players play what roles.
Player Of The Game:
Edmonton Oilers: Leon Draisaitl was by far the best Oilers play out on the ice against St. Louis. While he made some mistakes, his feet were moving, and he was very physical and even sniped on Binnington. I thought his line played decently, but some errors cost us that will need to be cleaned up before the next game against the Devils.
St. Louis Blues: Jordan Kyrou did not look like a player coming back from being injured. He was playing with poise and a ton of confidence. From the get-go, he was making great plays on both ends of the ice and creating chances. The first goal St. Louis got was the key factor in them getting it, making a great interception Bouchard and chipping it past Samorukov to give the Blues a 2-on-0 goal. Then, on his very next shift, burned Samorukov on a great move and sniped on Smith. While his other two linemates were great, he stood out and had a very strong game.