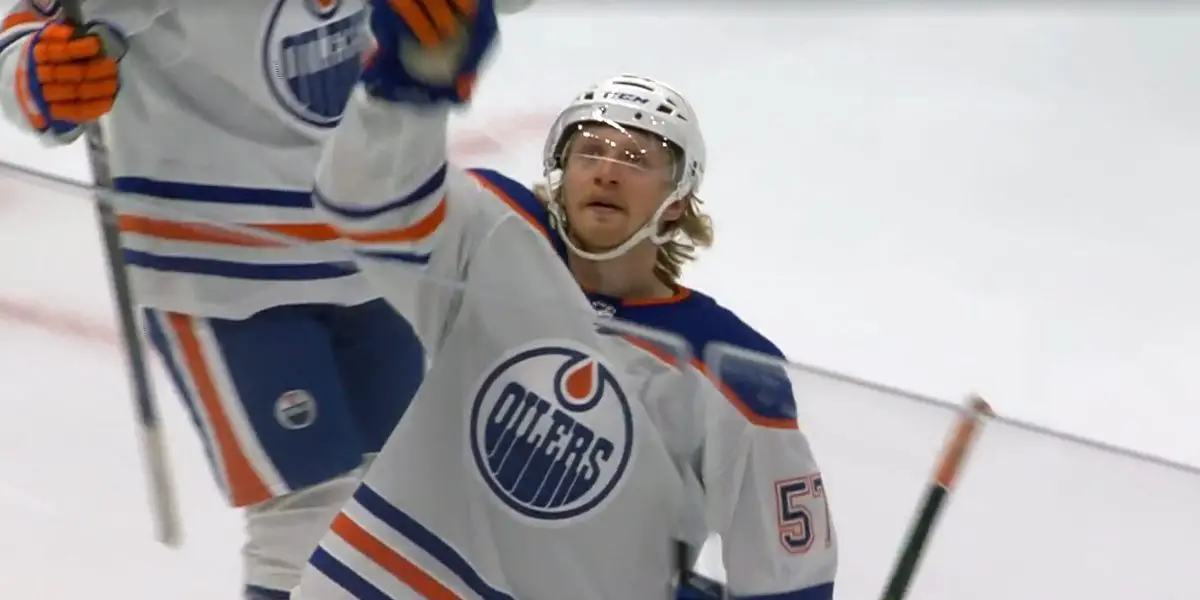 Saturday's loss was bad. It's one of those games you look back on later in a season and wish you could replay. But of course, no sports team wins every single game. The Oilers won three and lost one. That's the sort of consistency they need to hang onto to make up for the points they lost in October. Any more prolonged slumps like before, and you can kiss any hope of a Playoff clinching miracle goodbye. If you're going to lose, force Overtime and earn a few loser points.
Now, about the game itself. It was the second straight Saturday that they scored four goals without points from Connor McDavid and Leon Draisaitl. The biggest goal worth celebrating was 24-year-old undrafted forward prospect James Hamblin scoring his first NHL goal. His celebration was pointing up to the rafters because he dedicated that first goal to his mother, who died from cancer back in 2017. Whatever team you cheer for, I don't recall ever seeing a more emotional first career goal than that one. They led 2-0 for almost the entire first period until the final minute of it. This is how you know that last season's historic Oilers powerplay has not been on display so far this season. Edmonton had chances in the first period to really put the game away early with the man advantage but kept failing to convert. I've alluded to this before, but in previous years, when Edmonton went on the PP, you knew instantly that they would score on it. That's exactly how lethal it was.
But this year, with most other parts of their game being a weakness, even that part looks underwhelming for this team. 12th in the league is decent, but it doesn't always look that way on the ice, and it's still a massive drop-off from what we're used to seeing. Even when Tampa Bay got a late third-period penalty, that was the perfect time to clutch a tying goal with the man advantage. But it just added onto the ghosts of PP's past. Calvin Pickard was in the starter's net during practice yesterday. Some signs point to him starting tonight. Skinner was spectacular in the previous three games. But when your team scores four goals, that should normally be enough to win. He had a rough night against the Lightning, allowing five goals on 23 shots. There were also defensive mistakes in front of him, I understand. The lack of timely saves this season is mirrored more by the stat, which shows Edmonton being 0-5-1 when they have 40 or more shots on goal. So, I guess that's a new game plan for the rest of the season? Just shoot the puck less than 40 times, and you'll win the game. Pickard should start the game just to switch it up and have a fresh face.
Members of Oilers management were recently scouting the Montreal Canadiens on their goalie hunt. Elliotte Friedman stated that nothing was imminent yet, but I have to believe the Habs goalie of interest would be Jake Allen. I'd imagine the Canadiens prefer hanging onto the younger guys, Sam Montembault and Cayden Primeau. I looked at Allen's stats, and his .907 SV% is impressive, considering he doesn't play behind an elite team. If either of Edmonton's goalies had that stat, they'd be in a Playoff spot. I'm usually not a fan of going after any player just for the sake of it. But also, how many legit starters are going to be on the trade market? Allen to Edmonton has not been decided yet; relax. It's just worth talking about a little bit. The pickier you are about who to get, the longer you go without getting anybody at all. You don't need THE goalie to win; you need A goalie to win. As long as it's not a gross overpay, Allen could wind up being the next Dwayne Roloson. And having a veteran goalie who has been on a Cup-winning team might provide good leadership between the pipes for the struggling Skinner. But we'll cross that bridge when we get there. The keys to the game are…
A Big Tkachuk-ing Deal: The Panthers were sort of on the same boat as the Oilers last season before clinching the Playoffs and going to the Cup Finals. Matthew Tkachuk was the biggest catalyst in their comeback through the regular season. In my mind, he would've been the top choice for the Hart trophy if McDavid didn't have the season he had. Had the Panthers won the Cup, you could argue he may've also won the Conn Smythe trophy. The Oilers have to pretend this is a game against the Flames and that Tkachuk is still in Calgary.
Get Him Off The Force: Everyone's favourite cop, Sergei Bobrovsky, is having himself a pretty solid season so far with a .907 SV% and a 2.63 GAA. He was also a favourite to win the Conn Smythe had the Stanley Cup been won by Florida.
Inspiration: I brought it up in the first key. The Panthers didn't look like a team that would make the Playoffs in the first half of last season. People were joking that they potentially traded a lottery pick for Ben Chiarot the year before. What if it wound up being Connor Bedard? They eventually turned their season around and were just three wins away from being champions. It looks very bleak right now, but Edmonton needs to think about what Florida did and remember that it's not over until they can officially no longer clinch a Playoff spot. Just keep finding momentum and earn more wins than losses from here on out.
Episode 6. Early Trade Season
–
Inside The Rink
In episode 6 of the Inside The Rink Podcast, Tyler, Matt, and Connor return to business. This week, we are starting a new segment, "On The Shelf," an injury report from around the league. This week's show covers all-time leaders in empty net goals, the Washington Capitals cold start has turned into a torrid November, the Golden Knights presented US President Joe Biden with a golden hockey stick during their White House visit, which candidates should be selected for the 2024 Hockey Hall of Fame Induction, Carolina has stumbled out of the gate, and their Captain has called out his teammates, Firing Jay Woodcroft has lit a small fire under the Oilers roster after seeing 3 straight wins. Lastly, is it time for the early season trades to erupt? We discussed all the teams primed to make some moves prior to the Trade Deadline.For more ITR: https://insidetherink.com/How to support us and our sponsors: ESPN+ –  https://insidetherink.com/espnFanatics – https://fanatics.93n6tx.net/c/3080932/586570/9663Draft Kings – CODE ITR