Last season, Ken Holland and the Oilers were on the market for a left-defenseman who could shore up the 3rd pair, bringing a more defensive presence to the line. There were two main names the Oilers were looking at, Colton Soucy and Brett Kulak. Funny enough, both are Edmonton natives, with Soucy being born in Viking, Alberta (I found out through a quick google search that it is located in the southeast area of Edmonton), and Kulak was born in Edmonton. Both players had solid on-ice play, as well as great defensive analytics. It was impressive for both players that they were playing on struggling teams, as Soucy was with the Seattle Kraken and Kulak with the Montreal Canadiens.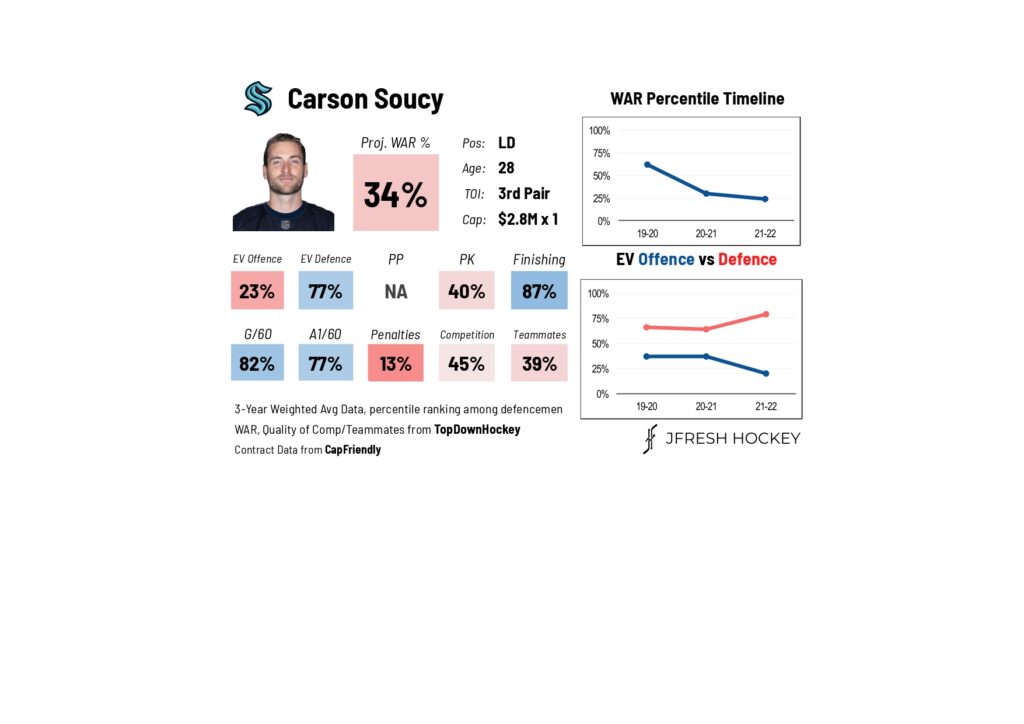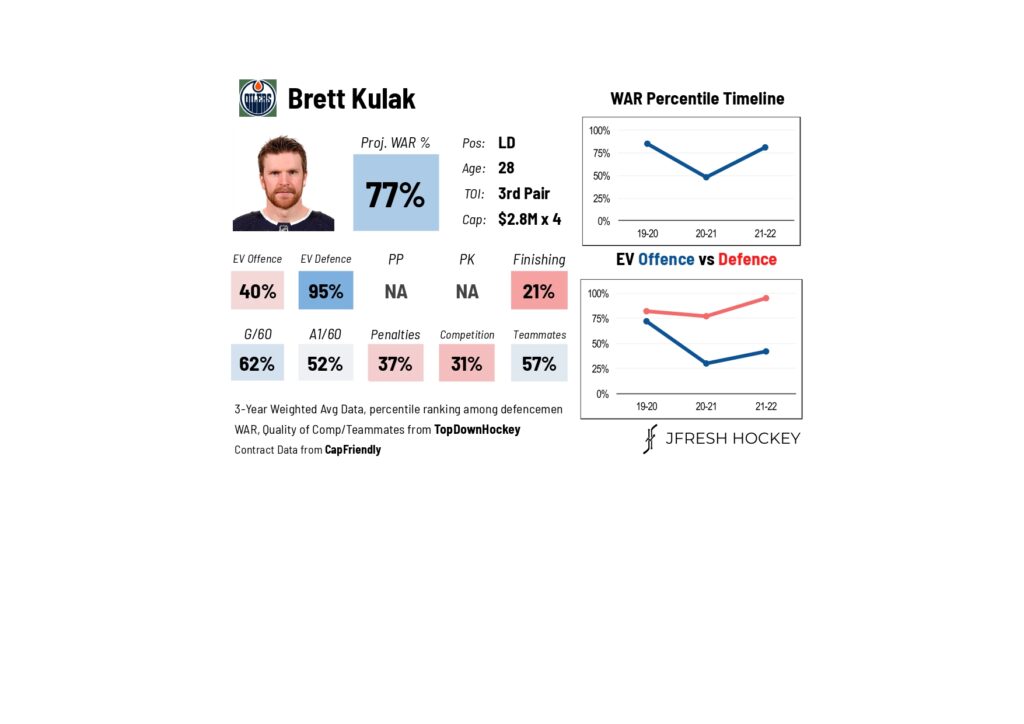 When looking at those charts, the competition percentage is something to keep in mind. The competition percentage is there to show what skill level they were against (lower % = lower skilled competition, higher % = higher skilled competition.). Now while both players' charts show they didn't play against any insane competition for most of the time, that is not what either player would be expected to do with their team constantly; these moves were to shut down the opposition's depth players. The Oilers traded a 2nd round pick in 2024 to the Habs in exchange for Kulak, and the Oilers were not disappointed with the play they received from Kulak for the remainder of the season, as he was a key factor in the Oilers going to the WCF.
That off-season, the Oilers wanted to keep Kulak, but Kulak wanted to test the market and see what value he brought from around the league. On the opening day of Free Agency, Kulak ended up re-signing with the Oilers on a 4-year, 2.75 million dollar deal. From the fan's perspective, this was an absolute steal. A player that brought great defensive play, something the Oilers desperately needed, on a very cheap contract for a good amount of time. This was one of Ken Holland's best signings in his tenure with the Oilers, if not the best out of all of them.
A Bigger Role
In the words of former head coach Dave Tippett: "Knock knock, opportunity awaits.". Something that happened this summer was defenseman Duncan Keith retiring, as he hung them up on July 8th, only five days before free agency. After Kulak re-signed, and the Oilers had spent all their cap space, one thing was clear: Kulak would be a top 4 defenseman for the Oilers to start the season. There was a lot of excitement surrounding this, as one of the reasons Kulak signed in Edmonton was because he saw the opportunity to grow into a more significant role. Now, it was all about execution.
So far, it's been up and down for Kulak. For the most part, he's been reliable, but when he makes a mistake, it seems to lead to a high danger chance against.
Is it a bit unfair pointing this out? Maybe, it is probably Kulak's worst moment this season, but he followed it up a couple of games later with…
Last but not least…
Now you can make a case for the last one, it's the first game of the season, and on the PK, mistakes are going to be made. One thing is for sure, Kulak is not the only Oilers defenseman this year to have defensive lapses, but he sure has stood out quite a bit. The good thing, they seem to be few and far between.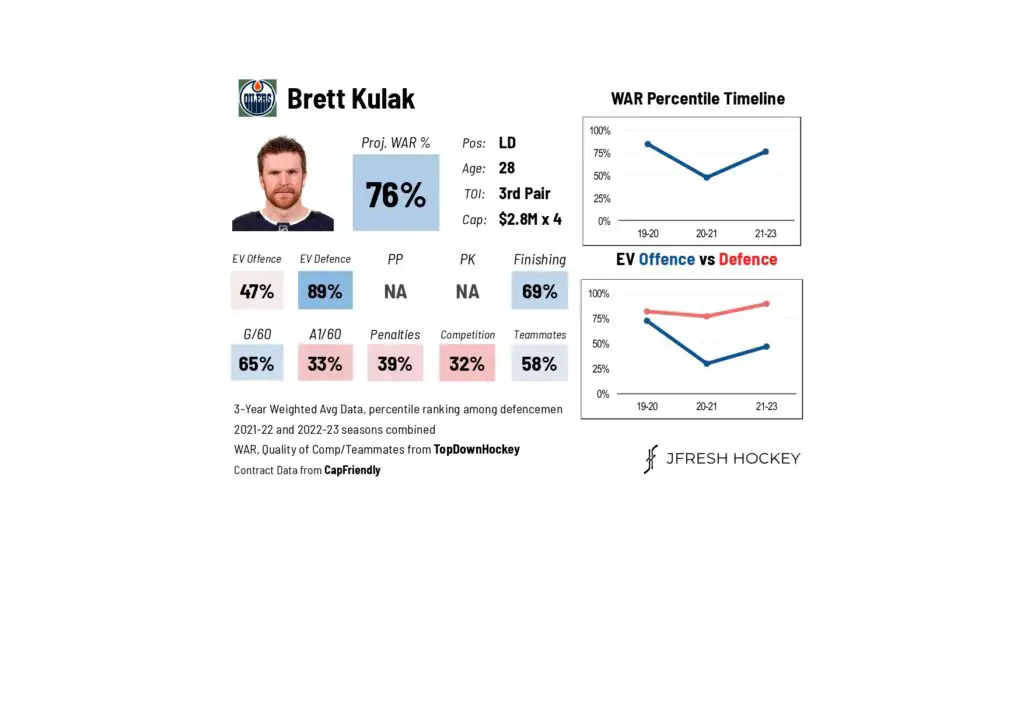 Something a bit weird is that Kulak's analytics for this season says he has faced the same level of competition yet dropped down a bit on the defensive side of the percentages. A reason for this could be Darnell Nurse getting near the same amount of minutes, taking on the better part of the opposition's competition.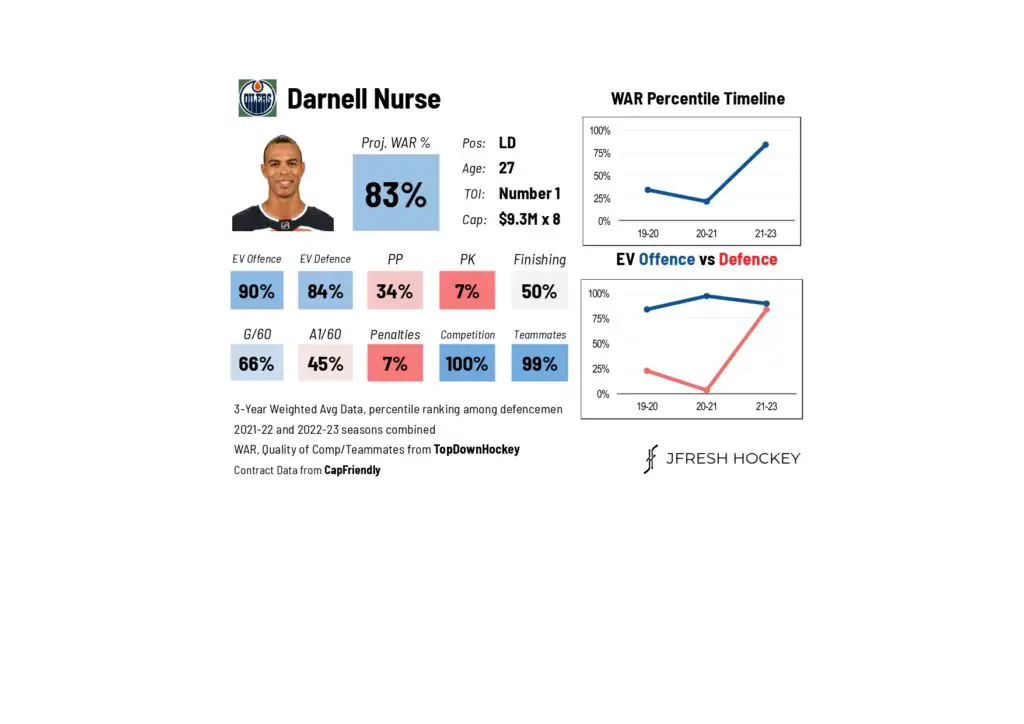 Is Kulak Ready?
There is a case to be made that Kulak is fine to continue with his top 4 role, but the defensive lapses need to be cleaned up. He's shown he can be a solid two-way defenseman for the Oilers, as he's got the confidence to jump up in the offensive zone and keep the cycle going while the puck is on his stick. We're still early in the season, and it is safe to say as the season goes on, Kulak will adjust and fix those mistakes as the year goes on.
It's also safe to say that for Kulak to fall off the 2nd pairing; he'd have to be at his absolute worst, and for Murray or Niemelainen to play their best hockey in a very long time, or their career in Niemelainen's case. That being said, the chances of that happening are slim to none, and if I had to bet money, I'd put it down on Kulak stepping up his play from each game from here on out.
https://share.transistor.fm/s/25ac4068