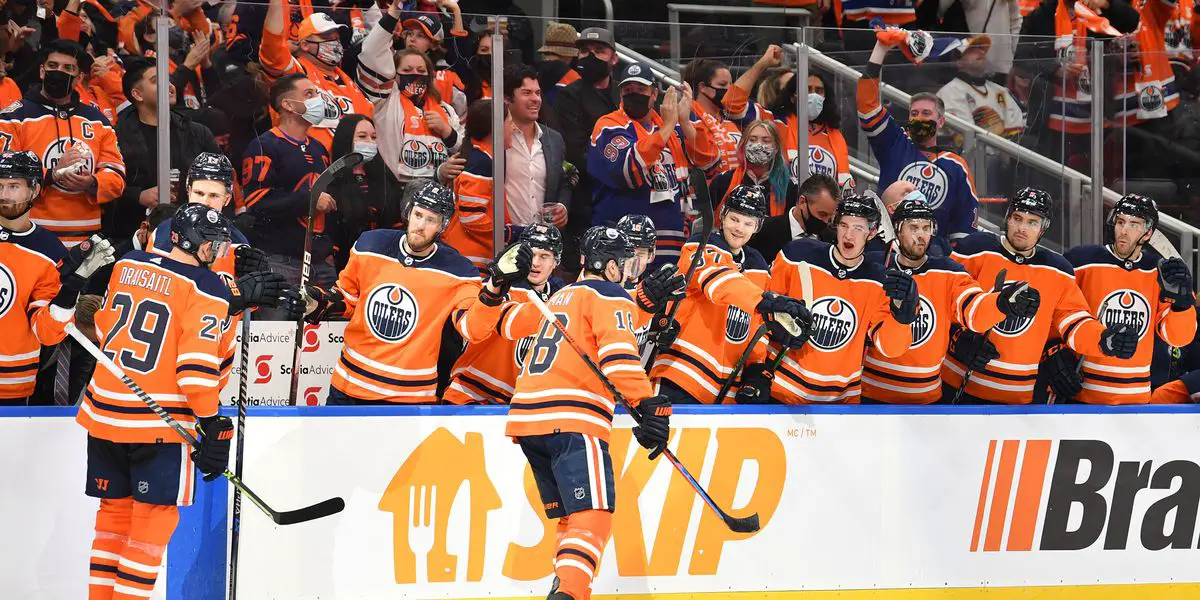 The Edmonton Oilers currently hold a 22-16-3 record as they approach the season's halfway point. Their 94 point pace would likely be enough for a wildcard spot at the very least and a 3rd seed in the Pacific division at best. This is a pretty underwhelming first half for a team in year seven of Connor McDavid's career. It has been the tale of three seasons; the team started the season 16-5-0, went through a dreadful 2-11-2 stretch, and has a 4-0-1 record in the past five games. For this article, I will go through each player on the current roster that has played a significant amount of time in the lineup to break down how this roller-coaster of a season has happened.
Connor McDavid: A+
McDavid is on pace for a career-high 120 points through the first half of the season. While it is undoubtedly a step down from his 150 point pace during last year's 56 game campaign, McDavid is still 3rd in the NHL in points and 2nd in P/GP to his teammate Leon Draisaitl. Through the first 20 games, Connor McDavid was on a 148 point pace, but after contracting COVID-19 and playing through a December and January where the Oilers collectively struggled, his production dropped off. I wouldn't worry too much about this drop-off, as McDavid had one of the worst shooting percentages on the team during the recent 2-11-2 stretch, which history tells us is an outlier for him. McDavid's play as of late suggests he could be breaking out of his mini-slump. That would be a big problem for the rest of the NHL.
Leon Draisaitl: A+
After the season McDavid had last year, most people would have been pretty confident in saying that he would lead the team in points once again. However, through the first half, Draisaitl has been the top player in terms of point production. Leon is 2nd in the NHL in points and first in P/GP. His defensive play could be better, but his team's defensive issues as a group haven't helped his numbers either. While I don't think Leon Draisaitl is one of the top favorites for the Hart Trophy, his offensive game could get him into the mix if he can get as hot as he did in October.
Ryan Nugent-Hopkins: A-
With 26 assists in his first 33 games, Nugent-Hopkins is second on the Oilers in Assists per game behind only Connor McDavid. Even with the seven games missed due to injury, RNH is on pace for 68 points, which is just one shy of his career high. Ryan has always been more of a playmaker, but he has executed some elite passes over the past few months, even by his standards. Another element of his game that has been particularly impressive this season is the penalty killing. He has put up a team best 4.79 GA/60 on the PK through 41 games. The one concern with Nugent-Hopkins has been the lack of scoring, with only four goals in the first half of the season. He will definitely want to start putting the puck in the net more, but so far, he has found a way to be productive without scoring.
Zach Hyman: B+
In year one of his big contract, the Oilers are getting exactly what they bargained for when they signed Hyman; a versatile winger who can play with one of their two superstars or on the third line to help spread the offense. Hyman has also been a suitable replacement for Alex Chiasson as the net-front man on the league's best powerplay unit. He slumped a bit during a disastrous December and January for the team collectively, as he went thirteen games without a goal before breaking out with two against Montreal. Not all of Ken Holland's off-season acquisitions have worked out as planned, but Hyman certainly has thus far.
Jesse Puljujarvi: B
Like many Oilers forwards in December and January, Jesse Puljujarvi had his share of struggles. During his current eleven-game scoring drought, he has managed just 2 points. Despite his offensive slide, Puljujarvi has evened his career high in points with still half a season to go. His defensive game has been an overall positive as well, which is important for a team that has trouble keeping the puck out of the net at times. Puljujarvi has been solid defensively throughout this eleven-game slump, having registered the second best CF%/60 on the team with an impressive 67.04%. He has also been second on the team in expected goals for (xGF/60) during this stretch, behind only McDavid. I have liked Jesse's game, for the most part, this year, and the numbers seem to suggest that most of the scoring struggles are due to bad puck luck. I suspect that the Bison King won't be held off the scoresheet for much longer.
Kailer Yamamoto: C+
Last season was less than ideal for Yamamoto when he went ice cold for a long stretch of time after a hot start. Unfortunately, this season hasn't got much better as his point production is at a slightly slower pace than last year, and, for the first time in his career, there are more high danger chances for the opposition than for the Oilers when he is on the ice. While Yamamoto has been unable to replicate the success of his rookie season in 2019-20, I do think there is a reason to be optimistic about him. He was one of the few players who was producing through the recent seven-game losing streak, and he has quietly put up 10 points in his last 13 games. Kailer Yamamoto has been playing his best stretch of hockey since early last season, which is quite encouraging.
Warren Foegel: C+
Warren Foegel came out during the first few games of the season and played excellently, with a relentless forecheck and a few goals to go with it. He was making it look like the depth issues were solved. Unfortunately, the 3rd line faltered defensively, and the goals stopped coming. Since that hot start, Foegel has had a few small stretches of productive hockey. This season he's done his best work while playing with McDavid or Draisaitl. With the addition of Evander Kane, the lineup shuffling will hopefully provide Foegel with an opportunity to play with skilled players more often.
Ryan McLeod: C+
McLeod has been one of the most valuable bottom-six players for the Oilers through the season's first half. His 7 points in 30 games may not jump off the page, but when he is on the ice, the Oilers have an even goal differential with ten goals for and ten against during five-on-five play. For a bottom-six that has been bleeding goals for most of the year, an even goal differential is a good sign that McLeod is providing the defensive stability that the depth lines need.
Zack Kassian: D
Kassian has historically been a streaky player, and in the first 41 games, we've seen a bit of everything from him. He came out of the gates scoring at a much higher rate than last year, went completely invisible for an extended period of time, and lately he has shown a few positive signs with 5 points in his last 10. Kassian has played on a line with Zach Hyman and Ryan Nugent-Hopkins after the addition of Kane, and the line has looked dominant in a small sample size. Perhaps Kassian can find some consistency playing with better players, but so far, he has been a non-factor for this team for large portions of the season, which is disappointing considering the hefty cap hit.  
Colton Sceviour: C
Colton Sceviour was a penalty-killing beast during the first quarter of the season with a +1 goal differential on the PK during the season's initial 20 games. Since then, the numbers have dropped off, but Sceviour has been a decent, cheap depth forward, bringing some defensive prowess to the table. He will never be very productive offensively, but as a 4th line forward on a team full of offensive talent, being a low-event player might be good enough.
Tyler Benson: C-
Personally, I like Tyler Benson's game better than some of the other 4th line options, and I think he gets a bit of a bad rap for not being the most fleet of foot. Benson brings a little bit of bite to his game, and he's one of the few players on this team that is willing to be a thorn in the opponent's side. It's undeniable, though, that he has not been producing much offensively, with 1 point through his first 19 games. He also has an unfortunate tendency to take unnecessary penalties from time to time. I think that many of Benson's issues stem from not being given as many opportunities as he deserves. I would like to see him crack the lineup more often to see what he can do if he plays more.
Derek Ryan: C-
This season has been a strange one for Derek Ryan. For the first few months, Ryan was utterly obliterated in terms of goal share, as he failed to produce much offense, and his line was frequently lit up. The underlying numbers suggested that he was getting extremely unlucky in terms of on-ice shooting percentage ad SV%, but the fact still remains that he was not playing up to his usual standard. Luckily, things have turned around for Ryan as of late. The fourth line has been playing its best hockey of the season, and Ryan has the lowest xGA/60 on the team in the last 15 games. If Ryan can maintain his recent two-way play, the Oilers will have a much more balanced team up the middle.
Brendan Perlini: D
The pre-season has duped Oiler fans once again. Whether it's Anton Lander, Ty Ratty, or Brendan Perlini, I think everyone should all take this as a lesson that pre-season is far from the real NHL. To be fair, I do think Perlini is better than the other two examples mentioned, but Dave Tippett has given him very few opportunities. Even in games where he scores, we have seen Perlini register less than seven minutes of ice-time. Much like Benson, his scoring troubles may be a symptom of insufficient opportunity. Perlini is a good depth forward with better underlying numbers than some of the other options like Kyle Turris, but he hasn't turned things around for the bottom six as many had hoped after the pre-season.
Devin Shore: D-
Devin Shore's Oilers tenure has mainly been underwhelming over the past two seasons. He has the worst scoring chance share on the team this season with just 41.67% and the third-worst goal share at 40.96%. These aren't struggles isolated to one season either. The analytics on Shore have been ugly for about seven seasons now. I will give credit where it is due, though. Shore has been fantastic over the past ten games. This current heater has pulled some of his possession numbers up to more respectable levels and The Shore – Ryan – McLeod trio has been one of the most consistent lines during the past month. If we can see this Devin Shore more often, then perhaps he can change my opinion of him, which has always been that he isn't a very effective NHL player.
Darnell Nurse: B+
 Last season, Nurse scored goals at an unsustainable pace, as he had a shooting percentage of 9.3%, an insanely high clip for a defenceman that throws a lot of rubber on net. Nurse has managed 19 points in 34 games despite the predictable regression in goals, and that's with Barrie getting the bulk of the first unit powerplay time. The most important part of Nurse's game thus far, however, has been his two-way game. Nurse is currently on pace for career highs in Corsi for % Fenwick for % and expected goals %. The massive $9.25 million contract he signed in the offseason may very well be an overpay,  but the Oilers can take solace in the fact that his defensive game has taken a significant leap forward.
Evan Bouchard: B
Peter Chiarelli made some very poor moves while managing the Oilers. However, he did draft quite well, and among those big hits at the draft is Evan Bouchard. This year, Ethan Bear's role from last season has been filled by Bouchard, and he's softened the blow of that loss on the back end. Bouchard possesses a fantastic shot and promising puck-moving ability. He's had a few defensive hiccups throughout the season with the odd bad turnover, but that is to be expected from time to time with a young defenseman. They may not all be masterpieces, but he is on pace for over 45 points this season through the first half despite limited powerplay time. The Oilers should be excited because this kid has some elite potential in this league.
Cody Ceci: C+
Thanks to his defensive play this season, Ceci has been better than many expected. While he is a complete black hole offensively, Ceci has been a decent low-event player. When you don't notice Ceci, that's a good thing, and I have to say he has eluded my attention on many occasions this year. I'm still not in love with his lengthy 4-year contract for the limited impact that he brings to the team, but he is far from the most significant issue.
Duncan Keith: C+
The Keith trade was a source of much controversy this offseason. Many analytics nerds (myself included) saw the horrendous numbers that Keith put up in Chicago recently and got confused as to why Ken Holland would allocate such a heavy cap hit to such a seemingly washed-up player. It wasn't just one bad season, too. Keith's numbers had regressed for five consecutive seasons. I'm happy to say that Keith has had a decent bounce-back season so far. While I still think he has lost a lot of foot speed and might be more effective on the 3rd pair, he has been a serviceable defenceman for this team through 41 games. I wish his cap hit were lower, but it certainly could be worse.
William Lagesson: B-
Before this season, William Lagesson had been nothing more than a fringe NHLer at best. It was a real possibility that he would be a career AHL player for the most part. This year he has proven a lot of people wrong, though, and has been a surprise analytics darling this season, leading all defensemen on the team in CF%, FF%, and is second in scoring chance share and xGF%. With Slater Koekkoek getting waived recently, it looks like Lagesson has earned himself a spot on the 3rd pair for now.
Tyson Barrie: D+
It has been a rocky season for Tyson Barrie. His current 40 point pace is a far cry from the 70 point pace he put up last year, and what's perhaps more concerning is that he has regressed in nearly every statistical category from last season, including defensive metrics. The bottom line is, if Barrie doesn't recapture some of last year's offense and clean up his act in his own zone, he will not be playing up to the standard that should be expected for someone making $4.5 million per season. The other issue with Barrie is that with the emergence of Evan Bouchard, Barrie's role on the team long-term is in doubt. Bouchard is basically a younger and more productive version of Barrie that will only improve with time. There have been reports that Barrie could be on the move either before the deadline or during the offseason in order to fill Edmonton's more urgent needs.
Kris Russell: C-
This season, Kris Russell has posted some of the worst numbers on the team, rivaled only by the recently waived Slater Koekkoek and some of the rookies that played during the team's injury troubles back in November. I believe Russell is still a capable seventh defenceman that can slide into the third pair from time to time and give you a good effort. Unfortunately, the injuries early this year forced Russell to play more minutes than he can at this stage of his career, and his play suffered, but I think he is a fine bottom pair option. It's also worth noting that Russell reached a major milestone this year when he became the all-time NHL leader in blocked shots. A well-deserved achievement for one of the NHL's biggest warriors over the past couple of decades.
Mikko Koskinen: C-
It has been a peculiar season for Mikko Koskinen. He boasts a 15-8-2 record, which is the best record on the team. He has also had a few hot stretches where he's stolen games. Despite all of this, Koskinen has posted some of the worst numbers of his career. His adjusted SV% is 11th worst in the NHL for goalies that have played at least ten games, and his tendency to allow soft goals has many fans pulling their hair out. While he sometimes bounces back and makes big saves, the weak goals he allows in critical moments can take the air out of the Oilers' sail. He is a fine backup goaltender, but he has been forced into a starter's role this season hasn't been beneficial for either party.
Stuart Skinner: C+
The Oilers haven't given Skinner nearly as much run support as they have with Koskinen, but he is much better than the 5-6 record would suggest. In terms of goals saved above expected per 60 (GSAx/60), Skinner is actually the best goaltender on the team this season. He had had a few huge games, most notably a 46 save performance in a 2-1 shootout win against Winnipeg in which he out-dueled Connor Hellebuyck. However, he is not positionally sound enough yet to be a reliable starter in the NHL. I think Skinner could be a better option than Koskinen as a backup going forward, but he won't be the Oilers' savior in net this year.
Mike Smith: F
Mike Smith has suffered three separate injuries this season, which has kept him out almost the entire year. Even when healthy, he hasn't played particularly well. Smith was a huge part of Edmonton's team last year, and losing him has been a crushing blow, but between the injuries and the poor starts, I think it's time to consider the fact that father time may finally be catching up to the 40-year-old netminder.
Conclusion:  
Early in the season, the Oilers scored at will, but the defense struggled. During the 2-11-2 run, they were utterly pathetic in every facet of the game, and during the recent weeks, their defense has played terrific, but their offense hasn't been very consistent. This team needs to find a way to consistently bring their best game in all facets at once. If they can manage that, they can go on a deep playoff run. They may need to make a few moves before that's possible, though. The second half of the NHL season is getting underway, and the pressure is on for a team that wants to win now.