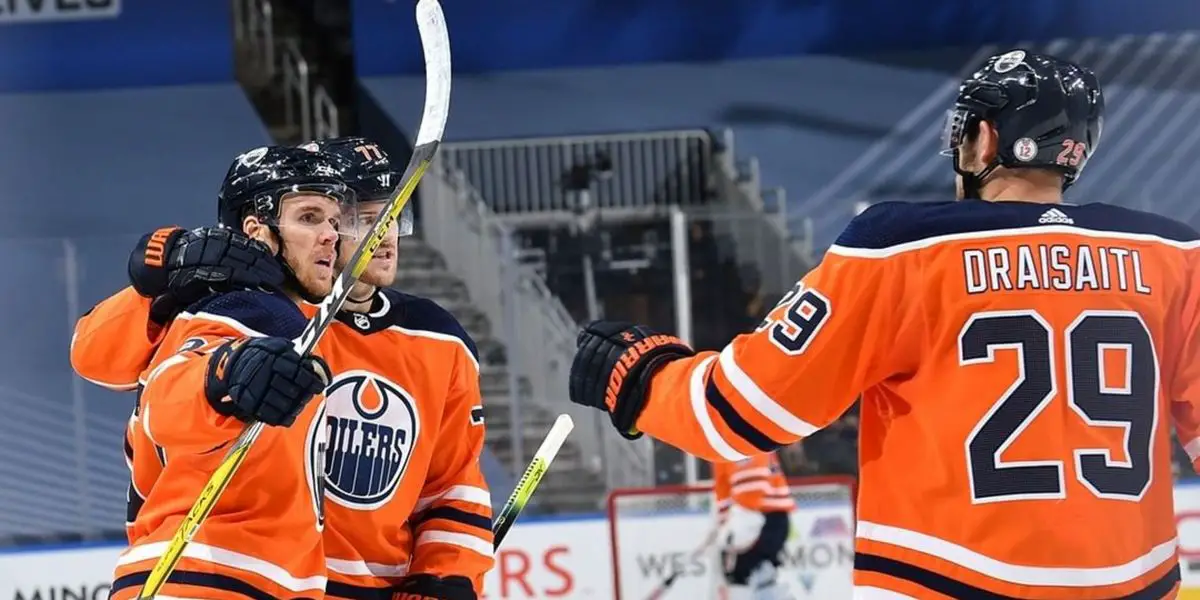 The Edmonton Oilers have officially hit the 1/4 mark of their season and currently boast a 15-5 record through 20 games. This is the second-best start through 20 games in franchise history behind only the 1983-84 Oilers, who went 16-3-1. Despite the fantastic start, there is plenty for this team to improve on as the season goes along, such as their five-on-five defense and depth scoring. For this article, I will dive into each player's individual performance this season and assign a letter grade based on how they have done so far.
Connor McDavid: A+ McDavid is once again having himself a brilliant season. He currently leads the NHL in assists, is 3rd in points, and 2nd in Points per game. Currently, on a 148 point pace, he has a very strong chance of setting a career-high. He is also on pace for 57 goals, which would shatter his previous high of 41. Connor has done this year what he has always done: evolve his game and get better each and every season. It will be fun to watch the captain's chase for 150 points as the season goes on, and more importantly, his chase for a Stanley Cup.
Leon Draisaitl: A+ Many thought that Draisaitl's MVP season was his peak and that he would never be able to top it. Leon has proven this year that the sky is the limit with him. He is on pace for more goals, assists, and points than his MVP season in 2019-20, as well as higher faceoff %, Corsi For %, and Fenwick For %. He is quite literally getting better in every facet of the game. With 20 in his first 20 games, Draisaitl has a decent chance of getting 60 goals, and he could be the first to do it since Steven Stamkos 10 years ago.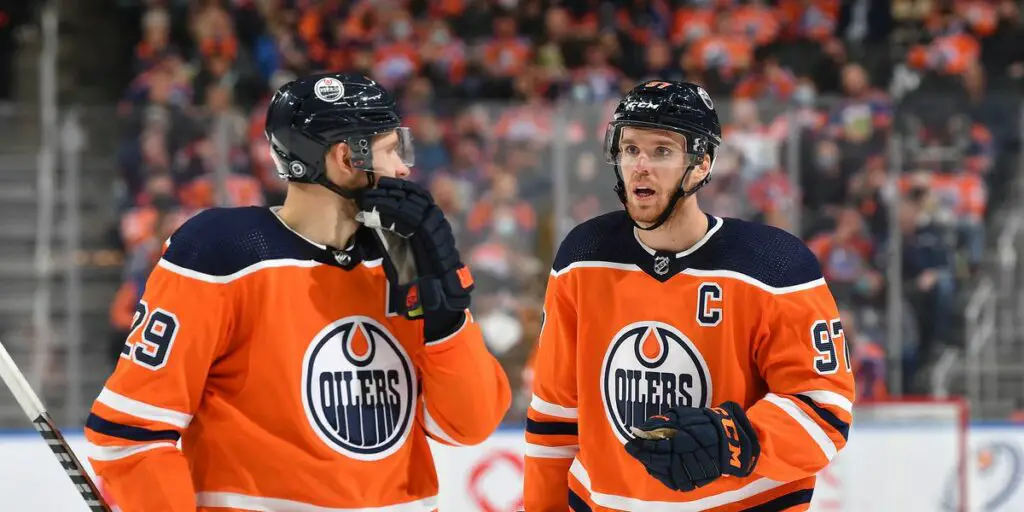 Ryan Nugent-Hopkins: A With 20 points in 20 games, RNH finds himself in the top 25 in league scoring and tied for 6th in the NHL in assists. He has had a much better season thus far than in 2020-2021 and has been effective for the Oilers on both sides of the special teams. While he may want to start scoring a few more goals going forward, he is still on pace for a career-high in points, assists, and powerplay points, so I think this is a pretty satisfying first quarter for Nuge.
Jesse Puljujarvi: B+ While Jesse Puljujarvi was a late bloomer for a top 4 overall draft pick, he has continued his development this season and become a legit top 6 forward. Jesse got off to a hot start and was over a point per game player through the first ten contests. He has since cooled off, but he is still just 9 points away from his career-high, with 62 games to go. His skating and shooting are above average, and he plays a solid 2-way game. Oiler fans should be more than happy with this start from the bison king!
Zach Hyman: B+ Zach Hyman has come in and been exactly what the Oilers needed. He can be effective in a top 6 role alongside Connor McDavid, who has cycled through countless mediocre left-wingers over the past few years. At long last, they have found someone to fill that spot. Hyman has also been an even better net-front man than Alex Chiasson was on the top powerplay unit, and he has helped propel that powerplay from a great one to one of the best of all time. Hyman is also one of five top 6 forwards on the Oilers that are on pace for career highs in points through 20 games.
Darnell Nurse: B+ Last season, Nurse scored goals at an unsustainable pace, as he had a shooting percentage of 9.3%, an insanely high clip for a defenceman that throws a lot of rubber on net. Nurse has managed 11 points in 16 games despite the expected regression in goals, and that's with Barrie getting the bulk of the first unit powerplay time. The most important part of Nurse's game thus far, however, has been his two-way game. Nurse is currently on pace for career highs in Corsi for% Fenwick for % and expected goals %. The sooner he comes back from injury, the better.
Evan Bouchard: B- Peter Chiarelli made some very poor moves while managing the Oilers. However, he did draft quite well, and among those big hits at the draft is Evan Bouchard. Bouchard has filled Ethan Bear's role quite well this year and softened the blow of that loss on the back end. Bouchard possesses a good slapper and promising puck-moving ability. He's had a few defensive hiccups, especially on Edmonton's first road trip where they went 2-3, and he got caught not tying up his man in front of the net on a few occasions. That is to be expected from time to time for a young defenseman. They may not all be masterpieces, but he is on pace for over 40 points this season through the first quarter, and I think the Oilers should be excited because this kid has some elite potential in this league.
Mikko Koskinen: B+ Time for a bit of a hot take: aside from a few bad games, I think Koskinen has been really good this year. His tendency to let in soft goals, especially early in hockey games, have Oiler fans pulling their hair out. Still, he has been absolutely superb at bouncing back in those games and putting together solid performances. This year, Mikko has stolen a few games for Edmonton, such as their wins against Vegas and St.Louis. His goals saved above expected per 60 (the gold standard goalie metric) comes in at slightly below zero, meaning that he is statistically around league average this year. His .912 save percentage isn't anything crazy, but it's certainly serviceable, especially for a team with below-average defense 5 on 5. While I believe a healthy Smith might still be the best goalie on the team, Koskinen is 11-2 for a reason. He gives the team a chance on most nights. Not bad at all for a "1B."
Stuart Skinner: B+ Skinner has been a major bright spot for the Oilers this year, as he has come in and played pretty well while giving Koskinen much-needed nights off. The Oilers haven't given Skinner nearly as much run support as they have with Koskinen, but he is much better than a 2-3 record would suggest. In terms of goals saved above expected per 60, Skinner is actually in the top 15 in the NHL for goalies who have played at least five games. He had had a few huge games, most notably a 46 save performance in a 2-1 shootout win against Winnipeg in which he out-dueled Connor Hellebuyck. I honestly wouldn't be surprised if the Oilers run three goalies when Smith returns. Skinner is proving that he is an NHL goalie. At the very least, he would make a solid backup going forward.
Cody Ceci: B- Ceci has silenced many of the doubters with his defensive play this season. While he is a bit of a black hole offensively, he has been a solid low-event player. When you don't notice Ceci, that's a good thing, and I have to say he has eluded my attention on many occasions this year.
Warren Foegel: B- Warren Foegel came out during the first few games and played excellently, with a relentless forecheck and a highlight-reel goal in the first few games. He was making it look like the depth issues were solved. Unfortunately, the 3rd line faltered defensively, and the goals stopped coming. While he did have a few bad giveaways, I don't think it was all Foegel's fault this happened. Ryan seemed to be playing one line higher than he was capable of playing on effectively, and Kassian had a rough couple of weeks defensively as well. Since the addition of Ryan McLeod on the 3rd line, Foegel has really started to pick up his play again, which is very important. The Oilers need a good 3rd line if they want to go deep in the postseason.
Zack Kassian: C Kassian has historically been a very streaky player, and in the first 20 games, we've seen a bit of everything from him. He came out of the gates scoring like crazy, went completely invisible for a long period of time, and has now started scoring again since being moved to Connor McDavid's wing. Hopefully, he can stay hot on the top line.
Kailer Yamamoto: C Last season was less than ideal for Yamamoto, as he went ice cold for a long stretch of time after a hot start. This season hasn't got much better unfortunately, as his point production is at an even lower pace than last year, and for the first time in his career, there are more high danger chances for the opposition than for the Oilers when he is on the ice. Yamamoto's underlying numbers with McDavid are actually quite good however, even though his play has dropped off while on the Draisaitl line. Perhaps swapping him on to McDavid's wing and putting Puljujarvi on Draisaitl's wing could turn Kailer's game around. He has started to show some positive signs as of late with 4 points in his past 8 games.
Duncan Keith: C The Keith trade was a source of much controversy this offseason, as many analytics nerds (myself included), saw the horrendous numbers that Keith put up in Chicago recently and got confused as to why Ken Holland would allocate such a heavy cap hit to such a seemingly washed-up player. It wasn't just one bad season too, Keith's numbers had regressed for five consecutive seasons. I'm happy to say that Keith has had a decent bounce-back season so far. While I still think he has lost a lot of foot speed and might be more effective on the 3rd pair, he has been a serviceable defenceman for this team through 20 games. I wish his cap hit were lower, but it certainly could be worse.
Ryan McLeod: C+ McLeod has been a key bottom-six player for the Oilers through the season's first quarter. His 3 points in 12 games may not jump off the page, but when he is on the ice, the Oilers have outscored opponents 5-3 during five on five play. For a bottom-six that has been bleeding goals for most of the year, a positive goal differential is a good sign that McLeod might be providing some stability that the 3rd line desperately needs. He has earned that spot and gone from the press box to the top 9. Solid start for McLeod.
Colton Sceviour: C His defense alone makes Sceviour the most valuable player on that 4th line. You aren't going to get a lot of scoring from him at all, but he can be a decent low-event guy, which is more than you can say about most of the 4th line options on this team. His penalty killing is one of the more important assets that he brings to the table, as the Oilers have not only conceded 0 goals on the PK with Sceviour on the ice, but they also have one short-handed goal with him out there. Sceviour actually has a positive goal differential on the PK this year.
Kris Russell: C The Oilers have managed to keep the puck out of the net relatively well this year so far with Russell on the ice, and he has continued to sacrifice the body, becoming the first player in NHL history to reach 2000 blocked shots. The analytics still aren't very kind to Kris Russell, and he has very little puck-moving ability, but Russell still has performed like a capable 6/7 D-man and has stepped up during injury time by playing over 20 minutes a night.
Tyson Barrie: C- It has been a mostly rocky start to the season for Tyson Barrie. His current 50 point pace is a far cry from the 70 point pace he put up last year, and what's perhaps more concerning is that he has regressed in nearly every statistical category from last season, including defensive metrics. He has also lost some powerplay time to Darnell Nurse, although he still plays the majority of the PP minutes. The bottom line is, if Barrie doesn't recapture some of last year's offense and clean up his act in his own zone, he will not be playing up to the standard that should be expected for someone making $4.5 million AAV.
Slater Koekkoek: D+ Things have gone quite poorly thus far for Koekkoek, as he has battled injuries, had subpar results on the ice, and his spot on the roster should quite frankly be taken by the time he returns. Philip Broberg, through 4 games, has looked much more steady than the veteran. If he gets the chance to get back in the lineup, he will need to be much better.
Derek Ryan: D- I believe that Derek Ryan is a better player than he has shown so far. He has been a reliable bottom-six player for years with skill in the faceoff dot and on the penalty kill. For whatever reason, things didn't click with him and Foegel aside from a small stretch of strong games at the start of the season, as they went cold offensively and had an arctic cold stretch defensively. It is hard to ignore that +/- of -10 in just 17 games. That's unacceptable for an NHL player to be getting outscored that badly. The good news is, the expected goals percentage is actually not that bad, so it's likely that he can bounce back now that he has been put in an easier 4th line role with a defensive player like Sceviour.
Devin Shore: F It's hard not to start wondering if Devin Shore is an NHL-caliber player at this point in his career. He is analytically one of the worst performing players the Oilers have had in a long time. With a Corsi For % of 39.66 a Fenwick For % of 39.08, and a Shots For % of 36.23, the Oilers practically never have the puck when Shore is on the ice, and give up almost double the shots on goal than they manage to get themselves. Shore has not had a positive GF% in 7 years, so there is no reason to believe this will turn around. I think the start of this season has shown that it was probably unwise to give him a multi-year deal.
Brendan Perlini: F 0 points in 12 games. Yikes. The pre-season has duped Oiler fans once again. Whether it's Anton Lander, Ty Ratty, or Brendan Perlini, I think we should all take this as a lesson that pre-season is far from the real NHL. To be fair to Perlini, he doesn't get much ice time, and it can be hard to play your best when you can't get into much of a rhythm. This excuse can be said for all of the 4th liners on this team, but ultimately you have to perform, and Perlini had done nothing to follow up any of the hype before the season started.
Kyle Turris: F What's more of an analytics nightmare than Devin Shore? How about Devin Shore with Kyle Turris. These two have been utterly outplayed in every facet of the game when they play together. This duo has an Expected Goals For % of 33.9%. Turris' 2 points in 15 games don't exactly suggest the offensive game that he once had is going to return. So my question is: if his defensive game is struggling, and his offensive game isn't coming back, then does he really have a place on this team?
Tyler Benson: F Personally, I like Benson's game better than some of the other 4th line options, and I think he gets a bit of a bad wrap for not being the most fleet of foot. It's undeniable, though, that he has not been producing at all offensively, with 0 points through the first quarter. He also has an unfortunate tendency to take unnecessary penalties. It doesn't seem like Benson is the answer for curbing the bottom six struggles for the Oilers.
Philip Broberg and William Lagesson: N/A I decided not to grade these two since they have played so little, but I will say in short: Broberg has impressed me, and I think the kid has some real potential in the NHL. Lagesson has been a fine call-up in his two games, but I still think he is better off in the AHL at this stage of his career.
Conclusion: The Oilers are off to one of their best starts ever, and they are still winning despite a few glaring holes in the lineup. If the Oilers can manage to turn a few of their issues around (such as five on five defense and their bottom 6), they could have a very special team this season. There is no doubt the first quarter has been a major success!