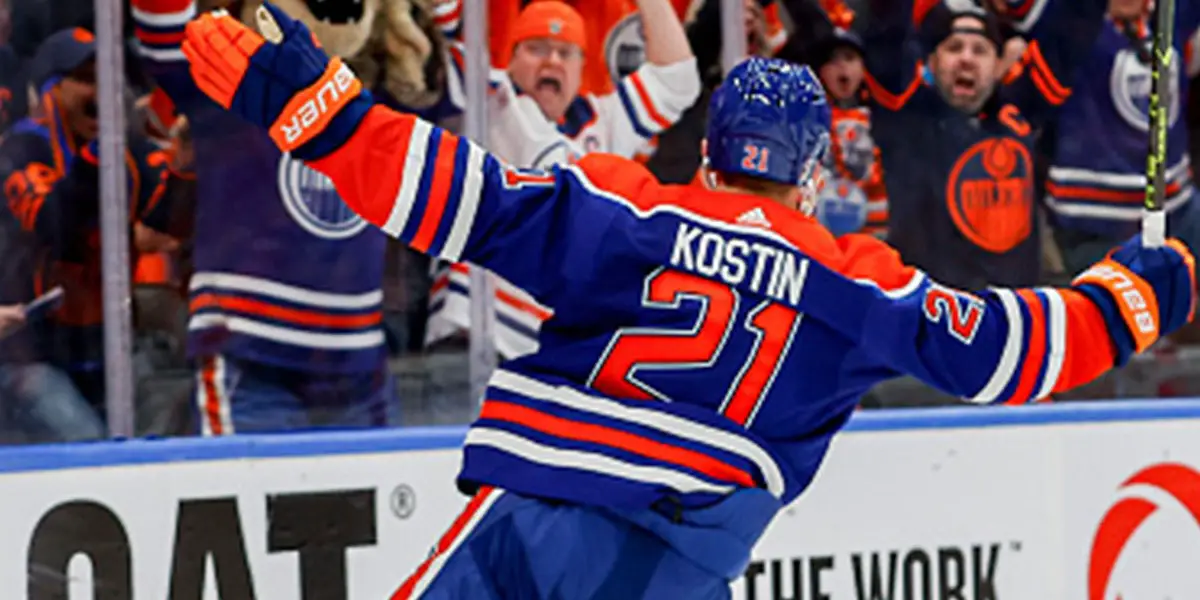 I said don't take stupid penalties; they took a couple more stupid penalties. I alluded to McDavid not having any points in Game 1, and he only gets one point out of four goals in Game 2. They needed to be better at hanging on to a lead, then blew another two goal lead, and then they still won the game in the third period of Game 2. They won and tied the series. So who cares, right? Just be happy. There is some history that's repeating itself in the first week of Playoff hockey. Last year, the Oilers suffered a tough 4-3 loss in Game 1, then tied the series in Game 2. The same thing happened to start this series just a calendar year later. However, this year's Game 2 win wasn't as convincing as the one from last year, as that ended with a 6-0 final score for Edmonton. To echo Elliotte Friedman on Wednesday night's Hockey Night In Canada broadcast, Klim Kostin may've been Ken Holland's second-best trade after Mattias Ekholm. He brings the swagger and the grit, and he can score the odd timely goal like he did last night in the third period to win it.
With most of the usual suspects on the Oilers not getting the goals yet, this is that time of the year to have bottom-six heroes. It was a good game for Kostin and Derek Ryan, who scored the opening goal. While we didn't see Playoff McDavid in the first two games, Playoff Draisaitl is something else. After last night, he has the second-highest Playoff PPG behind only The Great One himself. I didn't mention his high ankle sprain from last year's Playoffs when I wrote my Game 1 Preview because that injury happened near the end of last year's first round. I didn't think it was relevant to talk about in Round 1. But imagine if he didn't have that injury… (sigh) Man. The only scary thing this series for Edmonton is the play of Joonas Korpisalo in net, possibly giving us ulcers. He's part of the reason the Kings came back in Game 1 and the biggest reason they didn't lose by four goals in Game 2. I'm happy for Stuart Skinner getting his first NHL Playoff win, but I wouldn't say I liked either of the goals he allowed. Even though the young stud Gabriel Vilardi, coming back from injury, made a nice move on the second L.A. goal, the puck barely squeaked through Skinner. I don't want to rag too much on the young netminder, but his counterpart has been the better goalie thus far. He must step up his game against Korpisalo as he matures throughout the series. He was solid in the third period after a rough second period. It was a good lesson for him to have short-term memory and worry about the next moment. Speaking of the next moment, the keys to Game 3 are…
Quiet Down The Fans
Rogers Place kept rocking when the Oilers had the momentum in the first two games until the Kings came back and made everyone nervous. Edmonton needs to return the favor and do that at Crypto.com Arena. Make L.A. afraid of the postseason in their own building.
No Dought(y) About It
Playing in his 15th NHL season, Drew Doughty still has a lot of game in him. He got an earful of boos from the Oilers faithful on the road after making comments about the team needing to try and throw hits at McDavid. While this is kind of the same deal as the first key to the game, Doughty will get a kinder reception in his own rink. Run his show because he will work at being a difference-maker with home ice on his team's side now.
Hit Everything, Everywhere All At Once
No, it doesn't have to be like the Oscar winning Science Fiction movie. But during Games 1 and 2, the Oilers showed more dominant hockey when they were being physical. Kostin threw some hits before his Game 2 winning goal, and Evander Kane was all over Adrian Kempe in Game 1. When they soften up more, they give their opposition a chance to bounce back. Does Draisaitl want some revenge on Mikey Anderson for that aforementioned ankle injury? Don't let it lead to reckless penalties or dirty highlights. Just keep sending a message that you will not accept getting pushed around, no matter where the game is being played.
The boys are back after a long break but have plenty to talk about as the playoffs are in full swing. We go series by series, looking at how teams have fared so far and who will come out on top. Thanks for listening! Please rate and review our show on your favorite listening platform. Check out our partner's website at www.insidetherink.com for all your latest hockey news.