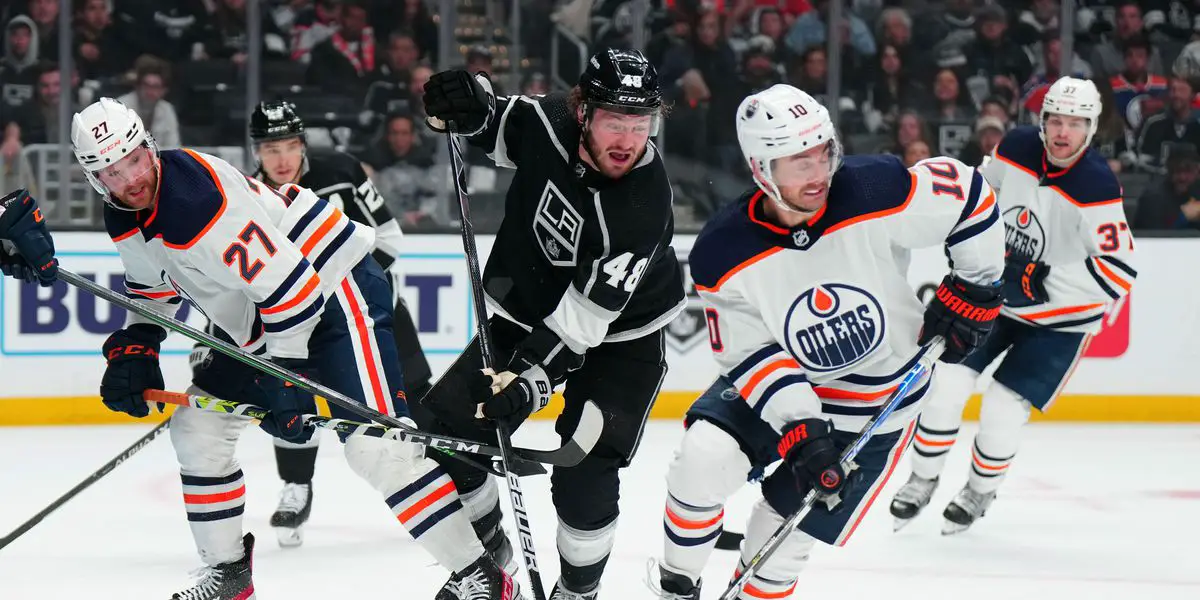 1st Period
The Los Angeles Kings entered game four coming off back-to-back blowout losses, allowing 14 goals over those two contests. You could sense the desperation early in this one, as the Kings were first to pucks, cycling well and forcing the Oilers to defend in their zone for the vast majority of this period. The Oilers looked as sloppy as we've seen them in this first round, with an Evan Bouchard misplay leading to the first goal and a deflection off of Duncan Keith's stick slipping through the legs of Smith for goal number 2.
2nd Period
The second period saw the first few powerplays of the evening. However, neither team was able to muster any offense. Nugent-Hopkins had an excellent period on the penalty kill for Edmonton, making several key stick lifts and deflections on dangerous passes. As for the powerplay, Tyson Barrie's mishandling of a pass at the blueline caused a breakaway that Mike Smith stopped. Special teams helped Edmonton nearly come back to win game 1, but it wasn't sharp enough this time. The Oilers finally started to find their footing in this game late in the second period, putting the Kings on their heels. Still, Quick made a series of incredible saves on Kailer Yamamoto and Evander Kane despite losing his catching glove. I don't know if I've ever seen a goaltender lose his glove and still manage to make several huge saves while under siege like that.
3rd Period
The Oilers had a few chances, but the Kings kept them mainly to the outside, and not much danger was created by the Oiler offense. McDavid took an interference penalty at the period's midway point that killed some precious time. Lizotte took advantage of a neutral zone turnover with just under six minutes remaining and fired one wide on a partial breakaway. Grundstrom drove his way to the net and scored less than a minute later, but the Oilers challenged for goalie interference. The Oilers lost the call, and the ensuing King's powerplay iced the game. LA would add an empty netter to take this one 4-0, snapping a six-game home losing streak in the playoffs.
Positives
-Mike Smith remained solid. He was one of the only reasons this game was close.
-Penalty kill stayed hot
Negatives
-The Keith and Bouchard pairing struggled all night long. They are sloppy in their own zone and slow on puck retrievals. Tyson Barrie also had his weakest game in quite a while.
-Powerplay with a rare off-night. It generated very little.
-McDavid's line was hemmed in their own zone more often than usual. The best way to shut him down is to make him defend.
Conclusion
The Kings played a near-perfect hockey game. They kept the red hot Oilers' powerplay off the scoresheet, won a vast majority of the puck battles, dominated in the faceoff circle, and peppered Mike Smith all night long. The Oilers have been pretty successful bouncing back from tough losses under Jay Woodcroft, and they will need to be much better in almost every facet in the next one. In particular, puck retrievals and breakouts from their own zone will be a crucial area of improvement. If they can move the puck better, they will be able to create more chances off the rush, which is their bread and butter, and they won't spend nearly as much time defending. Game five shifts back to Rogers Place on Tuesday night as Edmonton tries to regain the series lead on home ice!